What Can You Eat With Fixed Braces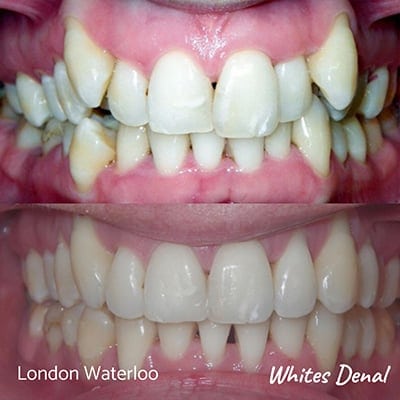 Braces near London Bridge
More and more adults in London are choosing to straighten their teeth using fixed orthodontic braces. If you are considering starting brace treatment or already have brace, our dentists can help provide you the expertise and information you need to create a straight smile. At Whites Dental, we offer a range of orthodontic braces in the heart of London – these include Damon braces, ceramic braces, clear brace, lingual brace and fixed metal brace. Why not book a free consultation with one of our dentists to discuss any questions you may have.
Millions of people across the world use orthodontic brace to align or straighten their teeth or help with other dental problems such as gaps, underbite, or overbite. Braces can drastically improve the overall look of your teeth, but it can take days or weeks to adjust to the extra pressure on your teeth. You may also feel some pain or irritation around your teeth and gums during the first few days. However, if you talk with anyone who's had brace, you will find out that the hardest adjustment might be giving up some of the foods you love. It's not nice being told what you can and cannot eat but unfortunately with braces there are some rules to follow. Eating foods which are too hard or chewy can in fact damage/break your braces and may cause a delay in your treatment. A patient who is compliant with eating instructions will sail through treatment quicker than someone who isn't!
So…what can you eat when you first get braces?
Your orthodontist will most likely recommend only eating soft foods for the first few days. Getting braces doesn't hurt, however your mouth may be quite sensitive in the days following your appointment. You'll also have to learn how to chew differently and eating foods that have tougher texture could cause pain. Some ideal foods to eat after getting brace include: mashed potatoes, yogurt, soups, scrambled eggs, oatmeal, seafood, soft fruits, soft cheeses, cooked or soft vegetables, moist desserts and pasta. Fundamentally, anything that's easy to chew. Sensitivity after getting braces should improve after a few days or a week. At that point, you'll be able to somewhat resume your normal diet.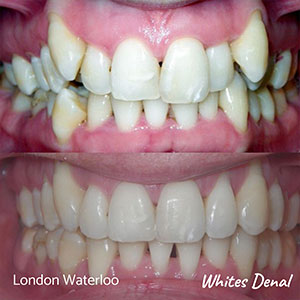 What to avoid eating right after getting braces
As well as knowing what foods you can eat after getting brace, you should also know what foods to avoid right after getting them. Loads of foods are fine to eat with braces. However, some "safe" foods might not be ideal to eat straight after getting braces, since they can irritate your mouth, causing too much pressure and sensitivity. Foods to avoid right after getting brace include:
ice cream
thick rolls or breads
thicker cuts of meats
spicy foods
What to keep avoiding while you have braces
Be mindful that braces are sensitive to damage, so you'll need to avoid certain foods for as long as you have braces. Some of these foods include sticky and hard foods that are known to damage the wires or bands, or cause a bracket to separate from a tooth. Foods to completely avoid with brace include: popcorn, nuts, ice, chewing gum, hard and chewy candy, pizza crust, bagels and other hard rolls, crunchy vegetables and fruits, hard crackers, pretzels, chips. Additionally, you should limit the consumption of sugary foods and drinks while having braces. When sugar mixes with saliva, it creates a sticky film known as plaque which coats the teeth. Plaque creates a great environment for bacteria to attach onto. Brushing usually removes plaque, but that becomes harder to do with brace. And if you're unable to remove this sticky film, there's a risk of tooth decay. So, while the occasional sweet treat is OK, constraint yourself to only a few sugary foods and beverages a week.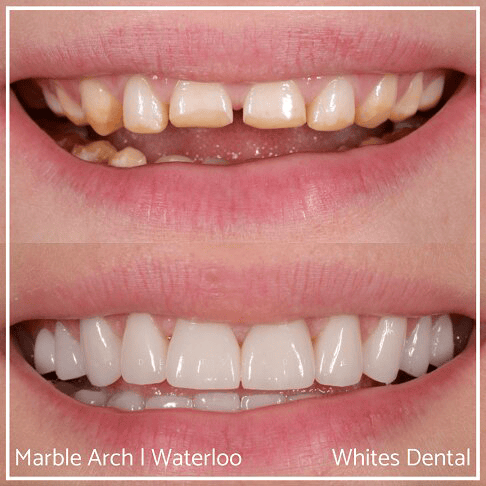 Getting braces can improve your teeth. Nevertheless, there is still a risk of damaging your braces and teeth, if you eat the wrong types of food and don't keep up good dental hygiene. Your will discuss what foods to avoid. If you have any questions, don't hesitate to ask one of our leading orthodontics at Whites Dental. Unfortunately, damaging your brace could prolong your treatment, meaning you'll have to wear them for a longer period of time.
Once your braces have settled in, you can eat and enjoy food like you used to. Try and get into the habit of chewing without pushing your food to the side of your mouth. Pieces of food are more likely to get stuck in the braces if they are impacted between the teeth and the inside of your cheek.
Cutting your food into small pieces should help with this and will make it less likely that morsels will get caught anywhere else in the braces. Plan your meals more, so you know you'll have plenty of time to chew your food slowly, rather than trying to eat large meals in a rush.
For more information on fixed braces, visit our orthodontics page below – https://www.whitesdental.co.uk/orthodontist-teeth-straightening-london-waterloo/
Whites Dental has some of the leading orthodontic dentists in London Bridge, providing fixed brace, six month smiles, fast braces, damon braces and Invisalign clear brace to patients near us in London Bridge, Central London, Southwark, Elephant and Castle and London Waterloo. Our webpage provides information on how to find a good orthodontist in London. We are located in London Waterloo, adjacent to Waterloo train station and across the road from Southwark Tube station. We are also a 10 minutes' walking distance from London Bridge, Elephant and Castle tube station and Borough Market and 5 minutes' walking distance from Blackfriars and Southbank stations.