Whites Dental – Marble Arch (W2)
London Marble Arch (W2)
State of the art practice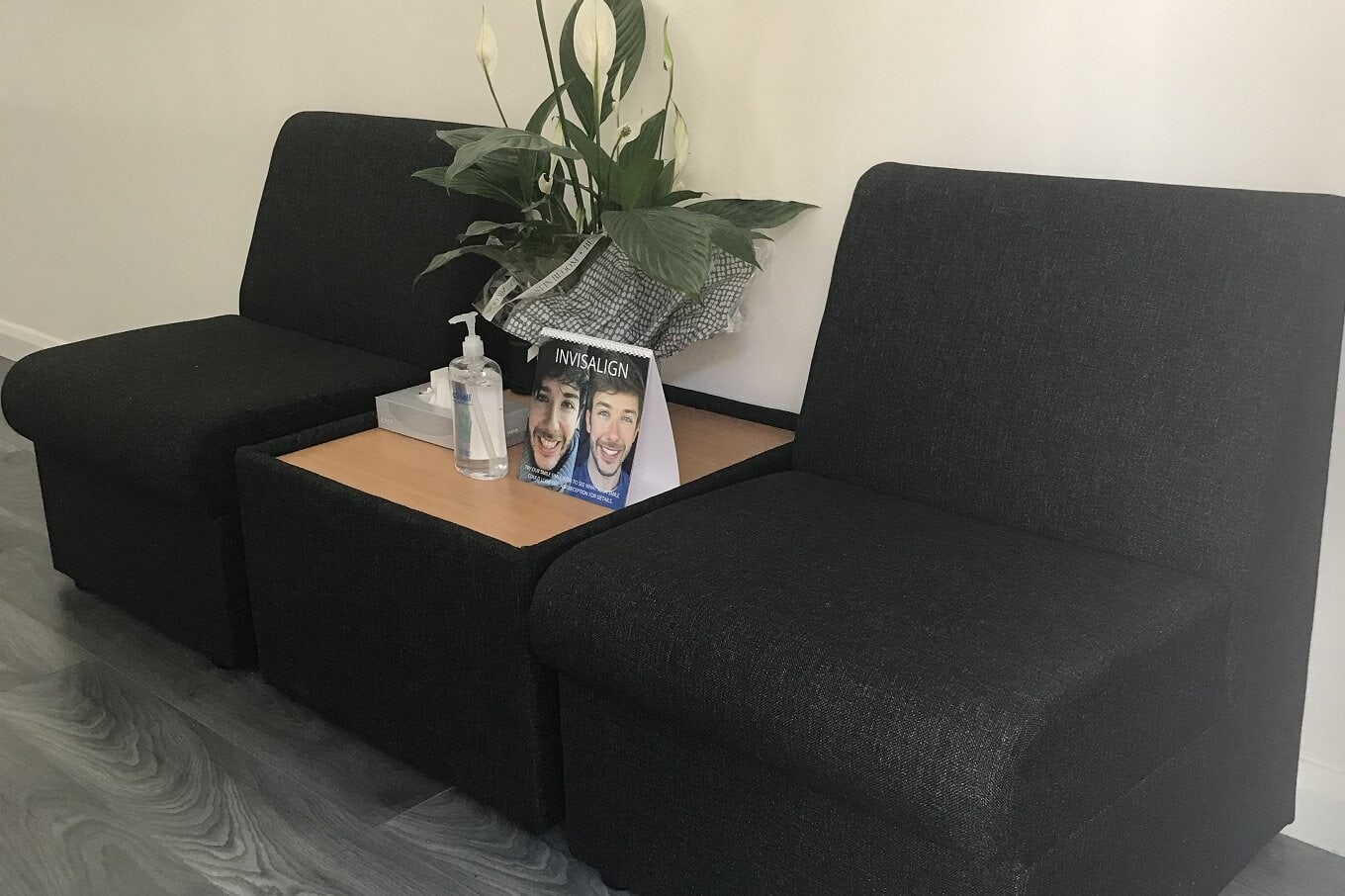 We are located on Kendal Street, off Edgware Road. We are also a few minutes walk London Paddington, Marble Arch, Bayswater, Queens Way & Bond Street train / tube stations.
Contact Details
Whites Dental – Marble Arch (W2)
Address
52B Kendal St, St George's Fields, London W2 2BP
Email
reception.ma@whitesdental.co.uk
Phone Number
020 3576 2325
Opening Hours
Mon-Fri: 9am – 6pm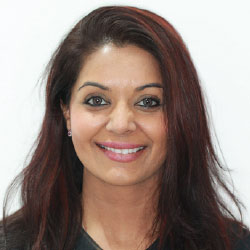 Dr Ravinder Varaich (GDC Registration Number 80964)
Areas of Expertise – Fixed Braces, Invisalign, Dental Implants & Oral Surgery
Dr Ravinder has particular interest in tooth straightening, cosmetic dentistry, facial aesthetics (anti wrinkle treatments, dermal fillers and chemical peels) as well as dental implants (she has placed 1000+ implants). She also does surgical procedures. In addition, she is also passionate about every day general dentistry. "It's so important to me that all my patients get what they want and more, so during your first visit with me, I ask that we take time to talk so that I can ensure I am catering to your needs, so that we are not offering you treatments you are not interested in, but also not missing out on something you desire. That way, I can meet your needs at a cost that is affordable and manageable for you."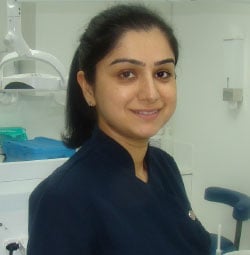 Dr. D Chopra (GDC Registration Number 124489)
Areas of Expertise – Composite Bonding, Invisalign, Restorations & Endodontics
Dr. Chopra is the principal dentist at Whites Dental. She has many years of experience in providing general dentistry to families and office going professionals. Her down to earth, warm and friendly persona helps her to very quickly bond with her patients and understand their dental needs and aspirations. Deepa has a particular interest in general and preventive dentistry. Always looking to further her education, she has completed an advanced restorative course. Anxious patients are Deepa's speciality; she takes a very personal approach, helping put patients as ease – always ensuring the patients comfort and sense of ease are a primary consideration.
Dental Services
General & Cosmetic Dentistry
Alice's Smile Transformation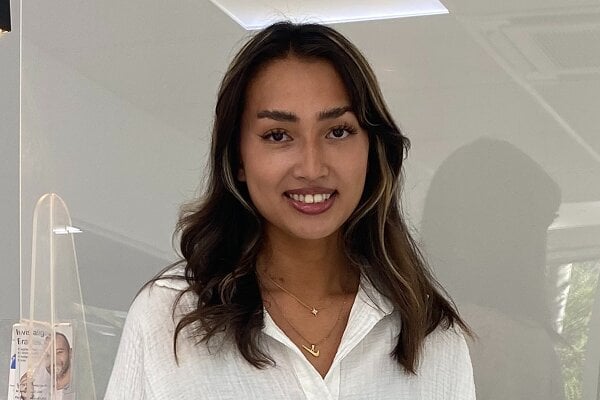 I have to smile a lot during the day. A good smile is very important to me as a result.
I came to Whites Dental to improve my smile. My teeth have recently been a little stained and a few of them could also benefit from having the edges evened out.
Dr Edina Jude recommended home whitening to brighten my smile. The whitening gels need to be used every day for two weeks for an hour a day. The results are beginning to show already. Dr Edina Jude also suggested composite bonding to further perfect my smile. I am so pleased with the results.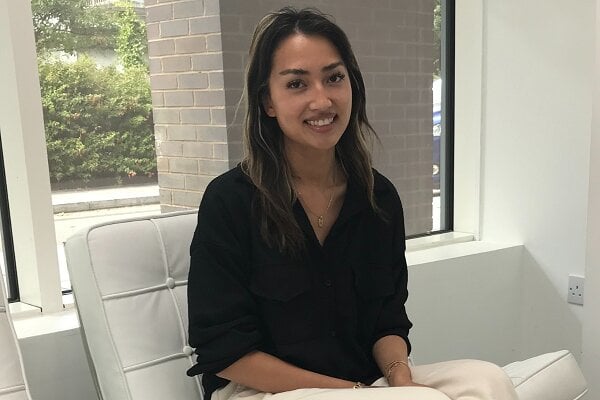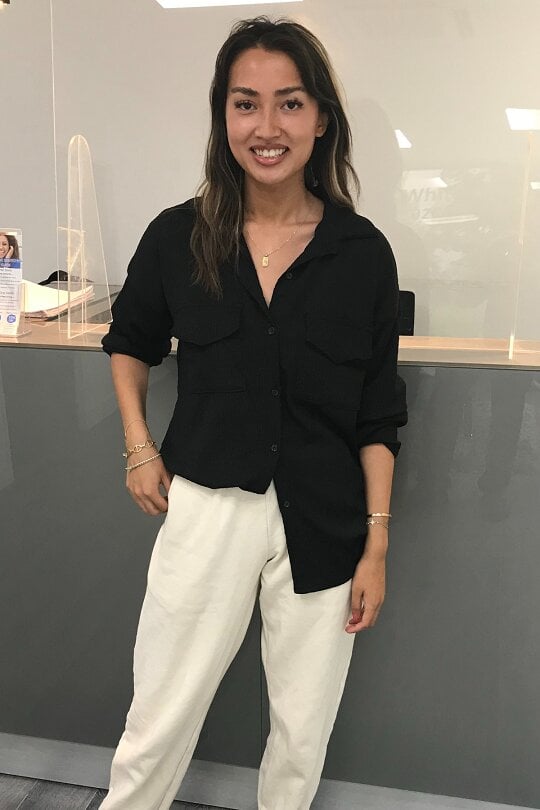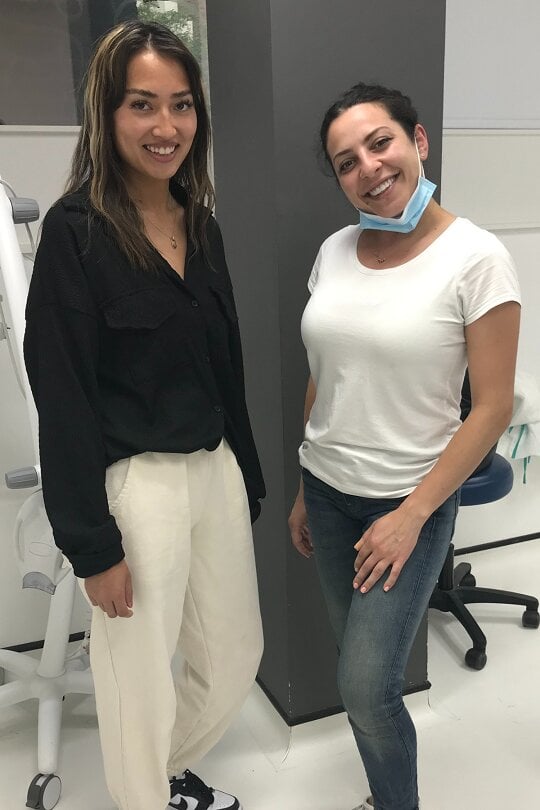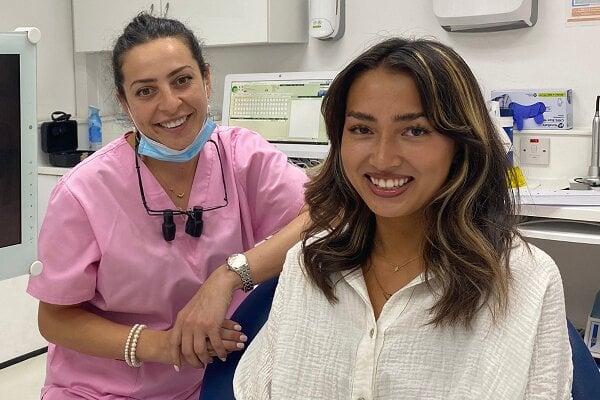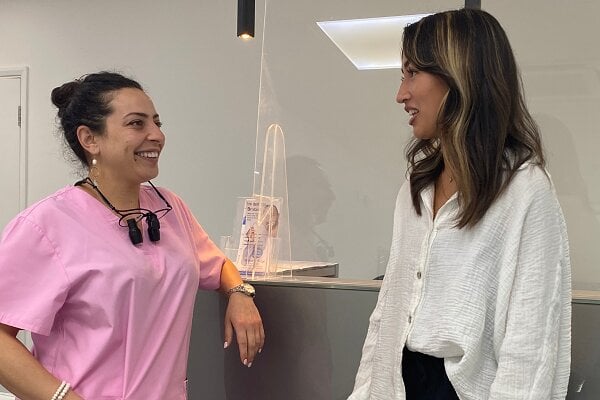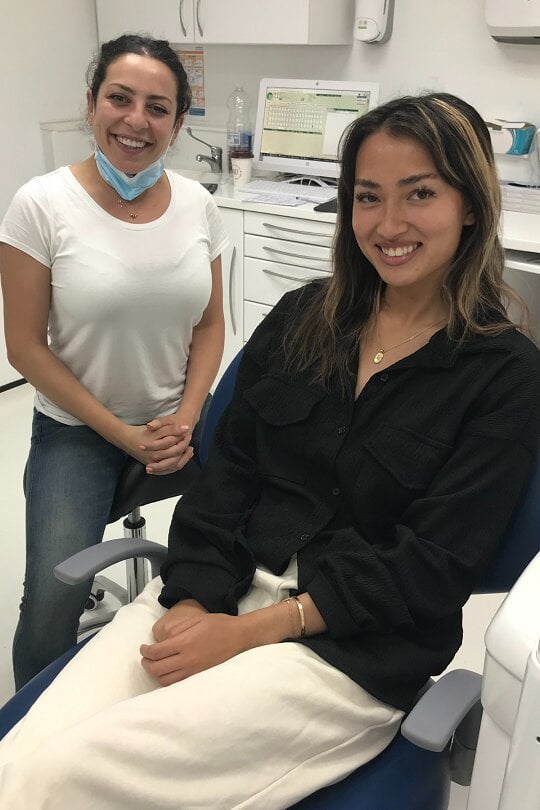 Patient Testimonials
Google 5 Star Reviews
White Dental has an amazing team. Amazing response from Alina at the front desk. She understood that I needed a quick appointment for my missing tooth, and she managed to book me very quickly to the dentist. The place is clean and well organised. Dr. Edina and Flori, the dental nurse, they guided me throughout the procedure, and they explained everything so I could understand. I will definitely come back to my routine soon.
– Marius Knoxville
I highly recommend Whites Dental to anyone in need of dental care. From the moment I walked into the practice, I felt welcomed and at ease. Dr. Deepa and her staff were extremely professional and friendly, and they made sure to thoroughly explain each step of the process to me. Overall, I am extremely impressed with Whites dental practice. I would not hesitate to recommend them to anyone in need of dental care. She truly cares about her patients and goes above and beyond to ensure that they receive the best treatment possible. Thank you, Dr. Deepa, for everything you do!
– Abdul
Dr Edina Jude for me was a total game changer . For the last 3 years I have had multiple treatments with her. Her dentistry skills are to envy and the way she is communicating is something unique putting you at ease especially if you are a nervous patient. I highly recommend everyone to choose wisely when it comes to doctors because you want to make sure that things are done in an ethical way.Thank you Dr Edina and Whites Dental for being so brilliant.
– Stefania Occhilupo
Dr Edina changed my life! I came to Whites Dental after having an initial video consultation .I found this method super efficient as it saved a lot of my time. I was a bit worried as we all know that prices in London are incredibly high and many places take advantage of their customers. We discussed payment option such as finance etc than I have been booked in with Dr Edina for composite bonding mock-up. Initially I thought that the result of the mock-up was the final one! For a mock-up which is a free hand demonstration,all my teeth looked perfect. After being able to see how my final result would look like , I did go ahead with the treatment. I had whitening done for 2 weeks at home than I have been booked in for the composite bonding treatment. From my point of view, the prices are affordable and the results are incredible. I am truly  happy with my new smile and with my new dentist! I will come back for regular checkups as this place makes me feel really relaxed. Thank you Dr Edina for you taking care of me and for changing my smile, and thank you Alina for welcoming me and guiding me throughout the entire process.
– Miguel Angel Lopez Prieto
Amazing composite bonding done, the dentists were very accommodating and professional throughout the whole journey. They kept checking on me during the procedure and updating on progress. At the end, the results were better that I even thought! Would 100% recommend.
– Ivie O
I have been a patient of Dr Edina for years and can confidently say that she is an exceptional dentist. She always provides great service and consistently delivers amazing results. I have always appreciated her attention to detail, gentle touch, and her ability to explain everything that she's doing during treatment. Dr Edina truly cares about her patients' wellbeing and goes above and beyond to ensure their satisfaction. I would highly recommend her to anyone looking for a skilled and compassionate dentist.
– Kate Soto
I had the privilege to attend this brand new branch of Whites dental and was recommended to see Dr Edina Jude  by an aquintance who had composite bonding done with her a while ago. After having an initial consultation, I was confident that I wanted to go through with the cosmetic treatment. Everything was explained to me thoroughly regarding the Invisalign treatment and teeth bonding so I felt super confident to go ahead. Dr Edina  is super  warm, generous, friendly, and does everything within her power to make you feel comfortable and relaxed while under her care. As someone who doesn't really like dentist, I felt completely relaxed and confident, especially while undergoing the composite bonding. From the reception to the surgery , everything went really smooth . Every time I had a question, they're responded on spot. If you were looking into any form of dental treatment, especially Invisalign and Composite Bonding I highly recommend Dr Edina!
– Radoslav Skoda
Dr Edina Jude thank you a lot!!!! I have visited the new branch of Whites Dental in Marble Arch for a fractured front tooth which made me extremely uncomfortable as you can imagine. Today I had my issue fixed in within minutes and to be honest, the bonding looks a lot better than my original tooth. Thank you Dr Edina and see you in 6 months time for a regular checkup!
– Lee Parkin
For someone that is scared of the dentist- I cannot recommend Dr Edina Jude enough. After explaining everything to me thoroughly and working with me step by step – I found myself at ease for the treatment. My experience at Whites Dental was just fantastic, can't wait to see you all soon!
– Veena Baratram
I can't recommend this practice enough! I have not been to a dentist for a number of years and I decided that is time to make a move. Dr Edina is incredibly friendly and the team was so so so welcoming to new patients. Despite of the state of my teeth, I didn't felt judged by Dr Edina at all, moreover she tried to find solutions and spread the cost over months so I can deal with my problems one step at the time. Thank you Dr Edina , Alina and Flori for being so lovely and kind to me.
– Alexito Alex
Had the best experience with the receptionist Nawal, who was so incredibly lovely & – unlike the other 60 places I called due to an emergency – actually took the time to help & gave me detailed answers. My dentist Edina was amazing, she was so patient with me and made sure I was happy with the results of my tooth bonding. I don't usually leave reviews but I was so so happy with this whole experience, I had to!
– Letti Kormos
I recently had Invisalign treatment done at Whites Dental, and I couldn't be happier with the results! The staff was friendly and professional, and my teeth look amazing. Highly recommend!
– Mario Morris
This dental clinic provides a 5 star service from the moment that you walk through the door, right through to the aftercare. My dentist Edina Jude always makes me feel comfortable and performs the treatments seamlessly. And I cannot recommend her enough … for dental hygiene checks through to composite bonding treatments – they'll have you covered!
– kavita kalyan
I've been seeing Dr. Edina now for the past year and have always had a great experience. She's extremely thorough and has given me great dental advice which have seen impressive results. I would definitely recommend her and am looking forward to my next visit
– Rhynelle Sequeira-Kamath
I recently visited Whites Dental Marble Arch in London and was thoroughly impressed with my experience. From the moment I walked in, I was greeted by friendly staff, including the treatment coordinator, Onelia, who was extremely helpful and accommodating throughout my visit. The practice is clean, modern, and well-equipped with state-of-the-art technology. The dental professionals, including my dentist, Edina, were highly skilled and knowledgeable, providing a wide range of dental treatments and procedures. Edina took the time to understand my individual needs and concerns, and offered personalised care and attention to ensure the best possible outcome. One thing that really stood out to me about Whites Dental Marble Arch was their commitment to patient satisfaction. The team is dedicated to providing a comfortable and relaxed environment, and they go above and beyond to ensure that patients are happy with their treatment and experience. Overall, I would highly recommend Whites Dental Marble Arch to anyone in need of dental care in London.
– Bernardo Resende
Teeth whitening at Whites Dental was a game-changer for me. My teeth were noticeably brighter after just one session, and the results have lasted for months. I'll definitely be back!
– Khalid Hayes
Very professional and customer focused Dental practice. Special mention for Dr Deepa who clearly explained the treatment and associated costs and patiently answered all our questions. She's one of the best dentists I have seen. Great experience from start to finish. Highly recommended.
– Vivek Nandi
Lovely team of people here – extremely quick and efficient to schedule in appointments, very friendly and never had to wait more than 2 minutes for my appointment upon arrival at the clinic. Dr. Edina and the dental nurse were great at helping patients to feel relaxed during the appointment itself and Dr. Edina was also very knowledgeable when helping ensure treatment was covered by my dental insurer. Overall will definitely be coming back and would definitely recommend!
– Frazer Howitt
I am an existing patient of this practice , who initially came in for emergency appointment and ended up bringing all the family to this place. I can not explain in words how this lovely person makes everyone feel. Rarely you can find kind people like Dr Edina !!! I clearly remember when I was in agony, I phoned many practices around the area I live but all of them would refuse to see new patients or would not have availability.I than decided to search further practices in central London and I came along to Whites dental. Dr Edina was fully booked for the entire week so she decided to fit me in her lunch break. I think no more words are needed to all the above. Super grateful for everything Doc and see you soon!
– Georgel Cristian Vitca