Removable Braces In London Waterloo
Create The Smile You
Have Always Wanted
Perfect your smile in as
little as £4/day.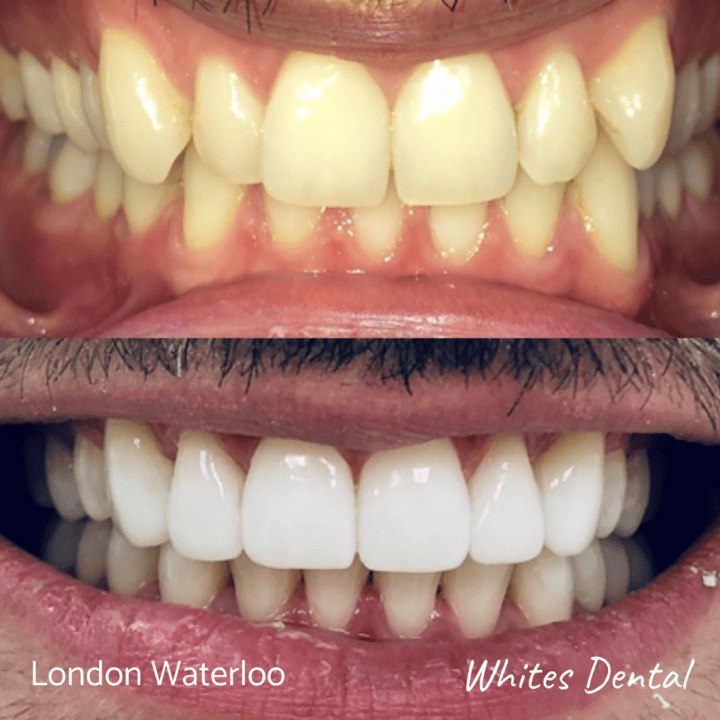 Removable Braces
Removable braces are made of clear plastic trays that fit over your teeth to straighten your smile. The treatment includes a series of removable trays or aligners that you change every few weeks, with each set of trays applying gentle pressure on the teeth moving the teeth ever so slightly, till your teeth have moved to their desired end positions by the end of the last set of trays. The trays or aligners at the start of the treatment will look different than those at the end of the treatment as they move teeth over the course of the treatment. Treatment duration can range from a few months to over a year depending on the amount of teeth movement needed.
A number of removable braces brands exist on the market, with Invisalign removable braces being the most popular with patients.
96% of patients
are extremely satisfied with their treatment at Whites Dental.
Leading Dentists
Dr Eillot has treated over 2,200 brace cases and is one of the UK's most experienced practitioners. He achives results beyond just braces. He has over 10 years complex orthodoritcs experinces .
Location
We are conveniently located in London Waterloo, right across from Southwark Tube station.
Latest Technology
We have invested in the ground breaking iTero 3D digital scanner. We will show you a simulation of how your teeth will move throughout your treatment and also how your new smile could look at the end of your treatment.
Frequently Asked Questions
What are the advantages of removable braces?
Removable braces such as Invisalign have revolutionized the braces market since they were first introduced. They include several advantages that are very popular with patients –
Removable braces are made of clear plastic material – this makes them virtually invisible to other. Most people won't be able to notice you are even wearing them
Removable braces can be removed – especially when eating, drinking and cleaning your teeth. This means you can still enjoy your favourite foods and clean and brush your teeth properly
Removable braces typically require fewer number of visits to the orthodontist
Removable braces can often be less expensive as compared to traditional braces
How often do you need to wear removable braces?
Removeable braces need to be worn for most hours of the day and night. Invisalign braces for example, the most popular removable braces brand recommends wearing Invisalign braces for 22 hours a day. Their effectiveness can be compromised if they are worn for less than the recommended time.
Are removable braces just as effective as traditional braces?
Removable braces are by definition removable – however, they do need to be work for 22 hours a day or more.  If they are worn less than the recommended duration, their effectiveness can reduce, and the treatment duration can lengthen as a result. A 2018 study found that Invisalign braces, a brand of removable braces, was effective at correcting teeth crowding conditions described as mild to moderate.  The same study also indicated that Invisalign braces were effective at moving front and canine teeth, however, the study didn't confirm the effectiveness of Invisalign braces for more significant orthodontic conditions. At Whites Dental, our dentists have treated several relatively complex orthodontic conditions successfully with removable Invisalign braces. That is not to say that Invisalign removeable braces are suitable for all orthodontic conditions. We will be able to provide you a more definitive answer once our dentists have had a chance to assess you.
Removable braces or fixed braces – what ones are better?
If you are wondering whether to take up removeable braces, we have provided some pros and cons of removable braces below –
Removable braces are virtually invisible as they are made of clear plastic aligners. Most people won't be able to even tell you are wearing braces. Removable braces can be taken out for eating, drinking, flossing and brushing. You can even take them off for those key events such as an important date and work meeting. They therefore have minimal impact on your lifestyle. Removable braces also need fewer number of visits to the dentist and can often be cheaper than traditional braces.
Removable braces are typically not well suited for correcting complex orthodontic cases. Traditional fixed braces are likely to be more suitable for complex cases. Removable braces can accidentally break or be lost given they can be removed when not being worn. You also need to avoid acidic or sugary drinks that could damage the trays.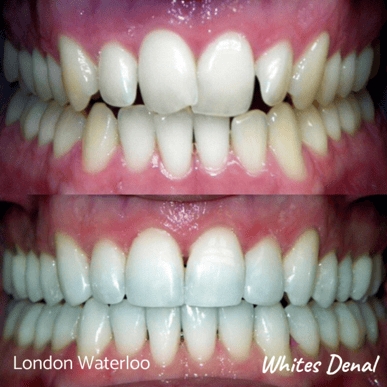 Removable braces – how much do they cost?
The cost of braces treatment using removable braces depends on the amount of teeth movement that's required and also the brand of braces you choose to use. At Whites Dental, we offer Invisalign removable braces as our go-to removable braces system. It's the most popular removable brace brand on the market and hugely popular with patients. The treatment cost can range from £1,500 for a mild case to a little over £3,000 for more complex cases. On average, treatment with removable braces can be cheaper than traditional braces. Why not book a free consultation with one of our dentists to get an accurate cost for your braces treatment?
For more information on removable braces, please visit our braces homepage – https://www.whitesdental.co.uk/braces/
At Whites Dental, our braces team try very hard to provide all our patients a comprehensive removable braces treatment package in order to help them create their perfect smile. If you are considering removable braces to straighten your teeth, we suggest a complementary consultation with one of our dentists here in London Waterloo.