Composite Bonding Before And After Pictures London
Create The Smile You
Have Always Wanted
Perfect your smile in as
little as £4/day.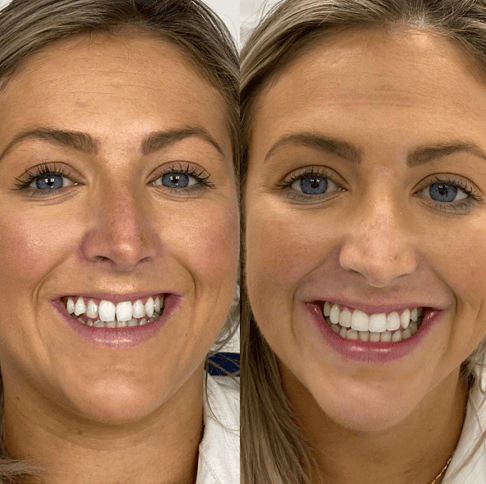 Composite Bonding Before and After
Composite Bonding – Before And After
Composite Bonding or Tooth Bonding can be used to make minor changes to the shape and contours of the teeth. It is often used to fix minor tooth imperfections such as chips and cracks, close gaps between teeth and mask minor tooth rotations, without damaging the tooth.
Composite bonding before and after images –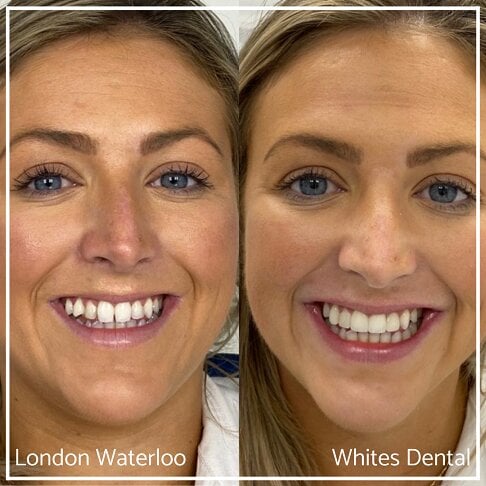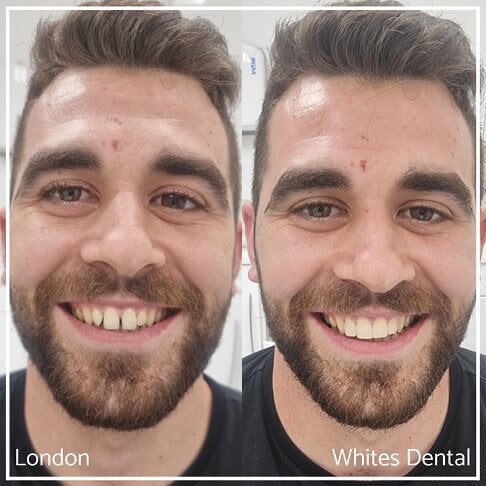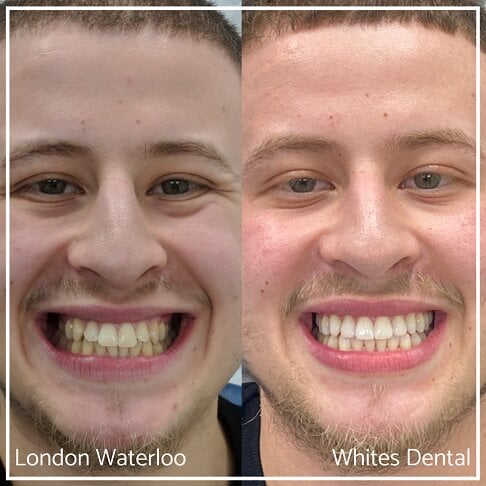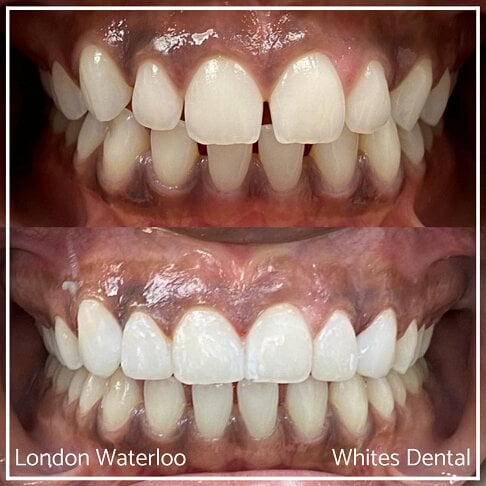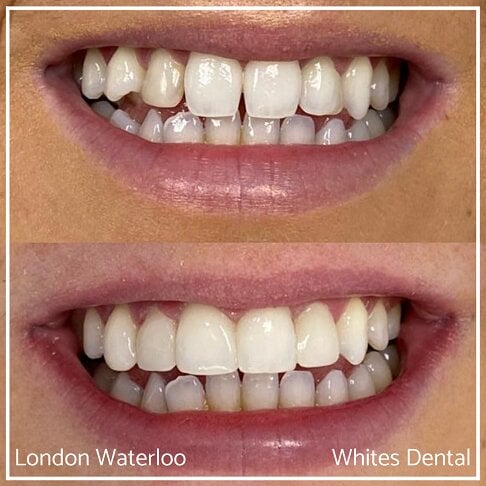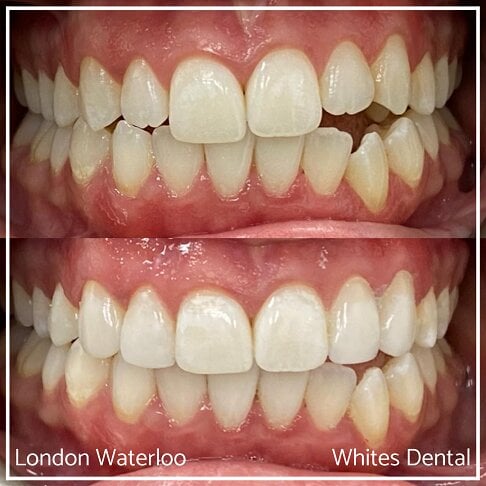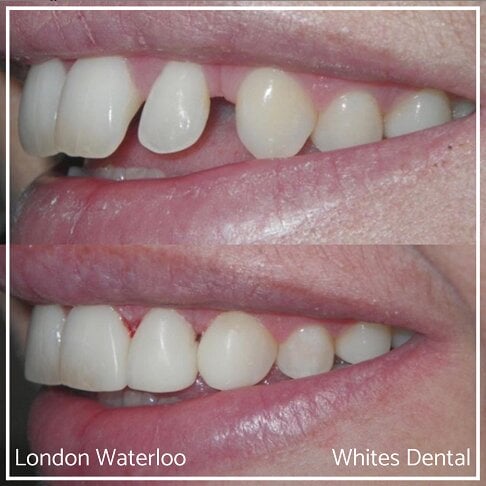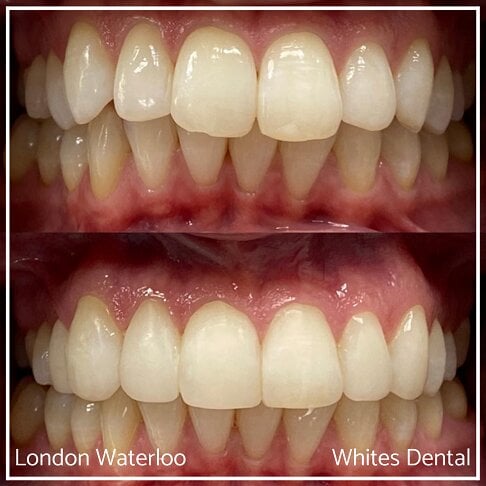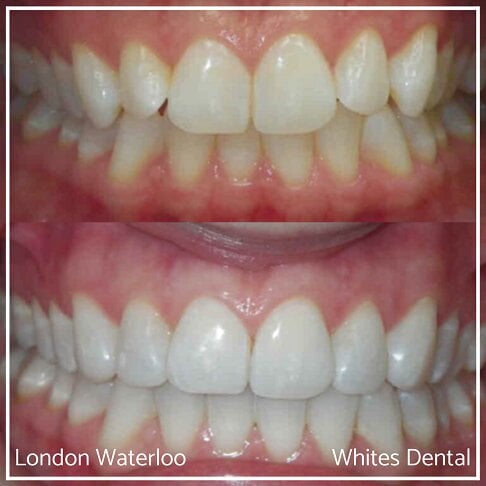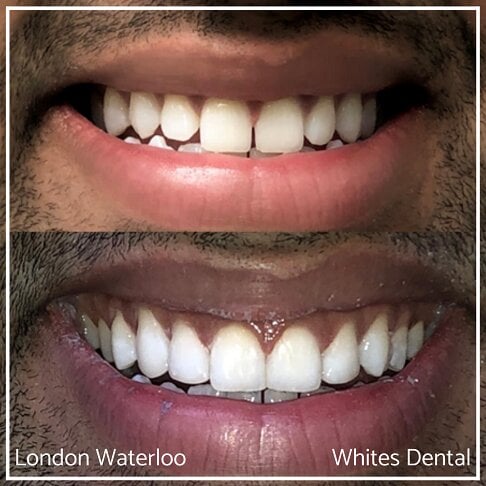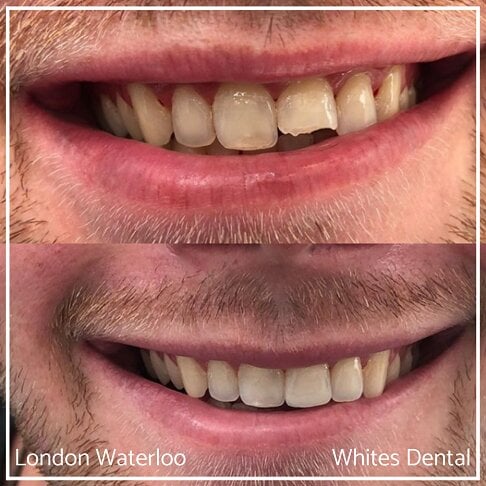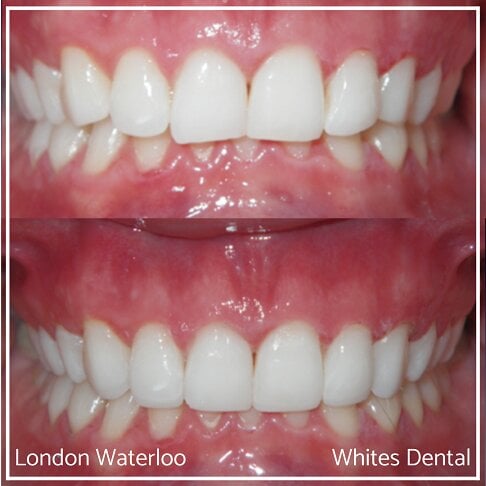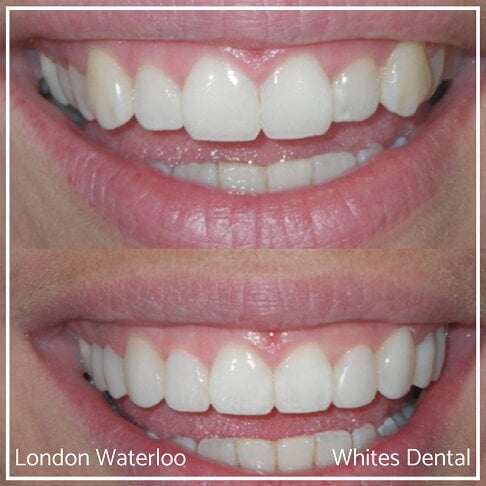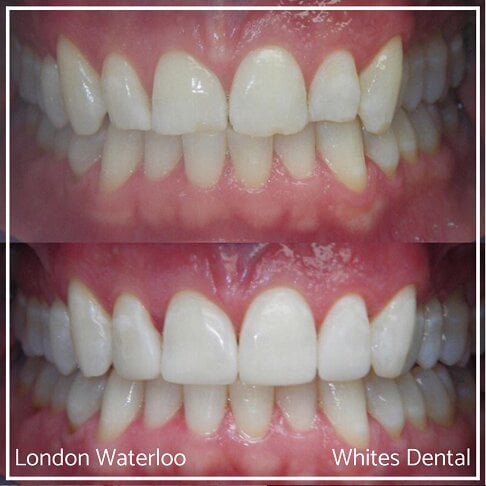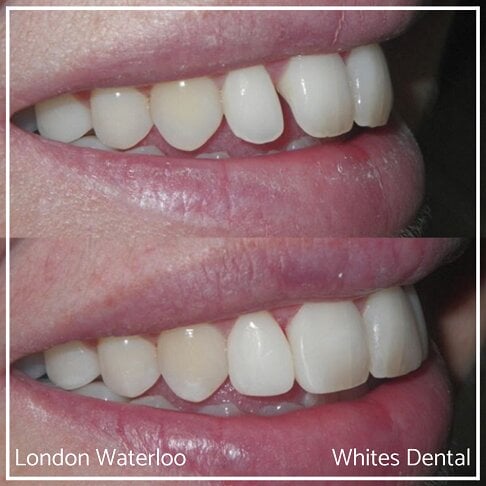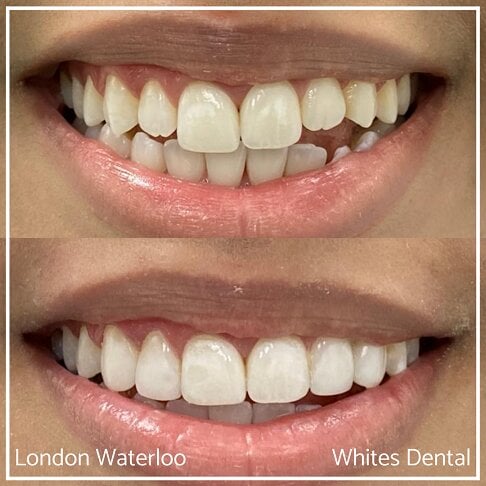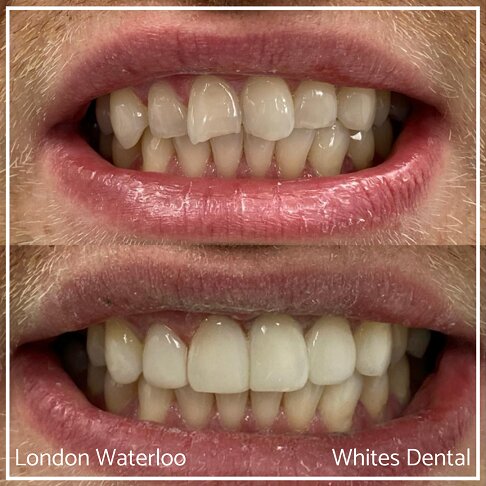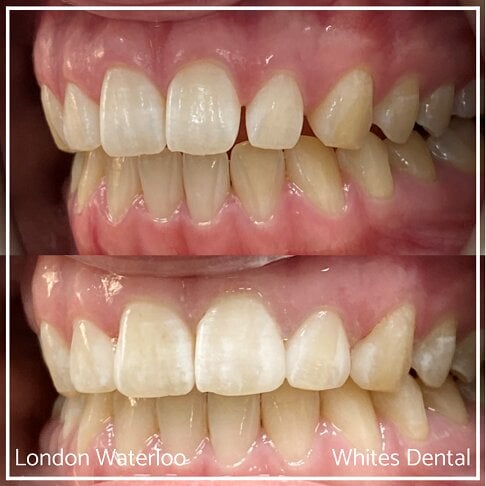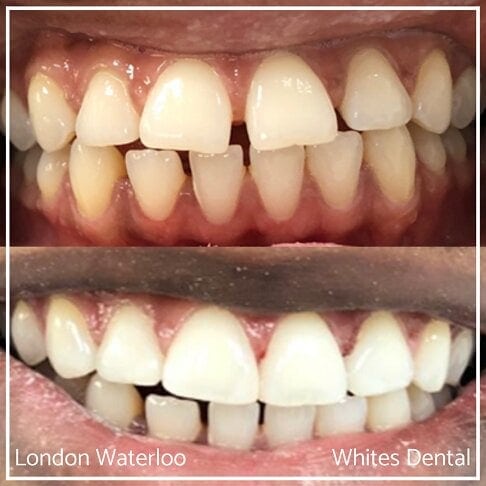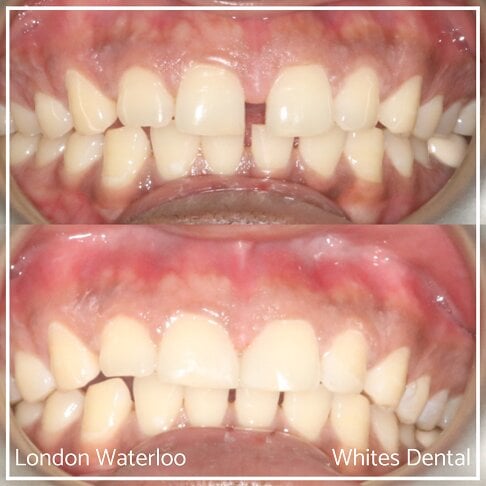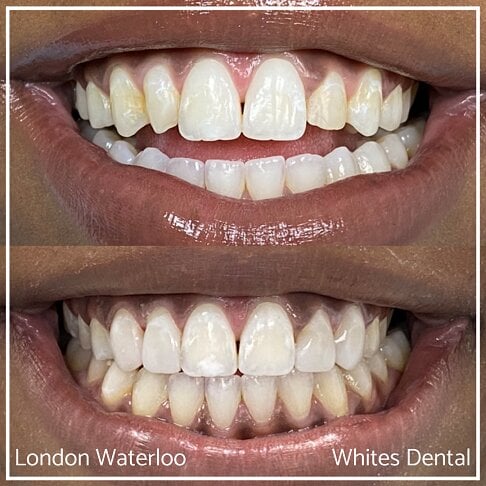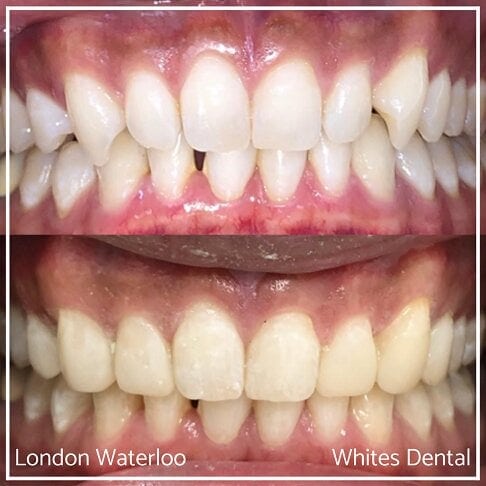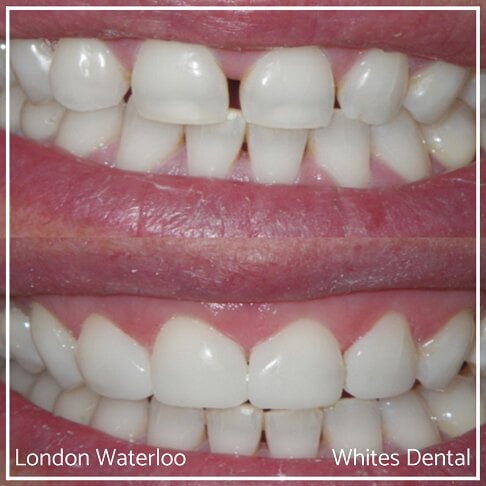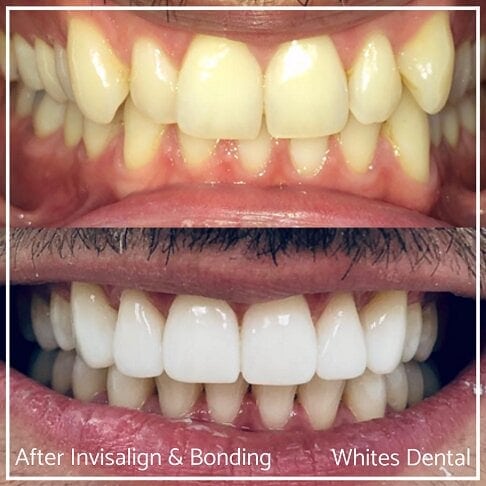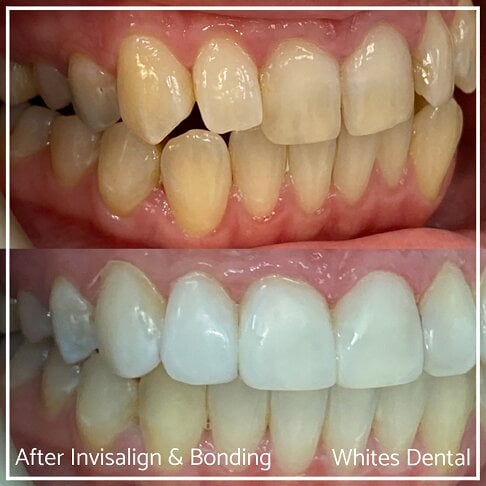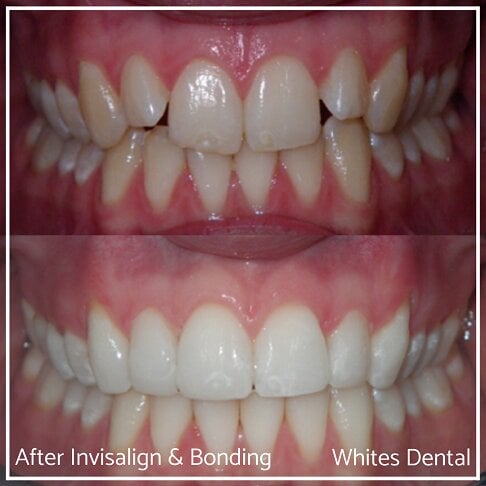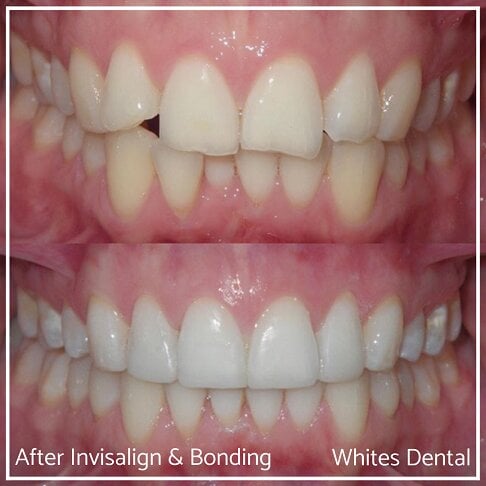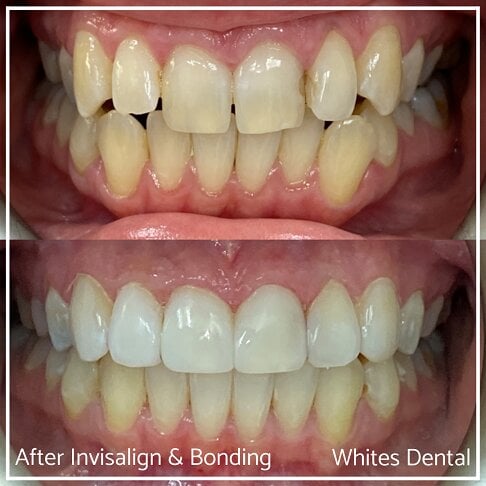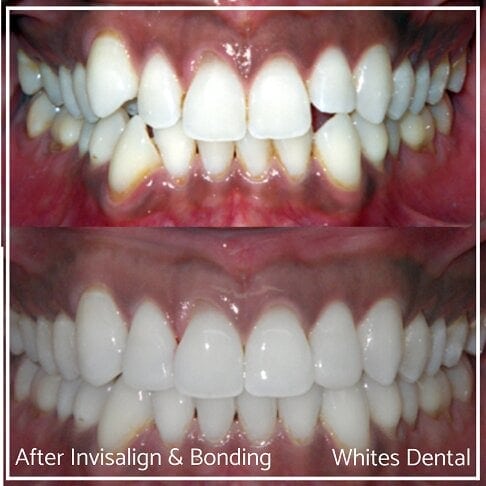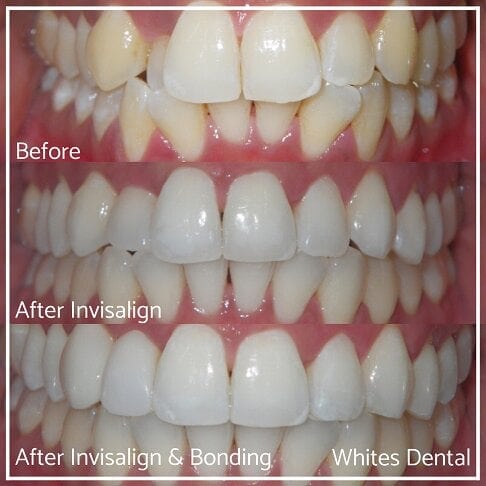 If you're looking for a simple and effective way to improve the appearance of your teeth, composite bonding before and after photos can show you the incredible results that are possible with this cosmetic dental treatment. Composite bonding, or sometimes referred to as tooth bonding, is a non-invasive procedure that involves applying a tooth-colored resin material to the surface of your teeth to repair minor imperfections like chips, cracks, and gaps. This method can also be used to enhance the shape and size of your teeth or mask minor tooth rotations, giving you a brighter, more confident smile.
At our dental practice, we use the latest composite bonding techniques and materials to help you achieve the results you desire. Our skilled cosmetic dentists will work with you to create a treatment plan that addresses your individual and unique issues. Whether you're looking to improve the appearance of one tooth or a set, our composite bonding before and after photos should show you just how transformative this treatment can be.
One of the biggest benefits of composite bonding is that it is a relatively quick and painless procedure that requires little to no downtime. Our patients are often amazed at how dramatically their smiles can improve in just one appointment to Whites Dental. To learn more about composite bonding, or to schedule a consultation with one of our experienced cosmetic dentists, contact us today. We look forward to helping you achieve the beautiful, healthy smile you deserve.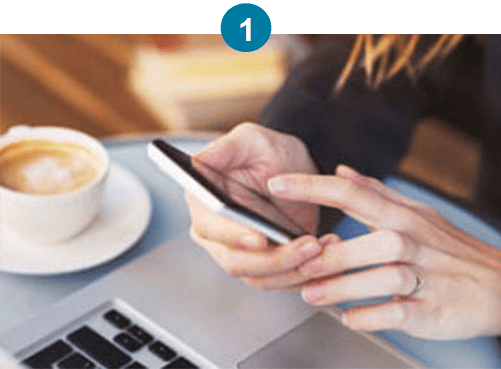 Upload Your Photos
Upload your photos and tell us what concerns you.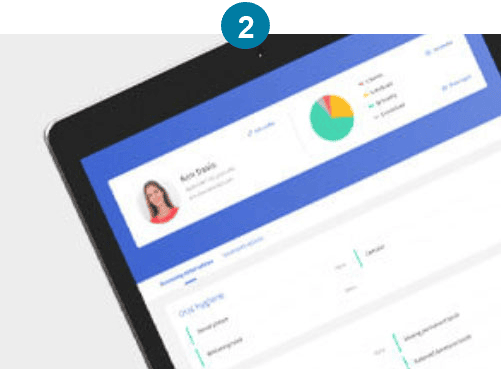 Free Video Consultation
We will usually reply within 24 hours to book you for a free video consult with Dr Elliot. He will provide you a cost and duration during the consult.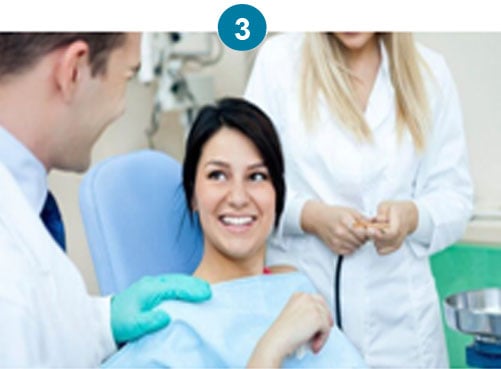 Appointment
We will book you for an appointment at the practice, where we will take impressions and create a treatment plan for you.
Lauren's Composite Bonding Smile Transformation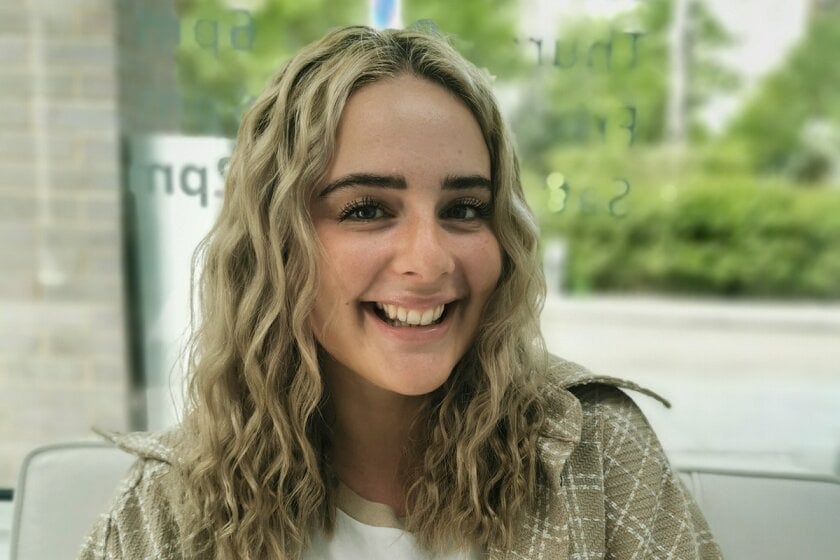 I came to Whites to improve my smile. I wasn't happy with how it looked – my teeth were a little stained and uneven.  A few of my top teeth were oddly shaped and the edges uneven. I was looking to whiten my teeth and also make my smile look more even.
Whites gave me a new smile with teeth whitening and composite bonding. My teeth look so much brighter and so natural. I just love how my teeth look now – just perfect. I can smile with confidence again!
Dr Kiren and the wider Whites team were very warm & friendly throughout my entire experience.  I felt very welcome. Can't thank them enough.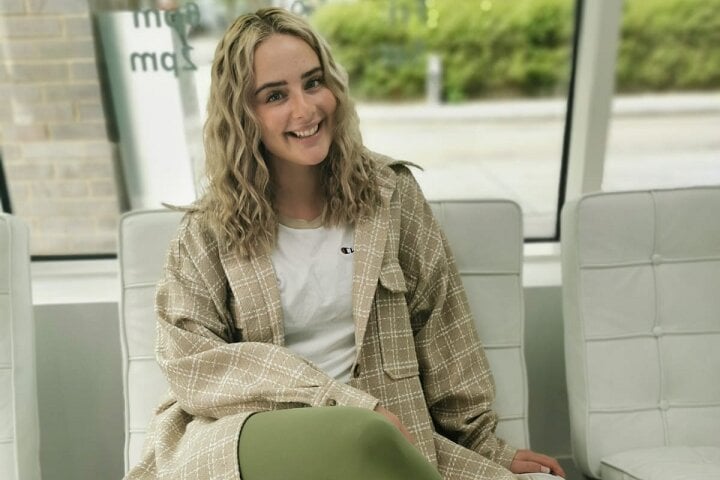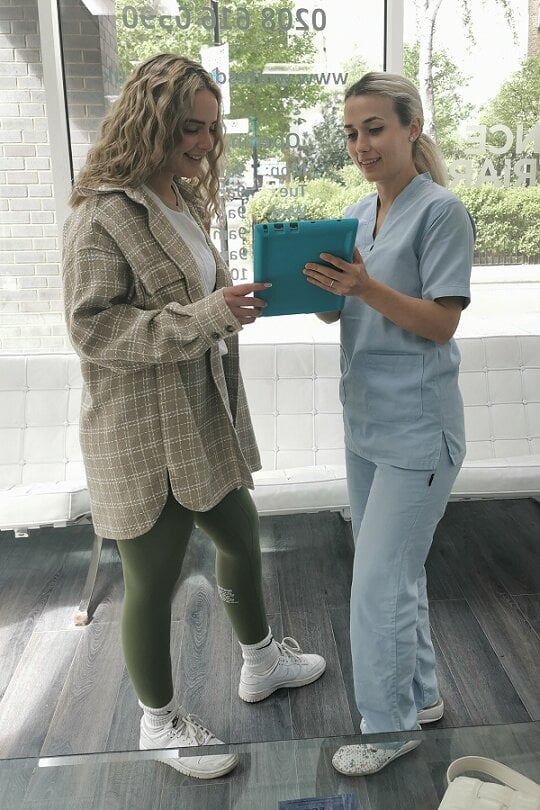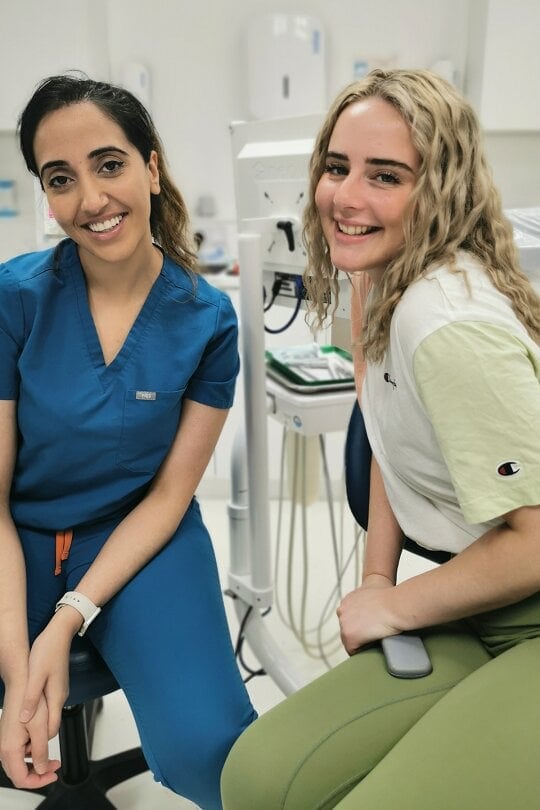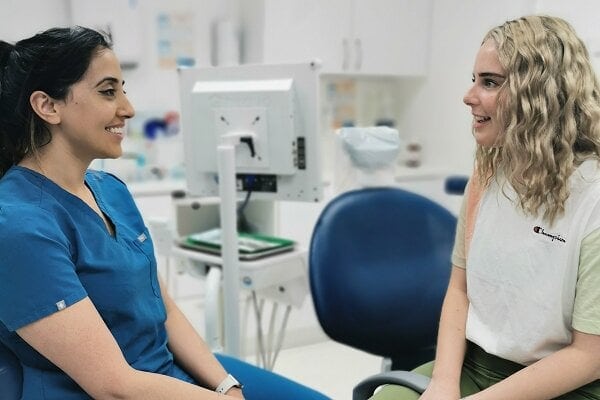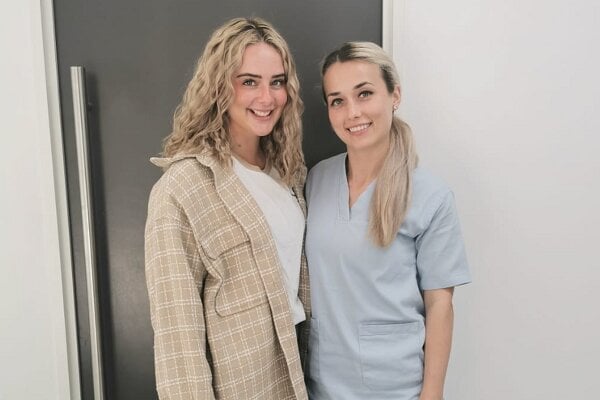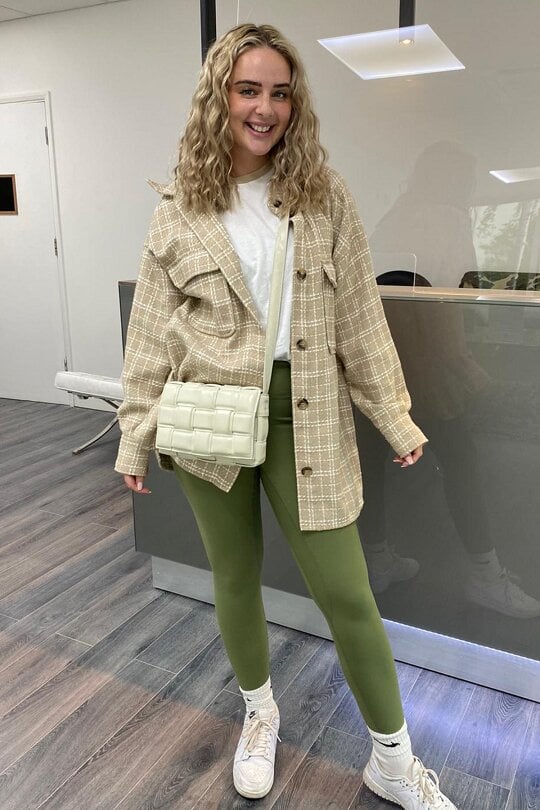 Composite Bonding


from

£160
Composite Veneers


from

£450
Porcelain Veneers


from

£600
Veneers & Composite Bonding Before and After
Veneers are custom-made shells of porcelain or composite material bonded to the front surface of the teeth to improve the appearance of damaged, discoloured, cracked, chipped, poorly positioned or badly shaped teeth. They are often used to mask damaged or misshaped teeth, straighten minor teeth misalignments, close gaps or lighten tooth colour. They are also very popular in smile makeovers and smile design procedures.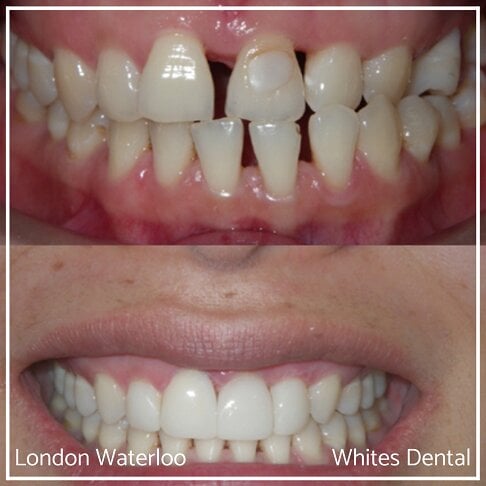 Find out more about Composite Bonding
If you're interested in finding out more about Composite Bonding and how it could help improve your smile, visit our Composite Bonding Treatment page. It's where you will find all the information you require about our composite bonding services and treatments. Our team of experienced dentists are on hand to answer any questions you may have and guide you through the treatment process.
How does Composite Bonding work?
Composite Bonding or Tooth Bonding in London is a very popular cosmetic dental procedure that is used to improve the shape, size, colour and overall appearance of the teeth. White composite material is used to change the shape and/or contour of teeth or in some cases, the entire smile. Composite bonding doesn't need any needles or anaesthetics and can be completed in one visit typically. The composite material used for composite bonding can be made to exactly match the colour of the surrounding teeth, producing beautiful natural results.
The procedure starts with the cosmetic dentist picking a shade of composite material that exactly matches the colour of your teeth. The composite resin is carefully applied to the surface of the teeth, without any need to grind or damage the underlying healthy tooth structure (typically). The dentist will then carefully sculpture and shape the resin material like putty to fix tooth imperfections. The composite resin is then hardened with a special light and polished to produce beautiful natural results. Many patients find composite bonding as their cosmetic treatment of choice as its pain free, quick and highly cost-effective as compared to veneers. The procedure can also be repeated without damaging the underlying tooth.
Veneers can be made from two types of materials – Porcelain / Ceramic and Composite material. Rapid advances in dental technology and composite resin bonding systems has literally revolutionised the use of porcelain veneers and composite veneers for 'smile redesign' procedures. During the Initial consultation, the cosmetic dentist will assess your needs and provide you with suitable options – porcelain vs composite veneers. The options will be discussed with you in detail to help you decide the option that best works for you. The dentist will make pre-procedure pictures and conduct teeth shade checks. As part of the smile design process, the dentist will take impressions to enable us to produce a diagnostic wax up of your veneers treatment. The wax up model will allow you to physically visualise and approve the planned results and outcome.
At the second appointment or stage, the teeth under consideration will be minimally prepared. The dentist will take an impression of your teeth and send it to the lab, along with your smile design for custom preparation. Temporary veneers will then be created to provide you a provisional aesthetically pleasing restoration. At the final appointment, the provisional veneers will be removed and your custom made veneers fitted. You will then be shown the finished results for your assessment. Once you are happy with the fit and appearance, the dentist will bond the veneers to your teeth, providing you with a brand new smile.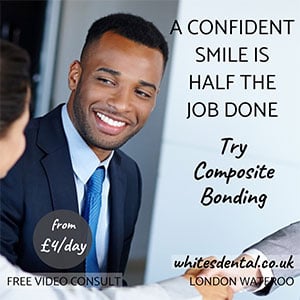 How do I find a good cosmetic dentist in London?
To find a good cosmetic dentist in London, Google is a good starting point. Google 'cosmetic dentist in London'. Research the cosmetic dentists that come up on Google; find a dental practice that specialises in cosmetic dentistry treatments. See how well developed their cosmetic dentistry webpages are – for example, do they have dedicated webpages for composite bonding, veneers and smile makeovers. Review their before and after images related to composite bonding and veneers. Are you happy with the before and after images? Cosmetic dentists who have well developed webpages for cosmetic dentistry typically specialise and focus in that field. Read Google reviews for cosmetic dentistry procedures for each dentist. Once you have identified a few cosmetic dentists in London that interest you, visit them for an initial consultation. Try and form a view on how experienced the cosmetic dentist is and whether you were able to build a sense of trust in them. In the end, choose the cosmetic dentist who can offer you a cosmetic dentistry option that suits your needs and is reasonably priced.
Please click here to visit our Cosmetic Dentistry homepage.
Whites Dental provides Composite Bonding & Veneers Before and After Images on our website for patients to review some of the cosmetic dentistry results our dentists have achieved.  Our cosmetic dentists offer a range of cosmetic procedures such as Smile Design, Smile Makeovers, Porcelain Veneers, Composite Veneers and Composite Bonding. We are based in London Waterloo, next to Southwark tube station. We are also a 10 minutes' walk from Borough, Elephant and Castle, Southbank and London Bridge stations.