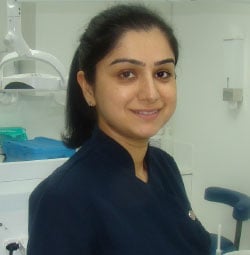 Dr. D Chopra (GDC Registration Number 124489)
Areas of Expertise – Restorations, Endodontics, Cosmetic Treatments (Composite Bonding & Veneers)
Dr. Chopra is the principal dentist at Whites Dental. She has many years of experience in providing general dentistry to families and office going professionals. Her down to earth, warm and friendly persona helps her to very quickly bond with her patients and understand their dental needs and aspirations. Deepa has a particular interest in general and preventive dentistry. Always looking to further her education, she has completed an advanced restorative course. Anxious patients are Deepa's speciality; she takes a very personal approach, helping put patients as ease – always ensuring the patients comfort and sense of ease are a primary consideration.
On a personal note, Deepa spends some of her time in an orphanage in India, helping educate and financially assist two young girls there.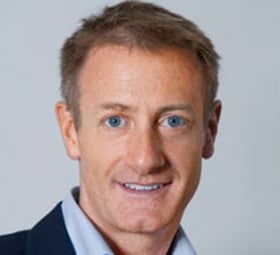 Dr. Elliot Stevenson-Smith (GDC Registration Number 58624)
Areas of Expertise – Invisalign, Fixed Braces, Cosmetic Treatments (Composite Bonding & Veneers)
Dr Elliot is one of UKs leading Invisalign & cosmetic dentists, with over 25 years experience. He is in the top 1% of Invisalign providers in the world, with over 1,000 Invisalign cases. He is also an Invisalign lecturer, having trained a wide group of dentists on Invisalign over the years. Dr Elliot has 10 years of experience with fixed braces and has post grad training in complex orthodontics. In addition, he is also a leading cosmetic dentist and an expert in full smile makeovers, including composite bonding & veneer treatments.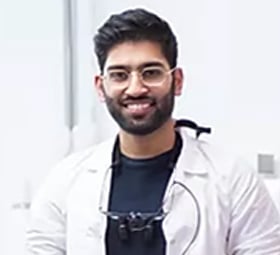 Dr. Deepak Aulak (GDC Registration Number 264962)
Areas of Expertise – Cosmetic Treatments (Composite Bonding & Veneers), Invisalign, Restorations
Dr Deepak is one of UKs leading aesthetic dentists focusing on cosmetic dentistry and smile makeovers. He is a Kings College London graduate and has won multi-awards in dentistry over the years , including Dental Industry Awards – Winner, The Dentistry Awards – Finalist, Private Dentistry Awards – Highly Commended amongst others. His areas of expertise include composite bonding, cosmetic veneers & crowns and Invisalign invisible braces.
Dr Deepak has a wide patient base including high profile clients and celebrities with millions of followers. He is experienced in treating smile improvement cosmetic cases to complex cases with high restoration needs.