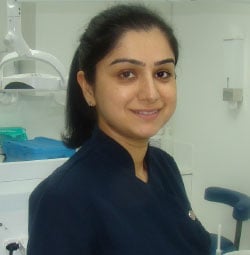 Dr. D Chopra (GDC Registration Number 124489)
Areas of Expertise – Restorations, Endodontics, Cosmetic Treatments (Composite Bonding & Veneers)
Dr. Chopra is the principal dentist at Whites Dental. She has many years of experience in providing general dentistry to families and office going professionals. Her down to earth, warm and friendly persona helps her to very quickly bond with her patients and understand their dental needs and aspirations. Deepa has a particular interest in general and preventive dentistry. Always looking to further her education, she has completed an advanced restorative course. Anxious patients are Deepa's speciality; she takes a very personal approach, helping put patients as ease – always ensuring the patients comfort and sense of ease are a primary consideration.
On a personal note, Deepa spends some of her time in an orphanage in India, helping educate and financially assist two young girls there.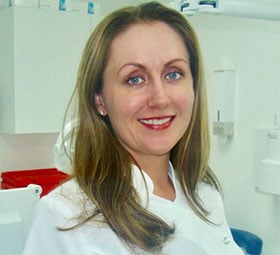 Dr. Xenia Bolger(GDC Registration Number 126824)
Areas of Expertise – Facial Aesthetics, Cosmetic Treatments (Composite Bonding & Veneers), Invisalign, Restorations
Dr. Xenia graduated in 2005 as a general dental practitioner and has over 10 years of private dental experience. She has continued her professional development with the Royal College of Surgeons in restorative dentistry. Dr. Xenia also provides cosmetic teeth straightening using the latest Invisalign system. In her own words, Dr. Xenia says "The way in which I communicate with my patients is a very high priority to me. Also, it's vitally important to me that all my patients have the comfort and confidence in the treatments we undertake and leave with a happy smile. I am constantly updating my skills so that my patients can benefit from the latest dental techniques available. I look forward to meeting our regular and new patients to have the best dental experience."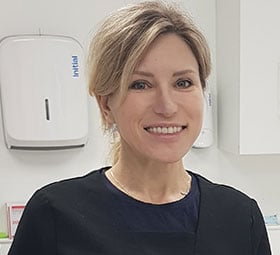 Dr. Sarmite Stafecka (GDC Registration Number 171285)
Areas of Expertise – Orthodontics, Periodontics, Restorations, Endodontics, Full Mouth Rehab, Smile Makeover
Dr Sarmite has over 18 years of experience in dentistry, having worked extensively across different fields such as Orthodontics, Periodontics, Dental Surgery, Endodontics and Prosthodontics. She has a special interest in the area of Orthodontics and Prosthodontics. In 2014, Dr Sarmite completed with Distinction a comprehensive restorative dentistry training at King's College London leading to the prestigious MClinDent in Fixed and Removable Prosthodontics. The programme covered advanced Prosthodontics, advanced functional and aesthetic Restorative Dentistry, Periodontology and Endodontics. Currently, Dr Sarmite receives referrals from surrounding practices for orthodontic treatments, advanced endodontic treatments, complex restorative cases, smile makeovers and multidisciplinary treatments.
Dr. Michail Vavalekas (GDC Registration Number 187491)
Areas of Expertise – Implants, Periodontics
Michail is our Dentist with a Special Interest in Periodontics (Advanced gum disease); with a certificate (2005) and fellowship (2010) in Periodontology and Implantology from the New York University College of Dentistry. Michail brings with him 16 years of dental experience and extensive knowledge in his chosen field and has over 10 years of placing Dental Implants. He also completes more complex procedures: Sinus lift & Bone Graft, Frenotomy and surgical extractions. Michail is currently undertaking a PhD at the prestigious Eastman Institute in London, in the department of Periodontology and is often involved in poster presentations at the Academy of Osseointergration and attendance at lectures and seminars with leading experts in the field of periodontology.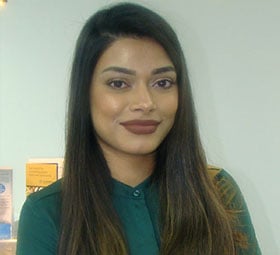 Imani is our reception and administrative manager. She has c.10 years of experience in the dental industry, in both clinical and administrative roles. Forever smiling, her warm and friendly persona will immediately put you at ease and make you feel very welcome the moment you arrive at our practice.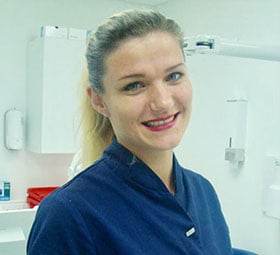 Liga Sviluka is our main nurse at Whites Dental, assisting the principal dentist in providing the highest-quality dental care to our patients. Highly skilled and professional, she has a passion for maintaining the highest standards of cleanliness and hygiene, helping ensure our practice maintains the high standards our patients expect of it.