Dental Implants
Restore a Confident Smile.
Relish your favourite foods again.
Restore natural bite force.
Dental Implants
Restore a Confident Smile.
Relish your favourite foods again.
Restore natural bite force.
Implants
Dental Implants offer a permanent solution for missing teeth (or tooth), helping restore bite force very similar to that of your natural teeth. Implants are the only teeth replacement option that help prevent jaw bone loss and prevent your face from changing shape. They are often used to address –
1. Missing tooth (or a couple of teeth) – A Dental Implant is a permanent teeth replacement option that comes closest to replacing your natural teeth. It is the premium or gold standard in replacing a missing tooth. If you are missing a couple of teeth, an Implant Retained Bridge supported by an underlying implant can provide a secure and permanent solution.
2. Missing teeth on either side of the jaw – Dentures have traditionally been used to replace missing teeth on either side of the jaw. However, Implant Retained Dentures are increasingly the treatment of choice, giving a patient a more permanent and secure solution.
3. Broken or uncomfortable dentures – Implant Retained Dentures are a more secure, stable and permanent option as compared to traditional dentures. They are more comfortable to wear, smaller in the mouth and more natural looking, allowing for normal chewing and eating.
A successful dental implant is often dependent on two main factors – an experienced Implantologist and the implant system used. We recommend you choose a dentist who has extensive academic and research credentials and many years of practical experience in placing dental implants. The type of system used and quality of the implant system also plays a key role in the long term success of dental implants. We recommend using only reliable, long-lasting and high quality systems – systems with a track record of success. The actual implant placement procedure is relatively straight forward, however, can often vary based on individual needs.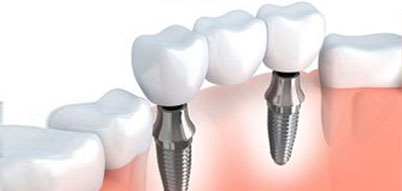 Implant treatment includes planting a post in the jaw bone to support a replacement artificial tooth. The post acts like the root of a natural tooth. The procedure normally has two stages. In the first stage, the implant is placed in the jaw. Once the jaw has healed, replacement teeth are attached to the implant as part of the second stage.
Please visit our Dental Implants FAQ page for further information on Dental Implants
Implant Consultation

from

£50
Dental Implants


Price is per tooth. Includes implant and crown

from

£2,100
Bone Graft

from

£500
Ethically Priced
At Whites Dental, we only use the highest quality implant materials. Our implants treatments are very ethically priced – reflective of the vast experience that our Implants specialist Dr. Michail offers to our patients.
Interest Free Finance – Want a perfect smile, but worried about the cost? At Whites Dental, we provide our patients the option to pay for their treatment via a zero percent finance option. Payments are typically spread over 3-12 months. Your entire treatment could be covered by our0% finance option.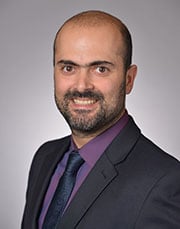 Experienced Implant Specialist
Dr. Michail Vavalekas is our dentist with a Special Interest in Implantology and Periodontics (advanced gum disease). Michail brings with him 16 years of dental experience and knowledge – he has over 10 years of experience placing Dental Implants. He has a certificate (2005) and fellowship (2010) in Periodontology and Implantology from the New York University College of Dentistry.
Michail is currently undertaking a PhD at the prestigious Eastman Institute in London, in the department of Periodontology and is often involved in poster presentations at the Academy of Osseointergration and attendance at lectures and seminars with leading experts in the field of periodontology. He also completes more complex procedures like Sinus lift & Bone Graft, Frenotomy and surgical extractions.
Dental Treatments
Whites Dental, dentist & hygienist in Waterloo SE1, offers a full range of private dental services including general dentistry, cosmetic dentistry, specialist treatments and emergency dentist services. We are located adjacent to Southwark Tube station.
We can typically provide same day appointments – for both regular and emergency appointments.
See our Fee page for pricing of the rest of our treatments.
Whites Dental provides Dental Implant services to patients in Central London. We are conveniently located in London Waterloo SE1, right next to Southwark Tube station. We are also a short 5-10 mins walk from London Bridge, Borough, Waterloo, Southbank, Southbank and Elephant & Castle stations. Please visit our homepage for more details about us.