Can Teeth Gaps Be Closed with Composite Bonding
Create The Smile You
Have Always Wanted
Perfect your smile in as
little as £4/day.
Award Winning Dentist
2500+ Cosmetic Cases
Video Consultation
Remote Assessment
Composite Bonding
Cost from £160/tooth
Gappy Smile?
Composite bonding can help close teeth gaps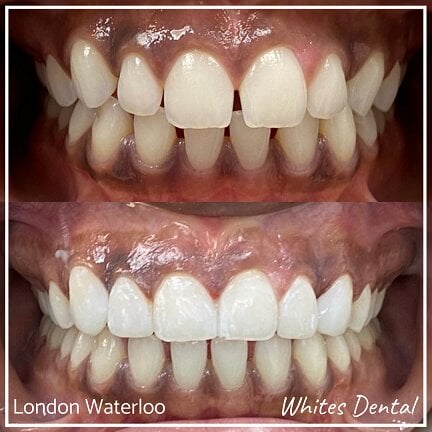 "Bonding can be used to close gaps between your teeth. If you have a gappy smile, bonding can help. Cost effective procedure."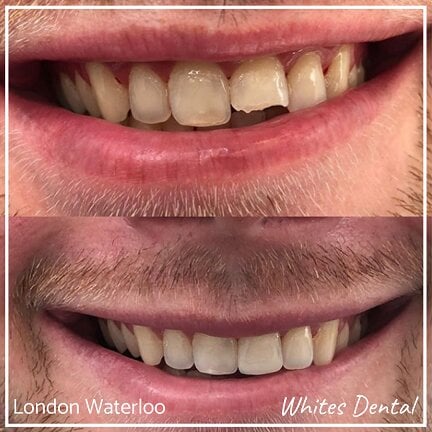 "Composite Bonding is often used to fix chipped teeth or visible surface cracks. It's a quick, painless procedure."
Improve Teeth Shape & Size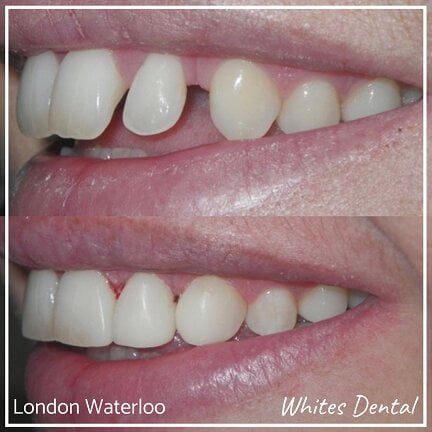 "Improve the shape & size of your teeth with Bonding. If you had an oddly shaped tooth, bonding can help correct it, all in one appointment."
Cosmetic Dentistry in London Waterloo
Teeth gaps are a common cosmetic issue for a number of men and women in London. A number of our patients come to us asking whether we can address the gaps in their teeth with cosmetic dentistry treatments. The answer is usually yes! A number of treatment options are available to close teeth gaps, including composite bonding, veneers and teeth alignment (e.g. Invisalign braces). At Whites Dental, our cosmetic dentists can help to fix gaps in your teeth using dental or composite bonding. We are based in London Waterloo, adjacent to Southwark tube and walking distance from London Bridge.
What is composite bonding?
Composite bonding (also known as tooth bonding or dental bonding) helps to fix minor damage or gaps in teeth. Bonding is usually used for filling chips, fractures or gaps between teeth, or for fixing discolouration. A composite resin is applied to a tooth and shaped to restore its original appearance. The colour of the resin is matched to your teeth, so it will appear as though it is a natural part of the tooth. Gaps between teeth is called "diastema". These gaps tend to appear between the two upper front teeth but gaps can occur between any two teeth for a number of different reasons (bad habits like thumb sucking, missing or undersized teeth, improper swallowing reflex…to name a few).
Composite bonding is a fast and effective way to fix minor cosmetic issues such as the one mentioned above. Composite bonding can usually be carried out in just one visit to the dentist. The composite is hardened using UV light as soon as it's applied, resulting in a tooth that can comfortably bite down by the end of the appointment. Moreover, bonding is also a non-invasive procedure meaning we don't remove any tooth structure and the treatment is reversible too, so if you are unhappy with the outcome, your dentist can remove the composite filling. With alternatives such as crowns and veneers, part of the tooth is permanently removed. For composite bonding to be applied, the surface of the tooth only has to be roughened to help the resin to bond, meaning the structure of the tooth remains intact.
Composite bonding can help make cosmetic improvements to your smile rapidly, without causing further damage to your teeth. Moreover, composite bonding is also a cheaper alternative to crowns or veneers. With good oral hygiene and regular brushing, your composite bonds should last for years. While dental bonding is known to be long lasting, it is not a fully permanent procedure. With proper care and maintenance, it can last for up to 5 -7 years. However, some bad oral habits can damage or reduce the life span of the composite bonding, therefore it is important to maintain good oral hygiene and avoid risk factors such as-
Beverages that cause staining – tea, coffee, red wine and other substances can stain the resin used in bonding.
Smoking- Tobacco is one of the main culprits behind tooth stains, not to mention that it also increases your risk of gum disease and oral cancer.
Bite down on hard candy, ice cubes, and similar substances that can crack the composite material.
Maintain good oral hygiene– to keep your newly bonded tooth beautiful, it is important to brush your teeth twice a day and floss daily.
Some of the advantages and disadvantages of dental bonding are:
Dental bonding is one of the least expensive and easiest cosmetic dental procedures.
Bonding usually can be done in one office visit unless several teeth are involved, unlike veneers and crowns, which are personalised tooth coverings that must be manufactured in a lab, It is a fast and effective way to fix minor cosmetic issues.
Compared with veneers and crowns, it is a procedure that has the least amount of tooth enamel removed.
And last but not least, unless dental bonding is being performed to fill a cavity, anaesthesia is usually not needed.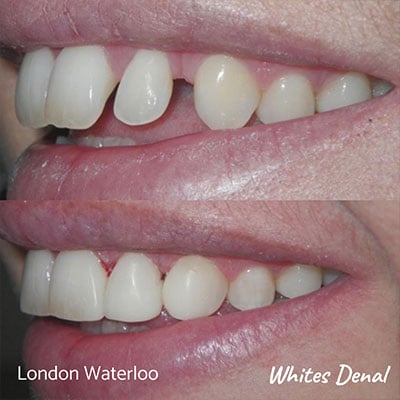 The composite material used in composite bonding is stain resistant to an extent, it does not resist stains as well as crowns.
The dental bonding materials are not know to last as long and are also not as strong as alternative restorative treatments such as veneers, crowns and fillings.
Also, dental bonding can chip and also break off the tooth if not maintained well.
Who can have composite bonding?
Composite bonding is suitable for pretty much every patient. Any slight imperfection can be improved with composite bonding. Badly broken-down teeth and large gaps between teeth can be built up again with this very conservative treatment. Composite bonding is typically used to for the following –
Close gaps or spaces between teeth
Change shape of teeth
Repair cracked, broken or chipped teeth
Improve the appearance of stained teeth
Make teeth look or appear longer
Protect the surface of the tooth's root exposed due to gums receding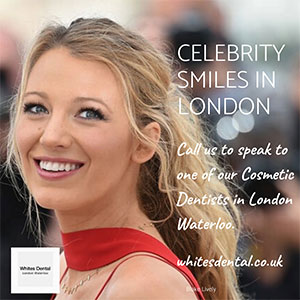 How long your bonding lasts will be largely dependent on you. That said, correct diagnosis, talented hands and a great relationship with your dentist will help your composites last longer. Composite resin is not unbreakable and will be subject to wear and tear. Like everything, if you look after them they will last longer!
A healthy smile is a confidence booster. If you have discoloration, a chipped tooth, or a gap and you are looking for an inexpensive repair, come see us for a consultation! Composite bonding can help you achieve a smile you are happier with.
If you're interested in having composite bonding in London, why not call us on 0208 616 0590 today to book an appointment with one of our cosmetic dentists. You can read more information about cosmetic dentistry below – https://www.whitesdental.co.uk/cosmetic-dentistry/
At Whites Dental, we have some of London's leading cosmetic dentists providing state of the art cosmetic dentistry to patients around us in Central London, including composite bonding, teeth alignment, veneers and smile makeovers. We are very centrally located in London Waterloo, right across the road from Southwark tube. We are a short 8-10 mins walk from Blackfriars station, Southbank, Borough, London Bridge and Elephant and Castle.