Invisalign Clear Braces – Cost Involved
Invisalign Clear Braces – Cost Involved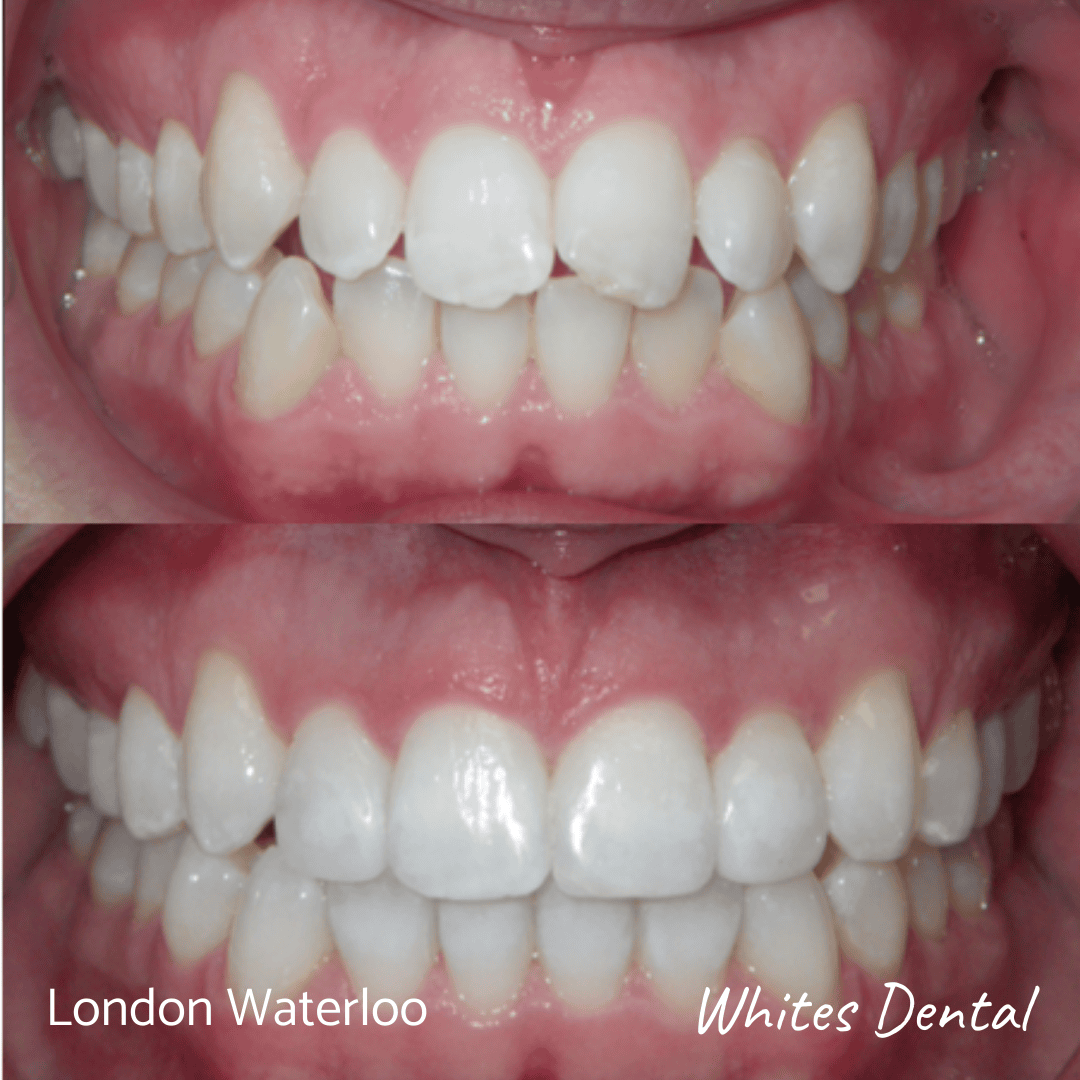 Every person's smile is unique. As is every budget.
The cost of teeth straightening treatment often depends on the patient's actual teeth straightening needs, the type of treatment chosen and where the treatment is undertaken. Relatively minor teeth misalignment can be corrected relatively quickly at costs significantly lower than complex teeth misalignment conditions. Treatment types also have different costs associated with them – for example, costs of invisible braces can be different from those of fixed metallic braces. Finally, specialist orthodontic practices often cost more given the treatment is carried out by specialists. These practices usually address more complex cases, whereas a significant proportion of teeth straightening cases do not need a specialist orthodontist for treatment.
Invisalign Clear Braces are a very popular treatment option – they have been used to straighten teeth for millions of people worldwide. The cost of Invisalign clear braces is similar to that of braces – however that's where the similarity ends. Invisalign clear aligners are removable and virtually invisible; you can live your life and care for your teeth throughout the treatment the same way you always have. The advantages of Invisalign Clear Braces are immense.
The cost of Invisalign clear braces for adults often falls between £1,500 and £4,500. The exact cost of the Invisalign treatment is determined by the complexity of the case, how long the treatment is required and what dental clinic the treatment is undertaken in. To obtain an exact cost for your Invisalign treatment, request an appointment with an experienced Invisalign Dentist.
At Whites Dental, our Invisalign Consultations are completely FREE.
Consultation
FREE
i7 treatment – up to 7 sets of aligners

from

£1,500
Lite treatment – 8 – 14 sets of aligners

from

£2,155
Full treatment – 15 to 30 sets of aligners

from

£3,795
Full treatment – complex

from

£4,200
Fast Braces

from

£2,000
Exceptional Dental Care
At Whites Dental, we try very hard to provide every patient with exceptional dental care and customer service. We pride ourselves in going the extra mile to exceed the expectation of every single patient.
Our dentists, Dr. Magda and Dr. Xenia are very experienced dentists, with over 20 years of dental experience between the two of them. They go to great lengths to leave you with a happy smile at the end of your treatment with us.
Please click here to visit our Invisalign homepage.
At Whites Dental, our Invisalign costs are provided upfront so there are no unwelcome surprises down the line. Our Invisalign Dentist will provide you with a fixed quote as part of the complementary Invisalign consultation – the total cost of the treatment will be included in the quote to avoid any ambiguity.
All our Invisalign Dentists are experienced providers of a range of different teeth straightening treatments. They will discuss the various treatment options available to you in detail, talk you through how the preferred treatment option will work and enable you to ask any questions or concerns you might have. This means that you can achieve the look you desire, with an option that is best suited to you needs.
A number of payment options are available to all our patients. These range from paying upfront for your treatment to paying over a longer duration (typically over the course of the treatment). We also offer an interest free financing option that you can apply for and obtain approval right at the practice, all in under 10 minutes.
Our Invisalign Dentist are available every week – there is no need to wait to speak to one of them face-to-face. You can email us or simply call us to book a free Invisalign consultation straight away. There's no better time to start loving a straighter smile.
Frequently Asked Questions(FAQs)
Invisalign clear aligners are a discrete way to straighten your teeth, helping to give our patients a more confident smile. Clear aligners (or braces as they are called) are virtually invisible, easily removable and more comfortable compared to fixed metal braces. They are also hygienic, cause no irritation to the gums or mouth and have minimal impact on your life-style. They won't affect your speech, you won't need to change what you eat, and more importantly – most people won't be able to tell you are even wearing them.
Invisalign is a virtually invisible method to straighten your teeth; it allows you to achieve the smile you have always wanted without the need for metal braces. The treatment involves using a series of clear braces – braces that are custom-made for your teeth, to move them – little by little – each time.
Each clear braces (or aligner) is worn for two weeks typically before being replaced by the next clear brace in the series, thus enabling your teeth to move towards their projected final position in a gradual manner. The treatment time and the number of braces needed will be determined by the dentist, based on your specific dental needs.
What are the benefits of Invisalign Clear Braces?
Invisalign clear aligners are virtually invisible. Most people will not even notice that you are wearing them, enabling Invisalign braces to fit in seamlessly with your life-style and regular day-to-day interactions. Invisalign clear aligners are removable, giving you the flexibility to eat – drink what you like during the treatment by simply removing the braces or aligners. You can also remove the braces to floss or brush as normal. Finally, Invisalign enables you to view your virtual results and treatment plan before you even begin treatment so you can yourself visualise how your teeth are expected to look once your treatment is complete.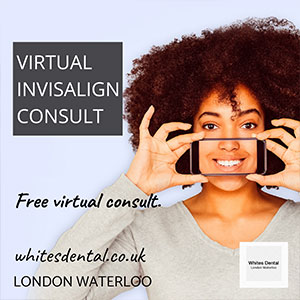 Is Invisalign a new way to straightening teeth?
Orthodontists have used removable appliances or braces successfully for years. Invisalign has built on that experience using Align Technology's 3D technology and mass-customisation ability to treat a wide variety of patients who want to have their teeth straightened. The ClinCheck® software system enables a patient to see their treatment plan from start to end before the treatment even begins.
Whites Dental provides Invisalign Clear Brace treatments to patients around us in London Waterloo. Invisalign Clear Braces Costs are provided to all our patients upfront as part of the Invisalign quote we provide at the end of the complementary Invisalign consultation. We are located in London Waterloo SE1, adjacent to Southwark Tube station. We are also under 10 mins walk from London Bridge, Southbank, London Waterloo, Borough and Elephant &Castle stations.