ABCs of Orthodontic Braces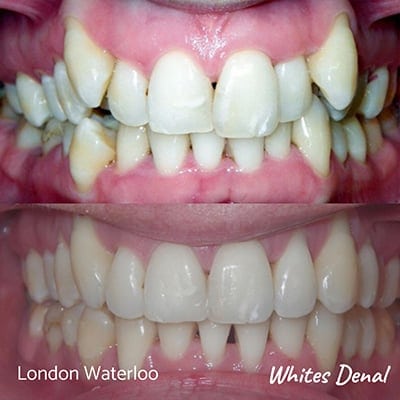 All You Need To Know About Braces in London
Orthodontic braces treatment is increasingly becoming popular with men and women in London who want to straighten their teeth. At Whites Dental, our dentists provide a range of teeth straightening options for both teenagers and adults in London, including Invisalign clear braces and fixed braces to give you a straighter smile. Orthodontic braces are no longer just the traditional fixed metal braces associated with teenagers. A whole range of brace options now exist; braces are much more comfortable and many are a lot more discreet – providing a range of suitable alternatives for every patient. If you are looking to straighten your teeth with braces treatment, why not book a complementary video consultation with one of our dentists. Simply send us images of your teeth and we will be able to provide a free video consult with our expert dentists.
Many of our adult patients ask us questions on suitable teeth straightening options and how orthodontic treatment could benefit them. Based on our conversations with our patients, we have compiled a list of topics that often get asked by patients. The list is vast and the breath of scope is truly astounding. To break down the basics of orthodontics, we have listed ABCs of orthodontic braces for you to consider in the article below. They are some of the most important factors to know and consider if you are thinking about straight teeth and orthodontic treatment.
A – Adults can have braces too
Orthodontic braces aren't just for children and teenagers. Many grown adults, including parents of some of our younger braces patients want to have a straight smile as well; we are of course only too happy to help them create a straighter smile. For adults who want to improve and straighten their teeth, but are concerned about the look and appearance of traditional fixed metal braces, we provide clear ceramic Braces, Lingual braces and also Invisalign invisible braces. Please see letters C, L and I below for more detail about those treatments.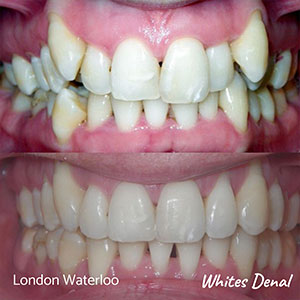 Ceramic braces are fixed braces, similar to fixed metal braces; however, the bracket is made of ceramic tooth-coloured material, instead of metal. The wire and ties can also be made of tooth-coloured material, thus allowing you to have a more discreet look while undergoing your orthodontic treatment. Ceramic braces can be a great alternative to metal braces, for both teens and adults who prefer to avoid the look and appearance of traditional fixed metal braces, but want to still use an effective teeth straightening system.
Dr Elliot is our resident teeth straightening expert. He is very experienced at straightening teeth, having completed over a 1000 teeth straightening cases. He is very experienced in a range of orthodontic braces treatments including Invisalign invisible braces, Damon braces and fixed metal braces. He is passionate about providing every single patient the highest quality braces treatment and patient care.
He likes to get to know all his patients, to understand their needs and desires, to then suggest a treatment that best suits the patient's needs.
B – Brackets – what are they?
Brackets are pieces of metal or ceramic material, part of the orthodontic hardware, that are bonded to the surface of your teeth. Brackets are connected to bands, holding the orthodontic wire in its place.
E – Emergency Orthodontic Care
Hopefully, you will not need emergency orthodontic treatment while under our care! However, we fully understand that accidents can happen to anyone and at any time. We are definitely here to help and support you with your dental emergency should it occur.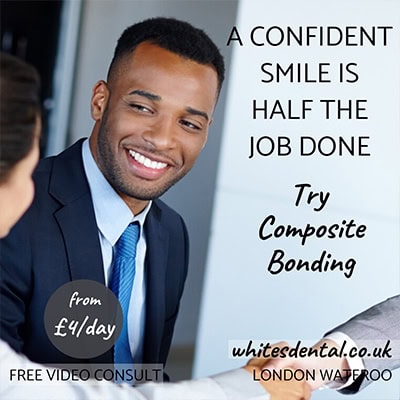 If you experience an emergency with your braces treatment, we suggest you read the orthodontic emergency page on our website that explains the various issues that could arise and steps to follow to address them. The page includes information on issues such as loose brackets, protruding wires, mouth sores and more. Please don't hesitate to contact us or call us if you feel something isn't right with your orthodontic braces. Many times, the dentist may be required to make adjustments to your brackets and wires if your braces get damaged; therefore please do keep us informed if a bracket gets lost or if you something gets loose.
F – Floss Threader – what does it do?
A floss threader is an orthodontic tool that helps you to run your floss under the wire of the orthodontic braces. Flossing can often be a little bit harder with fixed braces on, however it is still definitely important to do it every single day of your orthodontic treatment. Thankfully, a tool such as a floss threader can help you to floss and maintain good oral hygiene. If you don't have one already, feel free to ask us how you could get one.
When the dentist first fixes the braces to your teeth, your gum tissue can become a little bit sore until the gums become used to the orthodontic braces being there. After the initial stage of brace treatment, if you experience any swelling in your gums, it could be as a result of plaque build-up on your teeth. This means that you need to become more thorough in cleaning your teeth while brushing and flossing your teeth. For further information, you can check our blog article on swollen gums and soothing remedies; if you have any questions, please feel to contact us.
H – Healthy Teeth and Smile
Many adult patients (and also teenagers) choose orthodontic braces treatment to not only have straight teeth and a beautiful smile, but also to have better dental health. Straight, well aligned teeth are much easier to clean; they also help you chew your food more efficiently and effectively than teeth that are overly crowded or teeth that are unevenly spaced. This in turn benefits your digestion.
Invisalign braces are an innovative orthodontic technology that does away with fixed braces and instead uses a series of clear, removable plastic trays (called aligners) that gradually move the teeth, incrementally, to their desired positions. Their main benefit is that they are virtually invisible; they are so discreet that most people won't be able to even tell you are having braces treatment. Everyone will just see your natural smile; only you and the orthodontist will know you have braces on. Visit our Invisalign homepage at https://www.whitesdental.co.uk/dental-invisalign/
At Whites Dental, our dentists are passionate about orthodontic braces and provide a range of adult braces options such as Invisalign braces, Ceramic braces, Damon braces, lingual braces and fixed metal braces. We are conveniently based in London Waterloo, right next to the busy Southwark tube station. We are also a quick, short walk from Elephant and Castle, Borough Market, London Bridge and Borough Market.