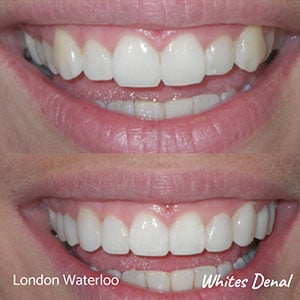 Veneers in London Waterloo
Porcelain veneers and composite veneers have become very popular with women and men in London lately, especially those looking to improve the look and appearance of their smile. At Whites Dental in London, our cosmetic dentists can help you to create a beautiful, natural smile. We offer a wide range of cosmetic dentistry treatments in Central London such as porcelain veneers, composite veneers, bonding and smile alignment.
Dental veneer is a thin layer of porcelain made to fit over the front surface of a tooth, like a false fingernail fits over a nail to re-create the natural look of teeth, while also providing strength and resilience comparable to enamel. Occasionally a natural-colour 'composite' material is used instead of porcelain. They can be used to fix chipped, stained, misaligned, worn down, uneven or abnormally spaced teeth.
Veneers have a lot of benefits- for example they can create a durable and pleasing smile for teeth that are severely discoloured, chipped or misshapen. Moreover, veneers are difficult to stain, making them popular for people seeking a perfect smile.
Why are Veneers Used in Dentistry?
Veneers are a less intrusive option than crowns or braces. They can be used to close gaps or correct small misalignments. Patients also choose veneers as a cosmetic solution to enhance the brightness of their teeth and to straighten their smile, correcting issues like discoloration, fractures, or chips.
Dental veneers can be made from resin composite or from porcelain materials. Porcelain veneers resist stains better than resin veneers. They also better mimic the light-reflecting properties of natural teeth.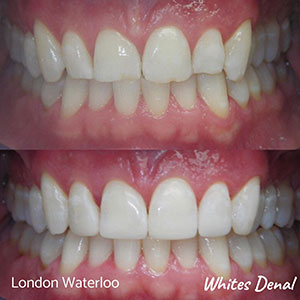 What Types of Problems Do Dental Veneers Fix?
Veneers are routinely used to fix:
Teeth that are discoloured because of: root canal treatment, stains from tetracycline or other drugs, excessive fluoride, large resin fillings and other causes
Teeth that are worn down
Teeth that are chipped or broken
Teeth that are misaligned, uneven, or irregularly shaped (for example, have craters or bulges in them)
Teeth with gaps between them (to close the space between these teeth)
The typical process takes one to two appointments. If the veneer is prefabricated it usually takes one appointment, however if the laboratory is creating the veneer it takes two appointments. We will focus on highlighting placement of the porcelain veneer created by the laboratory:
Local anaesthesia is not usually required when placing veneers. However, depending on the patient's sensitivity, it can be used if needed. The dentist will clean the tooth and determine the correct shade for the veneer. The dentist will remove a very small amount of the enamel of the tooth to provide room to place the veneer on the tooth.
An impression of the tooth will be made for the laboratory and a temporary veneer will be placed on the tooth with spot etching in the centre of the tooth away from the margins.
After the laboratory has delivered the porcelain veneer to your dentist, the temporary veneer is removed, the tooth is cleaned with pumice and water. The veneer is then etched, rinsed thoroughly with water and air dried. The adhesive is placed on the preparation and then the cement and the veneer are placed for exact fit and contour.
The veneer is then light cured for 60 seconds on all surfaces of it to attach it to the tooth structure.
Your dentist will remove any excess material and polish the margins of the veneer.
Many dentists will schedule a follow-up visit to check for comfort; a comfortable veneer will be a long-lasting veneer.
Veneers offer these advantages:
They provide a natural tooth appearance.
Gums tolerates porcelain well.
Porcelain veneers are stain resistant.
A colour can be selected to make dark teeth appear whiter.
They generally don't require as much shaping as crowns do, yet they are stronger and look better.
Downsides to dental veneers include:
The process cannot be undone.
Veneers cost more than composite resin bonding.
Veneers usually cannot be repaired if they chip or crack.
Because enamel has been removed, your tooth may become more sensitive to hot and cold.
Veneers are not ideal for people with unhealthy teeth (for example, those with decay or active gum disease), weakened teeth (as a result of decay, fracture, large dental fillings), or for those who don't have enough existing enamel on the tooth surface.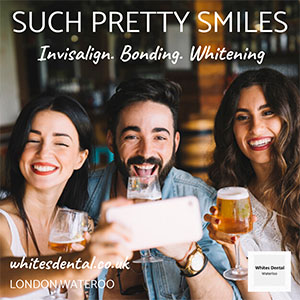 Dental veneers do not require any special care. You should continue to brush and floss just as you would your regular teeth. Proper daily brushing, and use of non-abrasive fluoride toothpaste. Even though porcelain veneers resist stains, your dentist may recommend that you avoid stain-causing foods and beverages such as coffee, tea, or red wine. Keep in mind that veneers will need to be replaced at some point, no matter how well you take care of them. But proper oral hygiene will help them last as long as possible.
If you're deciding on having veneers, why not consult with our cosmetic dentist to be sure you fully understand every part of the process and cost. A beautiful smile feels great and can increase both your confidence and well-being. If you are keen to have a smile makeover with veneers, you will find additional information in our cosmetic dentistry page https://www.whitesdental.co.uk/cosmetic-dentistry/
At Whites Dental in London Waterloo, some of London's most experienced cosmetic dentists work with us, providing composite veneers, porcelain veneer, whitening, bonding and smile alignment to patients near us in London Bridge, Elephant and Castle, London Waterloo and Southwark. We are in London Waterloo, right adjacent to Southwark Tube station and a short 2-3 minutes' walk from London Waterloo mainline train station.