How Much Do They Shave Your Teeth For Veneers?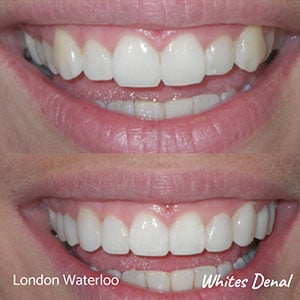 Veneers in London Waterloo
Porcelain and composite veneers are increasingly popular with our patients lately in London, especially those who want to improve their smile and restore their self-confidence. At Whites Dental our award-winning cosmetic dentists can help you create a perfect, beautiful smile you have always wanted. We provide a full range of cosmetic dentistry procedures in London City such as porcelain veneers and composite veneers, composite bonding, professional teeth whitening and smile alignment. We are based in Waterloo, right opposite Southwark Station or a 5min walk from Waterloo Station.
A veneer is a thin wafer of porcelain that is permanently bonded to a tooth to mask its natural colour, shape, or positioning in the mouth. Veneers are a fast and effective solution to stained, chipped, misshapen or crooked teeth.
Veneers are mostly used for:
Discoloured teeth from white fillings, root canals or other procedures
Broken or chipped teeth
Irregular shaped teeth
Gaps between the teeth
Other dental issues leading to loss of self confidence
They usually last for 7-15 years before you need to get them replaced.
Do they shave your teeth for veneers?
The teeth might need to be shaved down during the preparation stage, but it really just depends on your specific situation. For example, if you come in with large, greyish-looking, crooked teeth, that's when your dentist would really have to shave the teeth down to get the look you might want. But if you have short teeth and gaps in between your teeth, your dentist won't have to do as much prep or shaving. Veneers are a multi-step process, often spread across a few appointments, but the results are definitely worth the extra time. What's so cool about the veneers is how customized they are for each patient. Your dentist will discuss with you what is possible based off your need/wants. They will also take into account your personality, how you talk, the expressions you make, how you smile, all while making sure your teeth also work functionally so you can still eat. To ensure you like what you discussed with your cosmetic dentist, temporary veneers are then created. Your dentist will specifically sculpt what your new smile will look like so that he can take pictures of you and decide whether or not you'd like to move forward.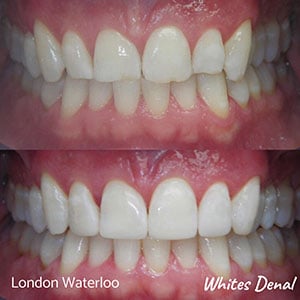 Once you commit to your veneer plan and figure out how many you need, more X-rays, molds, and photographs are taken. Then, you come back the next day for prep. After you get your temporary partial or full veneers fitted, you wear them for seven to ten days. Some dentists refer to this time as a "trial smile." This way you can see how your new "smile" looks. Then, after a week or so, you come back and discuss any changes you want to make. Once you and your dentist decide on what you want, more molds are taken. When the porcelain veneers are ready, they're fit to your teeth once more to make sure they match perfectly.
Placing Veneers
The typical process takes one to two appointments. If the veneer is prefabricated it usually takes one appointment, however if the laboratory is creating the veneer it takes two appointments. In this article, we will provide information on placing porcelain veneers that are created in a laboratory:
Local anaesthesia is not usually required when placing veneers. However, depending on the patient's sensitivity, it can be used if needed. The dentist will clean the tooth and decide the correct shade for the veneer. The dentist will then remove a very small amount of the enamel of the tooth to provide room to place the veneer on the tooth.
An impression of the tooth will be made for the laboratory and a temporary veneer will be placed on the tooth with spot etching in the centre of the tooth away from the margins.
After the lab delivers the porcelain veneer to the cosmetic dentist, the temporary veneer is removed, the tooth is cleaned with pumice and water. The veneer is then etched, rinsed thoroughly with water and air dried. The adhesive is placed on the preparation and then the cement and the veneer are placed for exact fit and contour.
The porcelain veneer is light cured for approximately 60 seconds on all its surfaces to attach it to the underlying tooth structure.
The cosmetic dentist will then remove any excess material left over and polish the margins of the porcelain veneer.
Veneers offer these advantages:
They provide a natural tooth appearance.
Gums tolerates porcelain well.
Porcelain veneers are stain resistant.
A colour can be selected to make dark teeth appear whiter.
They generally don't require as much shaping as crowns do, yet they are stronger and look better.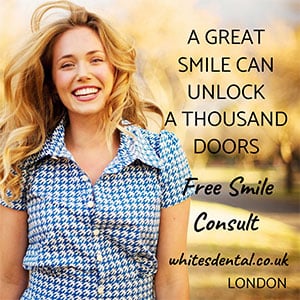 Downsides to dental veneers include:
The process cannot be undone.
Veneers cost more than composite resin bonding.
Veneers usually cannot be fixed if they chip or crack.
Your tooth may become more sensitive to hot and cold because enamel has been removed.
Veneers are not ideal for people with unhealthy teeth (for example, those with decay or active gum disease), weakened teeth (as a result of decay, fracture, large dental fillings), or for those who don't have enough existing enamel on the tooth surface.
Now that you know a little more about one of the most popular cosmetic dentistry procedures, what are you waiting for?
You can find more information on veneers on our homepage– https://www.whitesdental.co.uk/cosmetic-dentistry/
At Whites Dental, we have some of the leading cosmetic dentists in London working alongside us, offering tooth bonding, professional whitening, porcelain veneer and composite veneer to patients near us in London Waterloo, London Bridge, Central London and Elephant and Castle. This page is designed to provide information on how much do cosmetic dentists shave your teeth for veneers. We are based in London Waterloo, right across the road from Southwark Tube station and very close to London Waterloo rail station. We are a 6 to 8 minutes' walk from Elephant and Castle tube station, London Bridge, Borough Market and a 6 to 9 minutes' walk from Blackfriars station and Southbank.