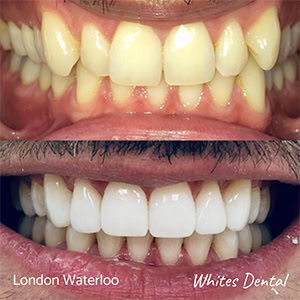 Porcelain and composite veneers are increasingly becoming popular with health and beauty conscious men and women in London who are looking to improve the appearance of their teeth. At Whites Dental, we have some of London's leading cosmetic dentists working with us – they can help to create a beautiful smile for you. We provide a range of cosmetic dentistry treatments in London such as professional whitening, porcelain and composite veneers, dental bonding and teeth alignment.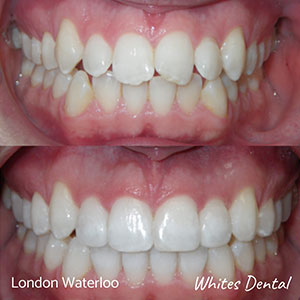 Your smile is one of the first features that most people will notice. What happens if a tooth needs some minor treatment to make your smile sparkle? That's where a dental veneer comes into play as it could help enhance your smile.
What are veneers?
Dental veneer is a thin layer of porcelain made to fit over the front surface of a tooth, like a false fingernail fits over a nail to re-create the natural look of teeth, while also providing strength and resilience comparable to enamel. Occasionally a natural-colour 'composite' material is used instead of porcelain. They can be used to fix stained, chipped, worn down, misaligned, uneven or abnormally spaced teeth.
Are veneers worth it?
Every situation is different, so whether veneers are worth it to you depends on how you feel about your current situation, how much money you're willing to spend, and how much of a commitment you want to make. As is the case before any irreversible treatment, talk things over first during a professional consultation to go over the pros and cons of getting veneers so you can fully understand what you're getting yourself into. Porcelain veneers are excellent restorations. We can change the colour, shape, size, and alignment of the teeth with this technique. It is a fast and long-lasting way to accomplish a "smile makeover." One of its advantages is the fact that you do minimal preparation to the teeth.
What Types of Problems Do Dental Veneers Fix?
Veneers are routinely used to fix:
Teeth that are discoloured because of root canal treatment, stains from tetracycline or other drugs, excessive fluoride, large resin fillings and other causes
Teeth that are worn down
Teeth that are chipped or broken
Teeth that are misaligned, or irregularly shaped
Teeth with gaps between them (to close the space between them)
It's not exactly a pain-free process, which is why before the treatment begins, you'll be numbed with a localized anaesthesia should you want to. Depending on how many veneers you're getting, you could be in the chair for a few hours (for example, 10 teeth could take about three hours). You might also get bonding sensitivity, which is a reaction between your teeth and the bonding cement. The pain it comes with can last six hours after the anaesthesia wears off, followed by a dull pain that comes in waves. Over the counter painkillers will help you ease off the pain. A few days after the treatment, there is usually a period of adjustment where your bite could feel a little off and you feel tingles of pain. If either occurs, see your dentist so they can make slight changes to your teeth and clear away any excess microscopic pieces of cement stuck between your teeth (this usually is the culprit for the pain).
The typical process takes one to two appointments. If the veneer is prefabricated it usually takes one appointment, however if the laboratory is creating the veneer it takes two appointments. We will focus here on describing the placement of the porcelain veneers that are created in a laboratory:
Local anaesthesia is not always required when placing veneers. However, depending on the patient's sensitivity and how many teeth you are getting done, it can be used if needed. The dentist will clean the tooth and choose the correct shade for the veneer. The dentist will remove a small amount of the enamel to provide room to place the veneer on the tooth.
An impression of the tooth will be made for the laboratory and a temporary veneer will be placed on the tooth with spot etching in the centre of the tooth away from the margins.
Once the dental lab has delivered the porcelain veneers to the cosmetic dentist, the temporary veneer is then removed and the tooth cleaned with water and pumice. The veneer is then etched, rinsed thoroughly with water and air dried. The adhesive is placed on the preparation and then the cement and the veneer are placed for exact fit and contour.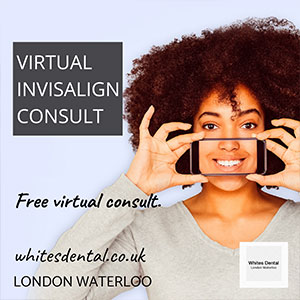 4. The porcelain veneer is cured with light for approximately 60 seconds on all its surfaces in order to attach it to the structure of the tooth.
5. Your cosmetic dentist will then remove excess material that remains and polish the margins of the porcelain veneer.
Which is right for you? Lumineers or veneers?
Your dentist will then schedule a follow-up visit to check for comfort; a comfortable veneer will be a long-lasting veneer.
If you're deciding on veneers, consult with our cosmetic dentist and be sure you understand every part of the process. A beautiful smile feels great and can boost both your confidence and well-being. You can find more information on veneers on our homepage– https://www.whitesdental.co.uk/cosmetic-dentistry/
At Whites Dental, we have some the leading cosmetic dentists in Central London working with us, providing dental bonding, porcelain veneer and composite veneers, professional whitening and teeth alignment to patients near us in London Waterloo, Southwark, London City, Elephant and Castle and London Bridge. This page provides information on whether veneers are painful. We are conveniently located in London Waterloo, right adjacent to Southwark Tube station and very close to London Waterloo mainline station. We are a 8 to 12 minutes' walk from Elephant and Castle tube station, London Bridge, Borough and a 5 to 7 minutes' walk from Blackfriars station and Southbank.