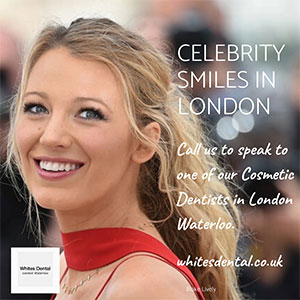 Veneers in London Waterloo
Dental Veneers have become increasingly popular with men and women in London looking to improve their smile. At Whites Dental, our cosmetic dentists are here to help create a beautiful smile for you. We offer a full range of cosmetic dentistry treatments in London including composite bonding, porcelain veneers, composite veneers and smile alignment.
A veneer is a thin moulding, custom-made from porcelain, which is bonded to the front surface of a tooth. Veneers can be used to fix chipped, stained, misaligned, worn down, uneven or abnormally spaced teeth. They can also be used to cover gaps in teeth where orthodontic treatment may not be suitable. Veneers are a cosmetic treatment.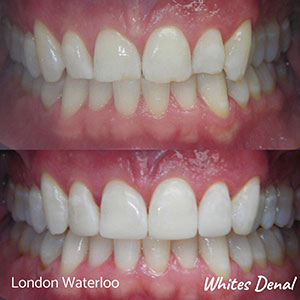 They cover only the front surface of the tooth and will mimic the size, shape and colour of your teeth, creating a very natural look. A specific shade of porcelain can be chosen to give the right colour to improve a single discoloured tooth or to lighten your front teeth.
What are the benefits of veneers?
Veneers provide a very natural finish. If you are worried about misshapen, chipped or discoloured teeth, veneers can offer a long-lasting cosmetic solution. The colour of the porcelain veneer can be selected to match your existing teeth or to make them appear whiter. The porcelain finish also imitates the light-reflecting qualities of natural teeth, helping you achieve a brighter, natural -looking smile. Porcelain veneers are also more durable and stain resistant than composite bonding, and can last for many years if looked after properly. Veneers offer a gentler approach to altering a tooth's shape or colour than crowns, as only a small amount of enamel has to be removed to fit the veneer as well as giving similar strength and very natural looking results.
What are the downsides of having veneers?
Veneers are considered a long-term solution to imperfect teeth, once you've had them fitted, it's an irreversible procedure. It can take a few weeks to get used to the new feel of having dental veneers. Dental veneers are an investment. It is an irreversible procedure that changes your natural teeth, therefore you need to be sure that they're the right option for you. Your dentist will need to change the structure and shape of your teeth to apply the veneers and remove the outer layer of enamel. In some cases, patients can also experience increased sensitivity after having veneers fitted. So, you need to think through your options carefully and make sure that you choose the right solution for your needs. If you have any questions, concerns or queries, please feel free to book in for a free consultation with one of our cosmetic dentists here at Whites Dental.
What are the alternatives to veneers?
Alternative options to veneers are:
Composite bonding– is a fast, non-invasive procedure which can usually be completed in a single appointment. A composite resin is adhered to the tooth to restore its natural shape and colour.
Crowns– a crown is a tooth-shaped cap that's placed over the entire visible portion of your tooth. A crown will function and feel just like any of your other teeth. And if you choose to have a porcelain. crown, it will be virtually indistinguishable from your other teeth.
Orthodontics– fixed or removable braces can be used to straighten misaligned teeth and close gaps. Advances in orthodontics mean that braces can now be virtually invisible.
It's important to consider all of the options available to you. Your dentist will be able to explain the different processes and advise you about which treatment best suits your individual needs.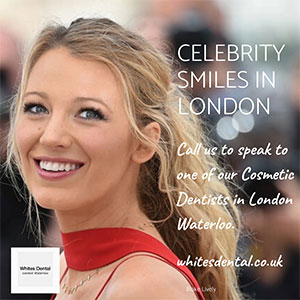 Can veneers fall off?
Although it happens infrequently, the veneers can de-bond or break, but if this were to happen, your dentist would be able to re-cement or replace the veneer, depending on the situation. If you are interested in getting veneers or would like more information why don't you book in for a free consultation with one of our cosmetic dentists?
Are veneers permanent?
They're permanent, but they're not forever. Bonding cement is a substance that microscopically creates bridges from your real tooth to the porcelain so that it adheres to your tooth and becomes one, think of it as the glue for a press-on nail—only you can't get this one off once it's on. After the bonding cement is in place and the veneer is on your tooth, the bonding cement is cured with a tiny UV light to secure everything in place. With that said, veneers could last for about 15 to 20 years, at which point they'll need to be replaced.
To replace veneers, you gently and carefully drill off the old veneer, and start the new process over. Don't worry, more of your natural tooth does not get removed when they take the old ones off; dentists typically wear microscopic glasses to make sure they're not drilling into the natural tooth.
If you are considering veneers or a smile makeover, you can find more information on veneers and related cosmetic dentistry treatments by visiting our homepage https://www.whitesdental.co.uk/cosmetic-dentistry/
At Whites Dental, we have some the leading cosmetic dentists in London working with us, providing composite bonding, porcelain veneer and composite veneer procedures to patients near us in London Waterloo, Southwark, Central London, Elephant and Castle andLondon Bridge. This page provides information on how long composite veneers last. We are based in London Waterloo, right across the road from Southwark Tube station and very close to London Waterloo rail station. We are a 6 to 8 minutes' walk from Elephant and Castle tube station, London Bridge, Borough Market and a 4 to 5 minutes' walk from Blackfriars station and Southbank.