Are Veneers Done In One Day?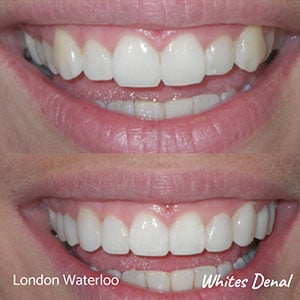 Veneers in London Waterloo
Are you looking for a picture perfect smile in London? Cosmetic dentistry treatments such as porcelain and composite veneers can certainly help improve your smile and restore your confidence. At Whites Dental, our award-winning cosmetic dentists can help you to create a perfect, beautiful smile that you have always dreamt of. We are conveniently located in the heart of London in Waterloo, right opposite Southwark Station and a 15 minutes' walk from London Bridge.
What is a dental veneer?
Dental veneer is a thin layer of porcelain made to fit over the front surface of a tooth, like a false fingernail fits over a nail to re-create the natural look of teeth, while also providing strength and resilience comparable to enamel. Occasionally a natural-colour 'composite' material is used instead of porcelain.
Why veneers?
Veneers have a lot of benefits- for example they can create a durable and pleasing smile for teeth that are severely discoloured, chipped or misshapen. Moreover, dental veneers are not pretty difficult to stain, making them very popular with people wanting a perfect smile.
Why are veneers used in dentistry?
Veneers are a less invasive option than crowns or braces. They are often used to help close gaps between teeth or to correct minor misalignments. Patients also prefer veneers as a cosmetic solution to enhance the brightness of their teeth and to straighten their smile, correcting issues like discoloration, fractures, or chips.
At Whites Dental, the process to have porcelain veneers placed usually takes 2 to 3 appointments (could be done sooner depending on the case). The first appointment is your consultation and wax-up, helping you visualise what your end results will look like. The second appointment is to prepare your teeth and place temporary veneers on. The third appointment is when your final, custom-made veneers will be attached.
We know that this is a long process, but we are committed to making sure each and every one of our patients is completely satisfied with their porcelain veneers. We would rather it took a bit longer to do it right, than rushing through the process and leaving our patients unsatisfied.
The Average Porcelain Veneers Timeline
On average, the porcelain veneers process from the initial consultation to the final placement takes around 3 weeks. After your consultation, your temporary veneers will be prepared in our cosmetic lab. Then, after your teeth are prepared and your temporaries are placed, your custom veneers will be made. Your final visit will be to attach your custom veneers.
In some instances, patients find that they want changes made to their final veneers. Our cosmetic dentist will accommodate these changes, but this will extend your veneers timeline as new custom veneers will need to be fabricated and placed.
The typical process takes two to three appointments. If the veneer is prefabricated it usually takes one appointment, however if the laboratory is creating the veneer it takes two to three appointments. We will focus on highlighting the placement of the porcelain veneer produced by the laboratory:
Local anaesthesia is not always required when placing veneers. However, depending on the patient's sensitivity and how many teeth you are getting done, it can be used if needed. The cosmetic dentist will clean your tooth and then choose the right shade for the dental veneer. The cosmetic dentist will typically remove a tiny amount of tooth enamel to create room to place the dental veneer on your tooth.
An impression of your tooth will then be made for the lab and a temporary dental veneer placed on top of the tooth.
After the laboratory has delivered the porcelain veneer to your dentist, the temporary veneer is removed and the tooth is cleaned. The dental veneer is etched, then rinsed properly with water and dried with air. The adhesive is placed on the preparation and then the cement and the veneer are placed for exact fit and contour.
The veneer is then light cured for sixty seconds using UV light on all surfaces of it to attach it to the tooth structure.
Your dentist will remove any excess material and polish the borders of the veneer.
Your cosmetic dentist will schedule a follow-up appointment to check for a good fit and also comfort. A comfortable veneer is a long-lasting veneer.
If you're deciding on having dental veneers, why not consult with our cosmetic dentist and be confident you fully understand every part of the veneer process. A beautiful smile feels great and can boost both your confidence and well-being.
Why do you need temporary veneers?
Patients often wonder why they are unable to skip the temporary veneers step and just have the final veneers manufactured and placed. Temporary veneers serve a valuable purpose, though. Benefits of temporary veneers include:
You can get an idea of what your veneers will look like in your mouth, this will help you have a better input into what your custom veneers should look like.
Your teeth will need to be filed down a little and etched, which makes them a little vulnerable and also sensitive. Temporary veneers protect your teeth until your final veneers ready to be placed.
Porcelain veneers that are custom made can take some time to be manufactured; they end up looking as close to your natural real teeth as possible. It can be expensive and time-consuming to send your custom veneers back to the lab to fix aspects that you don't like about them. With temporary veneers, you can see what your smile will look like and keep an eye out for any issues before your custom veneers are fabricated.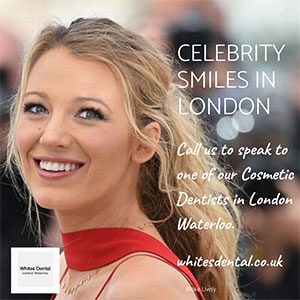 Does placing porcelain veneers hurt?
The process of filing down your teeth and placing your porcelain veneers should not hurt. It may be mildly uncomfortable, but most patients don't have any trouble with the procedure.
If you are interested in improving your smile with porcelain veneers, please don't hesitate to contact Whites Dental today by calling 0208 616 0590. We offer free consultations for porcelain veneers and other cosmetic dentistry treatments.
You can also find more information
on veneers on our homepage– https://www.whitesdental.co.uk/cosmetic-dentistry/
At Whites Dental, we have some of the leading cosmetic dentists in London working with us, providing dental bonding, dental veneers and professional whitening to patients near us in London Waterloo, Southwark, Elephant and Castle and London Bridge. This page provides information on whether veneers are done in one day. We are a 6 to 15 minutes' walk from Elephant and Castle and London Bridge and a 4 to 5 minutes' walk from Blackfriars station and London Waterloo.