What Foods Should Be Avoided With Veneers?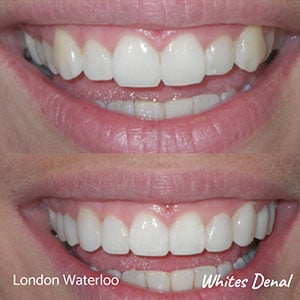 Veneers in London Waterloo
Cosmetic dentistry procedures such as veneers (both porcelain veneers and composite veneers) are highly sought after by smile conscious men and women in London. At Whites Dental, we provide a complete range of cosmetic dentistry procedures in London City – these include teeth alignment, tooth bonding, porcelain and composite veneers. We are based in Waterloo, right opposite Southwark Station or a 4-6min walk from Waterloo Station.
 Do you dream of having the perfect set of teeth? Well, the latest advancement in cosmetic dentistry procedures has made it easy to correct your oral complications and restore your damaged or chipped teeth. All you need to do is see your cosmetic dentist for porcelain veneers which will give you the look and feel of natural teeth.
Porcelain veneers are actually thin shells of porcelain that are matched to the teeth colour or according to the shade of whiteness bonded to the teeth surface. These veneers help correct a wide range of cosmetic dental complications by changing the shape, size, length or colour of your teeth. Besides that, these veneers are used to fix chipped, broken, worn down teeth and teeth having slight gaps in between them.
Procedure for porcelain veneers:
Firstly, the cosmetic dentist will see if you are the right candidate for veneers. For this, he will evaluate the condition of your teeth and perform dental X-rays, if such need arises. He will then prepare your tooth that involves removing a small part of enamel from the tooth. Next, he will create an impression of your tooth which is sent to the dental laboratory for the impression to make the veneer. In this situation, your dentist will place a temporary veneer on the tooth. After the porcelain veneer gets ready, he will call you for fitting the veneer. There will be adjustments done to your porcelain veneer so that it fits you perfectly. When your tooth gets cleaned, etched and polished, the veneer will then be attached permanently to the tooth with dental cement.
As with any dental treatment, you will need to follow certain dietary guidelines to preserve your veneers and keep them from damage. Below, we will discuss foods and drinks to avoid with veneers so you can keep your smile looking and feeling great for years to come.
In most cases, your final veneers will be made in a dental lab. This process takes about 2 to 3 weeks to complete. Therefore, in the meantime you will most likely need to wear temporary veneers.
Because temporary veneers are usually attached to your teeth with temporary cement, they are most likely to become displaced. To avoid this, there are a few food patients should steer clear of until their final veneers are in place. Below, we will explore food that you should avoid and foods you can eat with temporary veneers in place.
What foods you cannot eat with temporary veneers?
Chewy and hard meats.
Crunching on ice.
Biting an apple.
Sticky, candies and toffees.
Chips, crunchy and pretzels.
Toast.
Bread that is difficult to chew or bite.
Popcorn.
Stain-causing foods and drinks such as tea, coffee, red wine, cold drinks, curries, berries, soy sauce and tomato sauce.
What foods can you eat with temporary veneers?
We recommend eating soft, non-staining foods while you are wearing temporary veneers. Some of these include:
Soft chicken that are cut into bite-sized pieces.
Mashed potatoes.
Pasta
Eggs
Fish
Soft bread
Soft canned foods.
Soft fruits like plums and bananas.
Unlike temporary veneers, permanent veneers are made from high-quality porcelain, which is much more resilient to staining. Because ceramic porcelain is extremely strong, veneers are also less vulnerable to breakage. Nonetheless, your final veneers can still become damaged by certain foods or lifestyle habits.
What foods to avoid with permanent porcelain veneers:
Foods and beverages that are acidic such as lemons, tomato sauce and cool drinks which erode the bonding material.
Biting into ice.
Biting into hard foods such as hard candies and toffee apples.
Consuming alcoholic beverages often as alcohol softens the surface of the bonding material.
Taking stain-causing drinks often like tea, coffee and red wine. Porcelain veneers are highly stain-resistant while the bonding material and teeth beneath them are not at all.
Chewing tobacco or smoking.
Using teeth for other functions like holding heavy objects or as a pair of scissors to tear through packages and wrappings.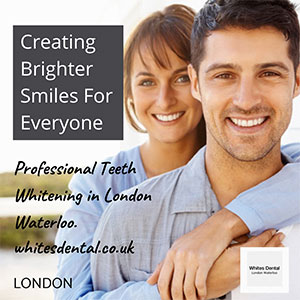 If you are a daily coffee or tea drinker, it is a good idea to sip these drinks through a straw. This will help decrease the amount of time the liquid comes in contact with the teeth. In addition, we recommend rinsing your mouth out with water after every meal to reduce the risk of staining.
Patient who experience sensitivity should also consider avoiding extremely hot and cold food and beverages. Cutting foods into smaller pieces can also help reduce sensitivity.
Porcelain veneers can last 20 years or more, if cared for properly. Additionally, they can restore beauty to your smile. To learn more about veneers aftercare or to explore your treatment options, contact us on 0208 616 0590.
You can obtain more information
on dental veneers on our page below – https://www.whitesdental.co.uk/cosmetic-dentistry/
At Whites Dental, we have some of London's most experienced cosmetic dentists working alongside us, providing tooth bonding, porcelain veneers and composite veneers, and professional whitening to patients around us in London Waterloo, Central London, Elephant and Castle, Southwark and London Bridge. This web page provides readers more information on what foods should be avoided with veneers. We are conveniently based in London Waterloo, right across the street from Southwark Tube station and very close to London Waterloo rail station. We are a 5 to 8 minutes' walk from Elephant and Castle tube station, London Bridge, Borough and a 6 to 9 minutes' walk from Blackfriars station and Southbank.