How Much Are Lumineers Vs Veneers?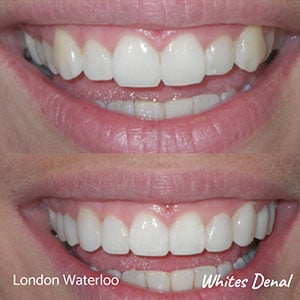 Veneers in London Waterloo
Lumineers and porcelain veneers are some of the latest cosmetic dentistry treatments that are increasingly popular with smile conscious men and women in London. At Whites Dental, we offer some of the latest veneer treatments, starting from no–prep veneers to Lumineers. We are conveniently based in London Waterloo, right across Southwark Station or a 15min walk from London Bridge tube station.
A veneer is a thin wafer of porcelain that is permanently bonded to a tooth to mask its natural colour, shape, or positioning in the mouth. Veneers are a fast and effective solution to stained, chipped, misshapen or crooked teeth.
Veneers are mostly used for:
Teeth that are discoloured as a result of fillings, root canals therapy and other procedures
Broken or chipped teeth
Irregular shaped teeth
Gaps between the teeth
Other oral issues that lead to loss of your self-confidence
A different type of veneer, called Lumineers, are a brand of veneer only offered by some dentists and manufactured by a special dental laboratory.
Lumineers are thinner, cheaper, and faster to apply. However, choosing the right type of dental veneer is often not as straight forward as you might have thought.
In this web article, we will discuss the differences between regular porcelain veneers and "no prep" veneers such as Lumineers, to enable you to better understand the pros and cons of each type of veneer.
How are veneers and Lumineers different?
Regular dental veneers are typically about 0.5 millimetres thick, whereas Lumineers are typically 0.3 millimetres thick. A lot of patients and dentists prefer the Lumineers brand over traditional veneers because they're thinner and easier to place on the teeth.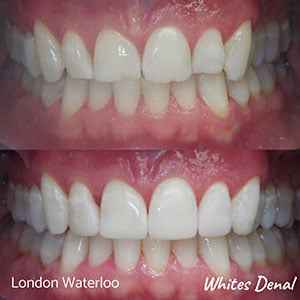 However, given Lumineers are thinner than regular porcelain veneers, it can be a little harder for them to mask discoloured teeth. For example, if your teeth are heavily stained, there may not be enough material to hide the stains, and traditional veneers may be a better option for you.
Because Lumineers cover the existing tooth surface (there is no "shaving" down of the enamel), you'll notice that your tooth is thicker. You may find it harder to clean your gum line, which may place you at a higher risk for gum disease. If you decide to opt for regular veneers, your cosmetic dentist will first smooth your tooth for a better fit.
Some patients prefer to cover all their visible teeth, which often drives up the cost of dental veneers. You should ideally only cover those teeth that have some sort of visible damage with dental veneers. So, your costs will be less if you only have one damaged tooth.
Before a cosmetic dentist can provide you with a quote, they will first examine your teeth to access the overall oral health and help you decide whether Lumineers may be a good choice to correct your concerns about the appearance of your teeth.
Most dentists prefer to follow up with patients about two weeks after the procedure to ensure correct fit and placement.
What's the cost of veneers vs. Lumineers?
The cost of traditional veneers can run between £350 (composite veneers) to £600 (porcelain veneers) per tooth, while the price of Lumineers can range between £850 to £950 per tooth. A number of factors can influence how much a patient pays for veneers, which can be made either from resin composite or porcelain materials.
Some of the factors affecting price include the office location, experience of the dentist and how many veneers you get at one time.
It would be a good idea to ask your dentist how much experience he or she has with veneers in general, especially with the type you choose. An inexperienced dentist may not place the veneer properly, and this may require several visits to the clinic to have it fixed.
Some issues may be easy to fix and will be covered by your dentist, but other problems related to incorrect placement may be your responsibility.
PROS
CONS
More opaque
More expensive
Longer lasting
Permanent (but you'll have to replace them if they crack or become damaged)
Better at hiding tooth decay and discolouration
PROS
CONS
No trimming or preparation of natural teeth
needed
Don't last as long as traditional veneers
Less expensive
Not as good at hiding damage to your teeth
i.e. staining
Semi-permanent (after application, they can
be removed with minimal damage to your
teeth)
Crowns are another type of tooth covering. Dental crowns cover the whole tooth, as opposed to dental veneers, which only cover the front of the teeth.
A crown is a treatment for a tooth that's severely damaged. A veneer may not be able to fully cover a tooth that's broken down from cavities, badly positioned, or extremely discoloured.
Unlike Lumineers and regular veneers, dental crowns are less to do with aesthetics and more to do with preserving and strengthening a tooth.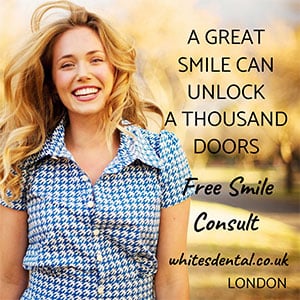 Veneers and Lumineers aren't a decision to take lightly. Not only are they costly but they permanently change the way your teeth look.
Lumineers is a brand of dental veneers that is made by one specific dental lab. Not all dentists may offer them. Some cosmetic dentists may offer "no prep" dental veneer alternatives.
If you're indeed self-conscious about your teeth and smile, there may be other options you may want to investigate first, such as fixed braces, aligners or teeth whitening even.
If you're serious about veneers, talk to one of our dentists. They can advise you about the best course of treatment for your mouth — and your budget.
If you are interested in improving your smile with porcelain veneers, please don't hesitate to contact Whites Dental today by calling 0208 616 0590. We offer free consultations for porcelain veneers and other cosmetic dentistry treatments.
You can also find more information
on veneers on our homepage– https://www.whitesdental.co.uk/cosmetic-dentistry/
At Whites Dental, we have some of the leading cosmetic dentists in London offering the latest cosmetic dentistry treatments including no–prep veneers, lumineers, porcelain veneers and bonding in London Waterloo, Southwark, Central London, Elephant and Castle and London Bridge. This page provides information on how much are Lumineers vs veneers. We are based in London Waterloo and a short, quick walk from London Bridge and Elephant and Castle.