Can I Get Veneers on My Front Two Teeth?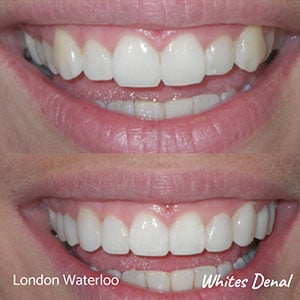 A person's smile is one of the most important aspects of forming a good first impression, it's therefore definitely worth investing in. Cosmetic veneers are one of the best ways to repair stained, cracked, and chipped teeth. Porcelain and composite veneers are becoming popular with young men and women in London wanting to improve their smile and restore their confidence. At Whites Dental we provide a full range of cosmetic dentistry treatments in Central London such as dental veneers, composite bonding and teeth straightening. We are based in Waterloo, adjacent to Southwark Station or a quick walk from London Waterloo rail station.
Do you have some teeth that aren't as straight as you'd like? Do you have gaps in between your teeth that you would like to repair? If you want to fix any of the above, porcelain veneer may be the right cosmetic dentistry procedure to improve the spacing, alignment, and overall appearance of your teeth. Before you dive right into getting veneers, it is always helpful to understand the entire process before you make a commitment. It's most common for front teeth to need veneers, so if you're looking to protect and improve your smile, start by asking your dentist about your 'social six' top and bottom front teeth. The 'social six' teeth are the ones that other people will notice most when you smile, so their appearance will likely matter the most to you! Some people may only get one veneer in the case of a broken or cracked tooth, but many get between six to eight veneer in order to create an even, symmetrical smile.
Dental veneers are thin, custom-made ceramic shells that are bonded to the front of your teeth. They're applied similarly to nail appliques and can last for decades if properly cared for. The ceramic (porcelain) material is shaded to the exact tint of whiteness that looks best with your complexion. Recent progressions have allowed veneers to possess the same translucent quality as real teeth, so even brilliant white smiles can appear more natural. Veneers are a great choice for patient who want to keep their natural teeth but need more substantial correction than whitening can offer. Good candidates include people with a lot of staining, cracks or chips, short or mismatched teeth, or wear and tear from aging.
What to expect while getting veneers
Having veneers is a multi-step cosmetic dentistry procedure that typically takes two to three visits and a couple of weeks to complete. The process begins with an initial check-up and consultation. Your dentist will evaluate your smile, determine whether you're a good candidate, and discuss the plan for moving forward. If you need dental fillings or implants, you will need to typically address them first. Next, your cosmetic dentist will prepare your teeth for dental veneer by shaving a very tiny layer of tooth enamel (less than the thickness of your fingernail) off the front surface of your teeth.
They will then take an impression of your new smile and create a set of temporary veneer that will stay on until the permanent ones are ready. This trial period allows you to decide whether you want to make changes to the colour or shape—it's effectively a "test drive" for your new teeth.
Once the final porcelain veneers have been sculpted, you'll return to the dentist to have them fitted. Before your dentist can attach your new veneer, he temporary veneers need to be removed and a bonding cement is applied to your teeth. Then, the permanent veneers are carefully attached and your new smile is ready to go!
Who are veneers suitable for?
Dental veneers can be applied to fix just one tooth and also a whole mouthful of your teeth. They can be used for anyone who has:
Chipped or broken tooth/teeth
Discoloured teeth
Gaps between the teeth
Teeth which have become worn down
Misaligned or irregularly shaped teeth
Gummy smiles
It's important to note that alternative treatments are available if you are not yet ready to make a commitment to dental veneers.
What types of veneers are available?
There are several materials that dental veneer can be made from, and all come with varying appearances, lifespans and bio-compatibility. The two main kinds of dental veneers commonly provided are:
Porcelain veneers: a long-lasting, natural-looking solution. The veneers are crafted in the finest detail by highly skilled specialist technicians in a dental laboratory, so they look just like natural teeth. Porcelain veneers are typically fitted by the cosmetic dentist in two or three appointments and usually require minimal preparation to your existing teeth. In some cases, you can place non-preparation veneer. The amount of preparation needed varies from case to case and we strive to keep preparation to an absolute minimum.
Composite veneers: this veneer option can be often be fixed in just one visit, however, on occasion can take 2 visits as well. Layers of resin are applied directly to the tooth, covering any damaged enamel, which is then sculpted to the correct shape and size. Composite veneers are a very good treatment option if you your teeth are stained or slightly damaged – e.g. if you have chipped or cracked tooth/teeth and have small gaps between your teeth.
Your mouth and gums will probably be sore and uncomfortable for a few days after the procedure. The bonding cement may also cause you to experience some tooth sensitivity. This discomfort is completely normal and will pass as your mouth heals, but make sure to have some over the counter painkillers such as ibuprofen on hand just in case.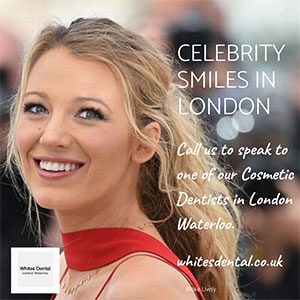 Treat your veneers just like you would your regular teeth meaning continue to brush them twice daily and floss regularly. Make sure to avoid chewing on anything hard that can chip your teeth (i.e. ice, pens, hard candy). The better you look after your teeth, the longer your veneers will last.
If well looked after, your veneer can last up to 20 years. After that point, you'll most likely need to get a new set due to the regular wear and tear on your teeth.
We look forward to talking about how veneers can create a truly beautiful smile.
You can also find more information
on veneers on our homepage– https://www.whitesdental.co.uk/cosmetic-dentistry/
Are you thinking of exploring the option of placing porcelain veneers on one or more of your teeth? Then why don't you make an appointment with one of our cosmetic dentists. At Whites Dental, we have some of the leading cosmetic dentists in London working with us, providing composite bonding, porcelain and composite veneer procedures and teeth straightening to patients near us in London Waterloo, London City, Southwark, Elephant and Castle and also London Bridge. This page provides information on whether you can get veneers on your front two teeth. We are located in London Waterloo, adjacent to Southwark Station and a 5min walk from London Waterloo rail station.