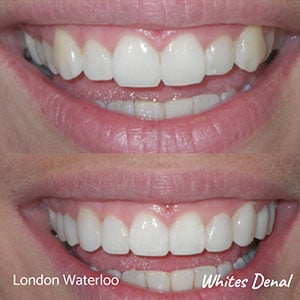 Porcelain and composite veneers are increasingly becoming popular with young men and women in London wanting to improve the appearance of their smile and restore their confidence. At Whites Dental our leading cosmetic dentists can help you create the beautiful smile you have always wanted. We provide a full range of cosmetic dentistry treatments in London City such as porcelain and composite veneers, composite bonding and smile alignment. We are based in Waterloo, right opposite Southwark Station or a 5min walk from Waterloo Station.
Dental veneers are wafer thin shells of porcelain or composite resin that are custom made to fit over teeth, providing a natural, attractive look. They can be used to fix chipped, stained, misaligned, worn down or unevenly paced teeth.
For teeth that are severely discoloured, chipped or misshapen, veneer create a durable and beautiful smile. In addition, veneers are difficult to stain, making them popular for people seeking a perfect smile. After getting veneers, you may feel confident about your new white, straight smile. However, over time, you may notice that your veneers are becoming discoloured. Why does this happen, and can you whiten veneers?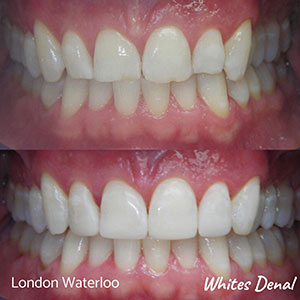 How Veneers Become Discoloured
Veneers are usually made of either porcelain or composite resin. Porcelain veneers don't become stained or discoloured, but the same isn't true for composite resin veneer. Composite resin doesn't stain as easily as your natural tooth enamel, but it can still become discoloured over time. Surface stains may develop after prolonged exposure to highly pigmented drinks such as tea, coffee or red wine. Smokers can also develop yellow or brown surface stains on their composite resin veneer due to nicotine. Porcelain veneers are made out of a material that reflects light much the same as your natural teeth. But unlike the teeth you were born with, veneer are not porous — meaning they will not absorb stains from coffee, tea, soda, ripe berries, tomato sauce… the list goes on. Dental porcelain can be tailored to match the shade that will suit your smile best, and that's usually about the shade of the whites of your eyes. You may need to visit your dentist for a polish every now and then, but once they have been placed on your teeth, you can pretty much expect the veneer to stay that same colour for the rest of your life.
If your composite resin veneers start to look yellow or brown, you may be tempted to try an at-home whitening treatment. However, composite resin doesn't respond well to whitening. This is why it's always a good idea to talk to you dentist before you whiten your teeth. While you can't whiten composite resin veneer, that doesn't mean that you can't improve the look of your veneer. Professional cleanings can help to remove surface stains, so remember to visit your dentist every six months. If your veneers are very discoloured, your dentist may recommend replacing them. Composite resin veneer typically last for 5 to 7 years before they need to be replaced.
To prevent stains, it's important to care for your veneers as you would care for your own enamel. Try to steer clear of colour-saturated foods and drinks that could lead to staining. This includes beverages like coffee and tea, and foods like curry, pasta sauce, berries and balsamic vinegar. Veneer let you easily whiten your smile, but to keep them looking their best, you need to take care of them. Avoid foods or drinks that could stain your veneer, brush your teeth regularly and don't forget to see your dentist for professional cleanings.
If you want to invest in your smile, porcelain veneers are a wonderful option. They offer a number of benefits — including the fact that they are highly resistant to stains. As long as you maintain good oral hygiene, regularly brush and floss your teeth and visit your dentist as they have recommended, you can very much expect your veneer to stay beautiful, white and healthy for a very long time.
How to Care for Dental Veneers
Your dental veneers can last for up to 20 years with proper care and maintenance. Your teeth change over time, and eventually the veneers will need to be replaced to keep up with your gum line and the wear and tear that naturally occurs. Replacing your veneer is as simple as the initial procedure. Taking care of your veneer as recommended will help to ensure that you enjoy your beautiful smile for as long as possible. Keep these tips in mind to keep your veneer strong and intact for the long haul.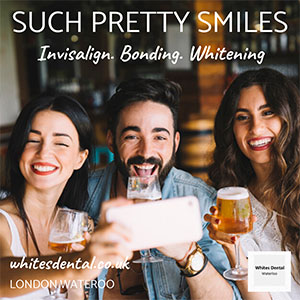 Continue to maintain excellent oral hygiene habits, including brushing and flossing and visiting your dentist as recommended. While dental porcelain cannot develop tooth decay, the teeth and gums are still susceptible. Gum recession caused by gum disease can result in a space between the gum line and the veneer.
Protect your veneer with a mouthguard if you play contact sports or grind your teeth at night. Placing repeated pressure on the veneers can cause them to chip or break.
Avoid biting directly into solid or crunchy foods.
If you notice a problem with a veneer, don't hesitate to get in touch with us right away.
Now that you know a little more about one of the most popular cosmetic dentistry procedures, what are you waiting for?
You can find more information
on veneers on our homepage– https://www.whitesdental.co.uk/veneers-london-waterloo/
At Whites Dental, we have some of the leading cosmetic dentists in London working with us, providing tooth bonding, porcelain veneers and composite veneers treatments to patients near us in Central London, London Waterloo, Southwark, London Bridge and Elephant and Castle. This page provides information on whether veneers stay white. We are based in London Waterloo, right across the road from Southwark underground station and very close to London Waterloo rail station. We are a 6 to 8 minutes' walk from Elephant and Castle tube station, London Bridge, Borough Market and a short minutes' walk from Blackfriars station and Southbank.