All Celebrities Have Veneers?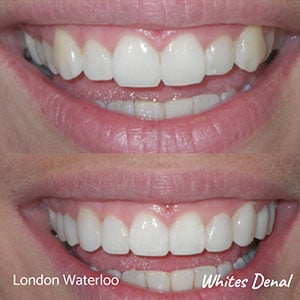 Veneers in London Waterloo
Composite and porcelain veneers are increasingly becoming popular with young men and women in London wanting to improve the look of their smile. At Whites Dental our award-winning cosmetic dentists can help you to create a beautiful, natural looking smile. We provide a full range of cosmetic dentistry treatments in London City such as porcelain and composite veneers, dental bonding and teeth alignment.
If you've ever researched how to get a star-studded smile, you know it takes a lot more than a few whitening treatments and hydrogen peroxide. In fact, many of the smiles you see on the red carpet are enhanced using one of the best-kept beauty secrets in Hollywood—veneers. Veneers are a thin shell of porcelain that is attached to the natural tooth to cosmetically enhance the smile. Veneers can help to disguise gaps between teeth, lengthen a short tooth, and cover crooked teeth. For the procedure, the dentist first drills the surface of the tooth then bonds the porcelain cap to the front of the teeth. The entire process only takes about two weeks to complete, making it a great alternative to braces. And it's a permanent way to get a white, even smile that's tailored just for you. That's why it's such a popular procedure among A-list actors.
One of the things that celebrities are known for (except their good looks) is their beautiful smile. You would be struggling trying to find a mega-celebrity that has bad teeth. Countless celebrities have invested in cosmetic dentistry to get their million-dollar smiles. Few people are born with a flawless set of teeth. The same goes for celebrities. If you have always wondered how some celebrities are seemingly blessed with gorgeous smiles, well, you usually do not need to look any further than their cosmetic dentist! Celebrities like Tom Cruise, Hillary Duff, and Julia Roberts have achieved their perfect smiles through veneers. Some choose veneers because they don't have the time to wait for other treatments to work, and some choose veneers because they have irregularly shaped teeth or because they have staining that can't be improved by whitening.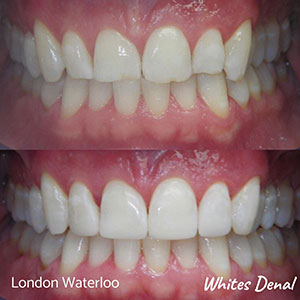 Veneers are like covers that conceal your natural teeth. In fact, they are often referred to casually as "caps." The teeth are ground down a bit to allow the veneers to fit over them, and the veneers bond to them and protect them. You can repair most cosmetic issues "instantly" with this procedure. You wear temporary veneers while you are waiting for the permanent ones to be made, but you don't have to go through a lengthy treatment the way you would with braces or with getting multiple whitening procedures. Going to an experienced cosmetic dentist is essential for the success of this treatment.
Just as you would associate celebrity good looks with plastic surgery, those red-carpet gracing megawatt smiles rarely come from good oral hygiene alone. The good news is, you won't have to go under the knife to achieve that Hollywood A-lister smile! Although cosmetic dentistry used to be the exclusive domain of the rich and famous, advancements in dental materials, technology and techniques have made many modern aesthetically driven treatments available in mainstream clinics.
Who can forget the lovely Julia Roberts' enchanting smile in the very popular movie Pretty Woman? How many of you know that Julia's trademark smile has been enhanced by porcelain veneers? Granted Julia is one of those lucky people to have been born with a naturally beautiful smile, that seems to radiate effortless charm and disarming personality. However, the A-lister decided to improve that famous grin with the help of porcelain veneers, which are essentially thin shells of porcelain laminates. Dental veneering offers a non-surgical means of getting a smile makeover, by covering your dental imperfections with ultra-thin, tooth-like shells that are shaped and contoured to mimic real teeth so that they blend in seamlessly with your neighbouring teeth.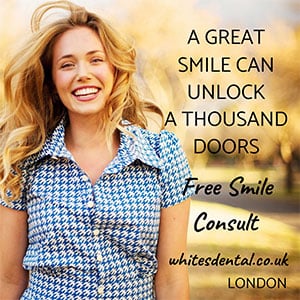 In the case of Julia, the veneers helped to straighten, even out and lengthen her teeth, while correctly any underlying dental flaws. The porcelain material perfectly mimics the shiny and translucent attributes of natural teeth to give her that radiance and shine that goes with her glamorous image. Another superstar who is known for having a megawatt smile is Tom Cruise. Tom's iconic smile has graced some of the most memorable scenes ever, from that perpetual grin in Top Gun those smouldering close-ups in the Mission Impossible franchise. Few people know that Tom's good looks owe much to teeth whitening and orthodontic braces.
Just like Tom Cruise, teen heartthrob Zac Efron spotted a gap in his front teeth prior to his smile reconstruction procedures. What Julia Roberts, Tom Cruise and Zac Efron have in common are not just their impossibly good looks and fattened bank accounts, but also, the treatment services of great cosmetic dentists. Indeed, cosmetic dentists are trained dental professionals who can help to deliver that whiter, brighter, straighter and more proportionate smile.
If you are looking for experienced and qualified cosmetic dentists or want to ask about any of the mentioned treatments in this blog –simply call our friendly practice based in Waterloo on 0208 6196 0590.
You can find more information on veneers on our homepage– https://www.whitesdental.co.uk/veneers-london-waterloo/
At Whites Dental, we have some the leading cosmetic dentists in London working with us, providing composite bonding, porcelain veneer and composite veneer procedures to patients near us in London Waterloo, Southwark, London City, Elephant and Castle and also London Bridge. This page provides more information on whether all celebrities have veneers. We are based in London Waterloo, right across the road from Southwark Tube and very close to London Waterloo rail station. We are a 11 to 12 minutes' walk from Elephant and Castle tube station, London Bridge, Borough Market and a 8 to 9 minutes' walk from Blackfriars station and Southbank.