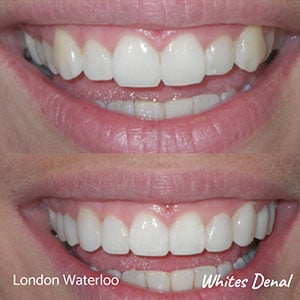 Veneers in London Waterloo
Composite and porcelain dental veneers are increasingly popular with beauty conscious men and women in London looking to improve the appearance of their teeth smile. At Whites Dental, our award-winning cosmetic dentists can help you to create a beautiful smile. We provide a wide range of cosmetic dentistry procedures in London City such as porcelain and composite veneers, whitening, composite bonding and smile alignment.
Yes, they can. There are various reasons as to why veneer break off and fall off or get damaged. Here are some of them:
Age of veneers – The primary reason is age of the veneers. Porcelain veneers should last at least for ten years. But conservatively speaking, veneer last for more than 10 years in most cases. As the time passes, the veneers get slowly detached from the teeth as the adhesive bonding gets weakened over a period of time, making the veneers come loose and fall off.
Poor adhesive – The second most common reason is the bonding agent used for veneer to stick on teeth was not of prime quality in the first place. Either enough time was given for adhesive bonding to take place or the technique was not proper. In either, it is a problem of the dentist not of veneers.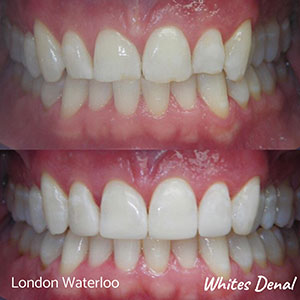 Tooth decay – The third common reason is when the teeth on which veneers are placed gets decayed. There are many reasons for teeth decay. It happens because of lifestyle choices and in some cases because of the effects of the prescription drugs that some individuals cannot escape.
Teeth grinding – One more common reason is the patients' habit of grinding teeth during sleep, or bruxism, for either physical or psychological reasons. If bruxism occurs regularly, the force on veneers is great. Veneers cannot hold up to the pressure on the inside edge and may chip or break or get damaged.
Lack of proper care – Last but not the least common reason for veneers to fall off or break off is negligence and disregard for them. Veneer are delicate devices which require care. If they receive harsh treatment from the wearer, like chewing in hard foods very often, or grinding teeth, they show it in breakage or falling off from the mouth.
Treatment for damaged veneers
As a rule, when your veneers fall off or break or get damaged in any way, DO NOT try to put them back yourself. Getting them fixed by you will further damage them. Carefully put the device in a small container and call your dentist for an emergency appointment. You may think of how the problem can be solved, once you know why your veneer have fallen off, or broken.
If you have been wearing the veneers for more than 10 years, you can guess that the wear and tear may have caused them to get dislodged and fall off or break. In such a case your best option is to keep the fallen off or damaged veneers carefully in a small box wrapped in soft material and try to book an appointment with the cosmetic dentist as quickly as you can. The dentist will have a look at the veneer and decide whether it is in a shape to get back to its place, or whether new veneer are due. Depending on its state, the dentist will gently put it back momentarily and see if they still fit. If it dies fit, the dentist then will clean the veneers of its previous adhesive and see the inside surface of the veneer.  Then the inside surface will be chemically treated and rebonding will be done. This kind of repair will again last for years.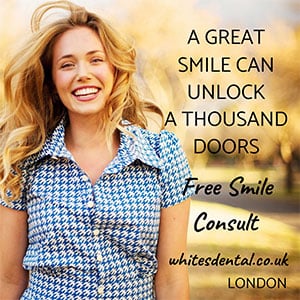 2. When your dentist has not used the correct bonding agent to attach the veneer to your teeth, and they have fallen off, you need to see another dentist. After the damaged veneer has been taken to the dentist office, and he declares that veneers are good and the problem is bonding them to the teeth, it is time for you to seek second opinion.
3. When teeth get decayed, the adhesive gets loosened and the veneers fall. It is important to change your lifestyle, to stop or lessen the tooth decay. Tooth decay is detrimental not only for veneer but for your overall health.
4. When you suffer from the habit of grinding teeth in sleep or bruxism, it is advisable to wear a mouthguard, which will help in avoiding the veneers getting stressed out and get chipped.
5. The most important rule to avoid getting your veneers fall off and get damaged is to look after your veneer well. Avoid chewing on sugary candies and chewing or biting on hard foods like ice, and toffee.
Finally, do remember to never ever try to glue back your fallen veneers yourself. The adhesive used to bond veneers to teeth is a special kind of dental adhesive only dentist have access to.
Visit your dentist as soon as possible if your veneers have fallen off or are damaged. You can find more information on veneers on our homepage– https://www.whitesdental.co.uk/cosmetic-dentistry/
At Whites Dental, we have some the leading cosmetic dentists in London working with us, providing composite bonding, composite veneer and porcelain veneer procedures to patients near us in Southwark, London Waterloo, Central London, Elephant and Castle and alsoLondon Bridge. This webpage provides you information on whether veneer can fall off. We are based in London Waterloo, right across the road from Southwark Tube station and very close to London Waterloo rail station. We are a 6 to 8 minutes' walk from Elephant and Castle tube station, London Bridge, Borough Marketand a 6 to 10 minutes' walk from Blackfriars station and Southbank.