What Are The Disadvantages Of Veneers?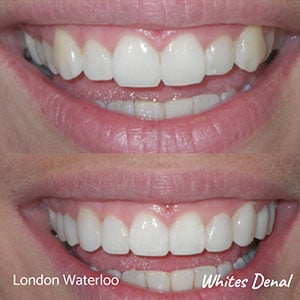 Veneers are one of the most common cosmetic dentistry procedures. They are usually very popular with appearance conscious men and women in London who are looking to improve the appearance of their teeth. At Whites Dental, our award-winning cosmetic dentist can help you to create a beautiful picture perfect smile. We provide a wide range of cosmetic dentistry treatments in London Waterloo, such as porcelain and composite veneers, teeth whitening, composite bonding and smile alignment.
A veneer is a thin wafer of porcelain that is permanently bonded to a tooth to mask its natural colour, shape, or positioning in the mouth. Veneers are a fast and effective solution to stained, chipped, misshapen or crooked teeth.
Veneers are mostly used for:
Discoloured teeth from white fillings, root canals or other procedures
Broken or chipped teeth
Irregular shaped teeth
Gaps between the teeth
Other dental issues leading to loss of self confidence
They usually last for 7-15 years before you need to get them replaced.
Who is a good candidate for veneers?
Most people with good oral hygiene and healthy gum tissue can consider veneers if they don't like the look of their teeth or overall smile. For example, if you have crooked teeth and don't want to undergo braces (or get them again…), if you don't like the colour of your teeth and want to whiten them permanently, if you have chipped front teeth or have one grey front tooth from falling face-first into the ground, or even if you have simply had thicker porcelain veneers done in the past and want a more natural finish- literally anyone is a good candidate.
Types of veneers
If you and your dentist think that veneers are a good solution, there are 2 different kinds of veneers to choose from:
• Porcelain veneers – These are customized to fit with the shape and size of natural teeth. They are applied on your tooth with cement and ultraviolet light.
• Composite veneers – These are made of the same material like cavity fillings. They are used for detecting minor chips or gaps between the teeth. They are quite similar to porcelain veneers but less expensive than porcelain.
Advantages
• One of the benefits of dental veneers is it helps improve the level of confidence that comes from the perfect smile on your face.
• Veneers are molded for your teeth that make them almost impossible to difference between the veneer and your tooth.
• The veneer is bonded onto your tooth which means you do not require additional shaping or drilling in most cases.
• You only need to brush and floss daily like your natural teeth and no special maintenance is required.
• They can give you brighter and whiter teeth and you may choose any shade you want.
Even though they look realistic, porcelain veneers are artificial teeth, which may be a problem for those desiring a more natural solution to their dental problem.
Veneers, especially porcelain veneers, are quite expensive.
Veneers are considered a long-term solution to imperfect teeth, once you've had them fitted, it's an irreversible procedure. It can take a few weeks to get used to the new feel of having dental veneers.
You may not be candidate:If you have unhealthy teeth (for example you have decay or active periodontal disease), weakened teeth (as a result of decay, fracture, large dental fillings), have an insufficient amount of existing enamel on the tooth surface, or suffer from bruxism (teeth clenching).
Veneers usually can't be fixed if they crack or chip. People who grind their teeth, bite their nails, chew ice may not be good candidates for porcelain veneers
Veneers may not exactly match the colour of your other teeth. If you plan on whitening your teeth, you need to do so beforehand.
So, you need to think through your options carefully and make sure that you choose the right solution for your needs. If you have any questions, concerns or queries, please feel free to book in for a free consultation with one of our cosmetic dentists here at Whites Dental.
What are the alternatives to veneers?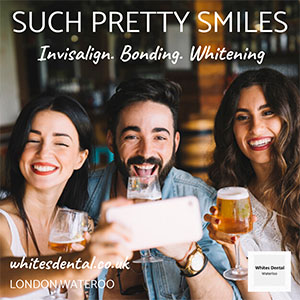 Alternative options to veneers are:
– Composite bonding– is a fast, non-invasive procedure which can usually be completed in a single appointment. A composite resin is adhered to the tooth to restore its natural shape and colour.
– Crowns– a crown is a tooth-shaped cap that is placed over your tooth. A crown will function and feel just like any of your other teeth. And if you choose to have a porcelain. crown, it will be virtually indistinguishable from your other teeth.
– Orthodontics– fixed or removable braces can be used to straighten misaligned teeth and close gaps. Advances in orthodontics mean that braces can now be virtually invisible.
It's important to consider all of the options available to you. Your dentist will be able to explain the different processes and advise you about which treatment best suits your individual needs. You can find more information on veneers on our homepage– https://www.whitesdental.co.uk/cosmetic-dentistry/
At Whites Dental, we have some the leading cosmetic dentists in London working with us, providing composite bonding, porcelain veneer and composite veneer procedures to patients near us in London Waterloo, Southwark, Central London, Elephant and Castle and London Bridge. This page provides information on how long composite veneers last. We are based in London Waterloo, right across the road from Southwark Tube station and very close to London Waterloo rail station. We are a 6 to 8 minutes' walk from Elephant and Castle tube station, London Bridge, Borough Market and a 4 to 8 minutes' walk from Blackfriars and Southbank.