Do veneers affect speech?
Create The Smile You
Have Always Wanted
Perfect your smile in as
little as £4/day.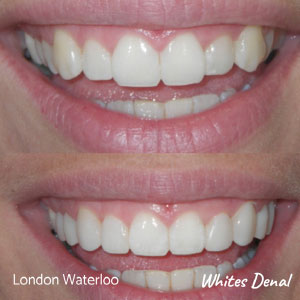 Veneers in London Waterloo
Veneers are tooth-shaped wafer-thin shells, which are usually made from porcelain; they are stuck on to the natural teeth to create a stunning smile. With veneers, you can conceal problems such as staining, chips and worn surfaces and enjoy a beautiful smile. Veneers are custom-made so that fit over the natural teeth perfectly.
Who is a good candidate for veneers?
We would say that most patients who have good oral hygiene and also healthy gum will be able to consider having dental veneers if they want to improve their smile. Anyone with any of the following issues can be a good candidate for veneers:
If you have misaligned teeth and don't want to undergo braces (or get them again…)
If you're not a fan of the colour of your teeth and want to whiten them permanently
If you have chipped front teeth or have one grey front tooth from falling face-first into the ground
Or even if you have simply had thicker porcelain veneers done in the past and want to get them redone for a more natural finish- literally anyone is a good candidate.
Types of veneers
If you and your dentist think that veneers would be a good solution for you, then there are 2 different kinds of veneers you can choose from:
Porcelain veneers– These are tailored to fit with the shape and size of natural teeth. They are attached on your tooth with cement and ultraviolet light.
Composite veneers– These are made of the same material used for cavity fillings. They are used for concealing minor chips or gaps between the teeth. They are quite similar to porcelain veneers but less expensive than them.
Benefits of Porcelain Veneers
Some benefits of porcelain veneers include: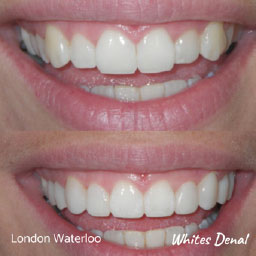 Teeth Will Be Whiter and Brighter.  Your natural teeth can become discoloured over time. Many contributing factors to tooth discoloration come from our diet: Drinking coffee, tea, dark sodas and wine can cause the tooth's surface to change colour. Certain behaviours, such as smoking, can also stain the tooth's enamel. While tooth whitening can help improve the cosmetic appearance of your teeth, it is not a permanent fix, and stains can reappear. Porcelain veneers generally repel stains.
Minor Cosmetic Smile Problems Will Be Corrected. Porcelain veneers can help to correct misaligned teeth or conceal gaps between the teeth. However, unlike other treatment options such as braces and other types of orthodontics, the position of your teeth does not change with veneers. Instead, veneers conceal the front surfaces, making the smile appear even and helping to correct crooked or gapped teeth.
Damaged Tooth Enamel Can Be Covered. Although your natural tooth enamel is very strong in nature, the bacteria known to cause tooth decay can damage it. Enamel can also be damaged by highly acidic foods and drinks. Grinding your teeth can also cause damage to your enamel by wearing down the surface of your teeth and causing fractures or cracks in your teeth.
Porcelain Veneers Are Permanent. Porcelain veneers are a popular cosmetic dental restoration because they're permanent, meaning your new smile should last you a lifetime as long as you look after them well (regular dental care and proper oral hygiene). Porcelain veneers are permanent because, during the veneer procedure, some of the enamel is taken off before the veneers are attached. Typically, this involves the removal of tooth enamel.
What happens when you have veneers?
When you have veneers fitted, they are attached over the top of your natural teeth. In most instances, to make room for the veneers your teeth are prepared in advance, so that they don't feel uncomfortable and to ensure that they look natural. The preparation procedure simply involves taking away a very thin layer of the enamel (outer surface of the tooth) and this can be done under mild anaesthetic to prevent discomfort. Once the teeth are ready, this material called putty is used to create an impression of your teeth. This impression is used as a mould for the veneers to make sure they match the natural teeth perfectly. Once the veneers are ready, they are placed on top of your teeth and then glued using dental adhesive.
Will veneers affect my speech?
To begin with like anything new, you might need a little time to get used to your veneers, but they shouldn't affect your speech to any great degree. After a couple of days, you won't even notice that you have veneers!
In some instances, people find that they have problems pronouncing specific sounds after having veneers fitted, but this shouldn't happen after a couple of days if the teeth have been prepared properly.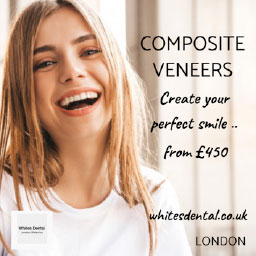 Can I eat normally with veneers?
Again, veneers can take a little getting used to at the beginning and at first it may feel slightly odd when you eat; however, you will soon get used to eating with your veneers. Veneers can chip in the same way as normal teeth, so it's to avoid eating very hard foods.
Are you considering having veneers on one or multiple teeth? If yes, why not book a complementary appointment with one of our cosmetic dentists in London Waterloo. Our cosmetic dentistry team will be more than happy to discuss your smile and provide treatment options suited to your needs.
You can also find more information
on veneers on our homepage– https://www.whitesdental.co.uk/cosmetic-dentistry/
At Whites Dental, our cosmetic dentistry team in London has treated over a thousand patients, providing bonding, porcelain and composite veneer to patients in London Waterloo, Southwark, Central London and London Bridge. This page provides information on whether veneers affect speech.