Is Tooth Whitening Bad For The Teeth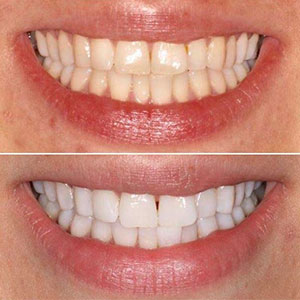 Tooth Whitening in London
Professional tooth whitening has quickly become one of the most popular cosmetic dentistry procedures in London today. At Whites Dental, our cosmetic dentists provide a full range of tooth whitening treatments to patients in our vicinity in London; this includes Philips Zoom teeth whitening and Enlighten. Professional tooth whitening comes predominantly in two forms – home tooth whitening and instant in-surgery tooth whitening.
Tooth whitening is a very popular and effective way to lighten the natural colour of your teeth without removing any of the tooth surface. It cannot change the colour completely, but it can lighten the existing shade. At Whites Dental, our dentists offer a wide range of professional teeth whitening treatments ranging from home whitening using Zoom and Enlighten, to instant-in-surgery teeth whitening from Philips Zoom. These procedures can repair discolouration quickly and safely without damaging the enamel or any other part of your teeth.
Why would you need your teeth whitened?
There are several reasons why you might get your teeth whitened. Everyone is different and only very few people have brilliant-white teeth. As we get older our teeth can also become more discoloured. Moreover, our teeth can also be stained on the surface by food and drinks such as tea, coffee, red wine and blackcurrant. Smoking is also a major culprit staining teeth.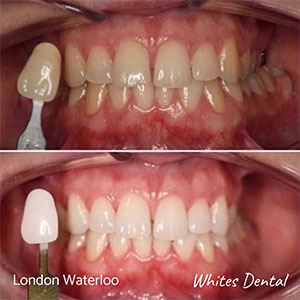 If your oral hygiene is not good, build-up of calculus or tartar can also affect the colour of your teeth. Certain people may also have staining under the surface, which can be caused by some antibiotics or by tiny cracks in the teeth which take up stains.
What are the risks of teeth whitening?
No matter what treatment you use whether it is Zoom or Enlighten, there is a chance your gums will be sensitive to the chemicals used in teeth whitening, particularly if you already have sensitive teeth. There is also a chance of burns to gums and some of the whitening kits used at home can harm tooth enamel. Whitening your teeth too often also increases the risk of negative side effects, such as tooth sensitivity and damage to tooth enamel and gums. However, there is no official guideline for how often whitening can be done safely. That's why it's important to get your dentist's recommendation and always follow product instructions. Whitening toothpastes do not contain the same ingredients that Zoom or Enlighten use – therefore they can't restore the natural colour of your teeth.
What causes teeth staining?
The biggest criminals for teeth staining include the following:
Red wine- dark purple colours found in the grapes used for its production causes staining.
Cigarettes- When it comes to staining factors, cigarettes are most certainly one of the worst. Depending on the number of cigarettes smokers have every day, this can cause their teeth to be exposed to the staining process on a regular basis. This is particularly bad as tobacco is highly staining.
Tea and coffee- drinking numerous cups of black tea or coffee per day can cause the chemicals contained in those beverages to turn your teeth yellow, or a darker shade. If you are an avid drinker of any of the above, what could help is drinking through a straw works as this helps reduce the time that your teeth are in contact with these drinks, meaning they should be less likely to stain – although this is not a fool-proof solution and ideally you should aim to reduce your consumption overall!
When might teeth whitening not be suitable?
Prior to having your teeth whitening, your dentist will complete a thorough examination and determine whether teeth whitening is a suitable treatment option. Anyone with a healthy mouth could benefit from teeth whitening. However, there are some circumstances where it should be avoided:
Teeth whitening must not be used on patients aged under 18.
If you have gum disease or other dental problems, your dentist may decide that teeth whitening will not be suitable until these have been successfully treated.
Whitening will only work on natural teeth; false teeth, crowns, bridges, fillings and veneers will be unresponsive to the process. Sometimes these can be changed after treatment to match your new brighter smile.
If you have de-calcifications (white spots) on your teeth, these might actually become more noticeable after whitening. It's important that during the pre-treatment consultation you understand the need and cost for additional treatment to replace crowns, veneers and fillings.
Teeth whitening is not recommended during pregnancy or breastfeeding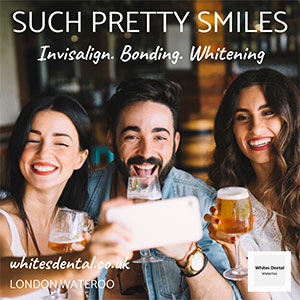 Certain health problems may mean that teeth whitening is not suitable
Teeth whitening is also not recommended to those who suffer with severe sensitivity or those who suffer from allergies to hydrogen peroxide.
If you have intrinsic staining (tetracycline), teeth whitening may not be suitable.
Professional teeth whitening has become very popular with men and women in London and provides brilliant whitening results. If you are considering having your teeth whitened, please call our friendly reception staff to setup a tooth whitening consultation with one of our cosmetic dentists. Whether you have teeth that are only stained a little bit or have heavy staining, at Whites Dental, our team will look after you during your journey to a whiter and brighter smile. For further details on teeth whitening, you can visit our Teeth Whitening page in the link https://www.whitesdental.co.uk/teeth-whitening/
At Whites Dental, our dentists offer a wide range of teeth whitening treatments such as Enlighten whitening, Philips Zoom instant laser (or LED as its actually called) whitening and Philips Zoom home whitening. We are completely committed to providing you a whiter and brighter teeth and smile. We are conveniently located in the heart of London in Waterloo, a 1 minute walk from the busy Southwark tube station. We are a quick 5-10 minutes' short walk from Borough Market, Blackfriars, London Bridge, Elephant and Castle and Southbank.