Do They Shave Your Teeth For Veneers?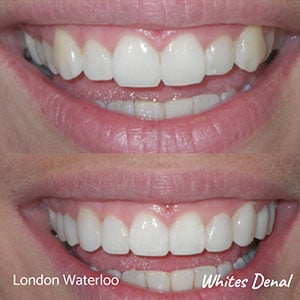 Veneers in London Waterloo
Composite and porcelain veneers are increasingly becoming popular with young men and women in London wanting to improve their smile. At Whites Dental our award-winning cosmetic dentists can help you to create a beautiful smile. We provide a full range of cosmetic dentistry treatments in London City such as porcelain and composite veneers, composite bonding and smile alignment.
A veneer is a thin moulding, custom-made from porcelain, which is bonded to the front surface of a tooth. Veneers can be used to fix chipped, stained, misaligned, worn down, uneven or abnormally spaced teeth. They can also be used to cover gaps in teeth where orthodontic treatment may not be suitable.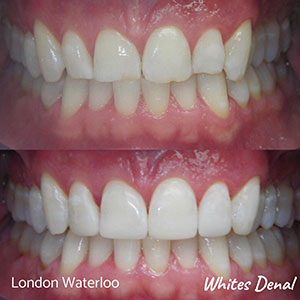 How are veneers fitted?
You'll first have a consultation with one of our cosmetic dentists to make sure a veneer is the correct treatment for you. Once this has been agreed, our dentist will then take an impression of your mouth so that we can have your veneers custom designed to fit your exact smile. A temporary cover may be placed over your tooth while this is being made. Whether you are in for one veneer or for your whole smile, your new veneers are designed and fabricated for a custom, perfect fit. Veneers are adhered to your natural teeth with a special material that hardens under a certain type of light. You might be given a local anaesthetic as a precaution, but the procedure shouldn't cause you pain. Your veneer will be adjusted as necessary, before being permanently secured in place. After they are bonded to your teeth, they are shaped and polished by our cosmetic dentist until they are absolutely perfect!
You'll need to care for your new veneer in the same way you would your other teeth. With proper care, veneers can last for years, but they can be replaced should any damage occur.
Do they shave your teeth for veneers?
The teeth might need to be shaved down during the preparation stage, but it really just depends on your specific situation. For example, if you come in with large, greyish-looking, crooked teeth, that's when your dentist would really have to shave the teeth down to get the look you might want. But if you have short teeth and gaps in between your teeth, your dentist won't have to do as much prep or shaving. Veneers are a multi-step process, often spread across a few appointments, but the results are definitely worth the extra time. What's so cool about the veneers is how customized they are for each patient. Your dentist will discuss with you what is possible based off your need/wants. They will also take into account your personality, how you talk, the expressions you make, how you smile, all while making sure your teeth also work functionally so you can still eat. To make sure you're going to like what you just discussed with your dentist, temporary veneers are then made out (think of it like a blueprint for your teeth). Your dentist will specifically sculpt what your new smile will look like so that he can take pictures of you and decide whether or not you'd like to move forward.
Once you commit to your veneer plan and figure out how many you need, more molds, X-rays, and photographs are taken. Then, you come back the next day for prep. After you get your temporary partial or full veneers fitted, you wear them for seven to ten days. Some dentists refer to this time as a "trial smile." This way you can see how your new "smile" looks. Then, after a week or so, you come back and discuss any changes you want to make. Once you and your dentist decide on what you want, more molds are taken. When the porcelain veneers are ready, they're fit to your teeth once more to make sure they match perfectly.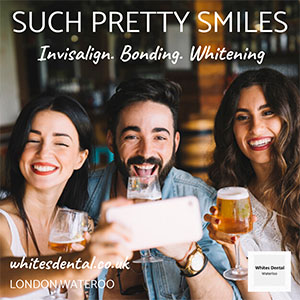 Are veneers permanent?
Veneers are permanent, but they're not forever. Bonding cement is a substance that microscopically creates bridges from your real tooth to the porcelain so that it attaches to your tooth and becomes one, think of it as the glue for a press on nail—only you can't get this one off once it's on. After the bonding cement is in place and the veneer is on your tooth, the bonding cement is cured with a UV light to secure everything in place. With that said, veneers could last for about 15 to 20 years, at which point they'll need to be replaced.To replace veneers, you will need to gently and carefully drill off the old veneer, and start the new process over. Don't worry, more of your natural tooth does not get removed when they take the old ones off; dentists typically wear microscopic glasses to make sure they're not drilling into the natural tooth.
Although it happens infrequently, the veneers can de-bond or break, but if this were to happen, your dentist would be able to re-cement or replace the veneer, depending on the situation.
Whether you need to have a stained or unattractive tooth covered, or you want to fix some problems with your, veneers can provide that smile for you. You can find more information
on veneers on our homepage– https://www.whitesdental.co.uk/cosmetic-dentistry/
At Whites Dental, we have some the leading cosmetic dentists in London working with us, providing composite bonding, porcelain veneer and composite veneer procedures to patients near us in London Waterloo, Southwark, Central London, Elephant and Castle and London Bridge. This page provides information on how long composite veneers last. We are based in London Waterloo, right across the road from Southwark Tube station and very close to London Waterloo rail station. We are a 6 to 8 minutes' walk from Elephant and Castle tube station, London Bridge, Borough Market and a 4 to 5 minutes' walk from Blackfriars station and Southbank.