Invisalign Braces To Straighten Your Teeth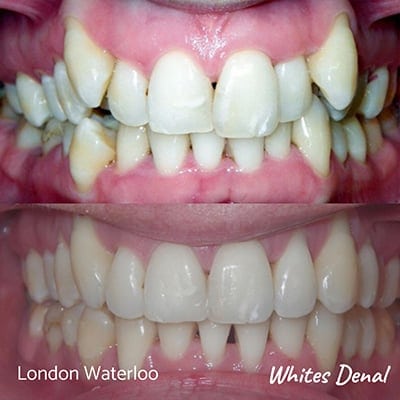 Invisalign Braces in London Waterloo
Invisalign braces are increasingly popular with adults and teenagers alike across London. Patients in London come to us often asking specifically for Invisalign braces to straighten their teeth. Invisalign braces aren't just for teens; they are just as popular with adult patients in London as well. If the thought of using train-track fixed orthodontic braces to straighten your teeth is off-putting, you will be pleased to know that Invisalign braces are a good alternative, producing excellent results without the need to wear unsightly metal brackets and wires. At Whites Dental, our dentists provide a range of discreet teeth straightening option including Invisalign braces, lingual braces and clear ceramic braces. If you are looking to straighten your teeth but aren't sure what braces option is best for you, why not book a complementary Invisalign consultation with one of our dentists.
Are you teeth getting in the way of you enjoying an attractive, confident smile? If you have teeth that are out of alignment, have gaps or are crowded, you will be pleased to know that a number of convenient orthodontic brace options exist for patients in London today to give you a straight smile. We are finding that a number of people in London are unhappy with how their smile looks due to gappy, misaligned or crooked teeth. You now have the option to improve and straighten your smile discreetly with Invisalign invisible braces. Invisalign braces are an innovate aligner-based orthodontic system that's completely transforming how you straighten teeth for both teens and adults in London who don't want to use unsightly metal braces and wires. Our dentists at Whites Dental in London Waterloo are pleased to offer Invisalign braces as one of the orthodontic braces treatments to straighten your smile.
Why should you choose Invisalign clear braces?
Invisalign braces are unique in that they are made from clear plastic material and are completely removable. This enables patients (both teenagers and adults) to experience a more comfortable, faster and convenient option to have a straight smile. Invisalign invisible aligners can be used to correct a range of orthodontic issues; they achieve this by applying gentle pressure to your teeth and producing gradual tooth movement as a result. Invisalign aligners can be easily removed for cleaning your teeth and also before eating and drinking. The aligners are virtually invisible and more often than not others won't be able to even notice them. In a significant proportion of cases, braces treatment with Invisalign clear aligners from a London city dentist can provide the same results as that from traditional fixed braces, however, without the unsightly appearance, discomfort and oral hygiene issues associated with traditional metal braces.
Invisalign braces can address dental Issues
Misaligned teeth can be caused by a number of different factors – these can include teeth development issues in children, genetics, certain childhood habits such as thumb sucking, teeth clenching or grinding and missing teeth. Although traditional orthodontic braces can still be the best option for certain people in London city, Invisalign from Whites Dental can certainly help you to align your teeth and address many types of orthodontic issues, such as overcrowded teeth, gapped teeth, misaligned or crooked teeth, overbite, underbite and crossbite.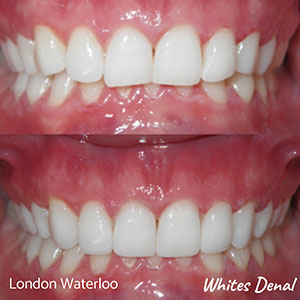 What are the risks of leaving any orthodontic issues unaddressed?
Invisalign braces treatment from our dentists at Whites Dental in London is certainly an excellent solution for aligning misaligned teeth into a beautiful straight smile. However, in addition to providing you a straight smile, correcting bite misalignment and other orthodontic issues also improves the function of your teeth and enables you to chew, bite and speak comfortably and properly. Leaving certain orthodontic issues unresolved can lead to additional dental issues down the line, in addition to feeling conscious about misaligned or crooked teeth. These dental issues can include problems such as broken or cracked teeth, uneven distribution of bite force across the jaw, TMJ problems and other concerns.
How do Invisalign braces work?
For every Invisalign braces patient, your Invisalign dentist will provide you with a series of custom made aligner trays that are crafted in the Invisalign laboratory from impressions of your upper and lower arches.
These custom computer-generated 
Invisalign aligners
 are very precise and apply gentle pressure incrementally during the course of the 
treatment
to move your teeth gradually till they have reached their desired final positions. Each set of Invisalign aligners needs to be worn for 20 hours a day at least and should be removed only for meals and while brushing and flossing your teeth. The aligners are then replaced with a new set in the series every one to two weeks.
What are the benefits of Invisalign braces?
Having straightened teeth has a number of benefits – teeth that are well aligned make it easy to brush and floss, enabling you to maintain good oral hygiene and thus reducing the risk of tooth decay. Invisalign braces in particular make the experience even better. Below we list down some of the benefits of Invisalign treatment.
Invisalign braces are made of smooth plastic material that's comfortable in the mouth. They are easy to remove and thus easy to clean. They are not known to cause irritation to the soft tissue in your mouth. Invisalign braces also enable you to eat your favorite food during treatment and do not impose any dietary restrictions. They allow you to floss and brush your teeth with greater ease as compared to traditional orthodontic braces. This in turn reduces risk of tooth decay and also gum disease.
What are the benefits of Invisalign braces?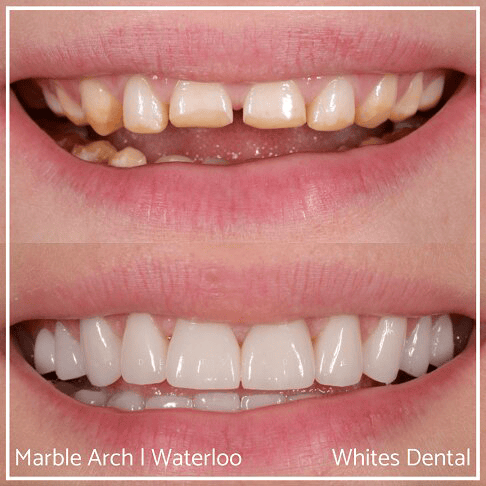 A straight, beautiful smile is something everyone should be able to enjoy. If you are looking to straighten your teeth, whether they be crooked, crowded, have gaps or misaligned, this is one of the best times to have your teeth straightened. Invisalign braces have given so many of our patients beautiful straight smiles, we will love to help you attain your dream smile in a convenient, comfortable and discreet manner. For additional information about Invisalign braces in London, why not visit our Invisalign homepage – https://www.whitesdental.co.uk/dental-invisalign/
At Whites Dental, our dentists provide a range of braces treatments including Invisalign braces to men and women in London. We also provide braces such as ceramic braces, traditional fixed braces, Damon braces, clear braces and Six Month Smiles. We are based in London Waterloo, across the street from Southwark tube. We are also a quick short walk from Southbank, Borough Market, Elephant and Castle tube and London Bridge.