How Long Does Professional Teeth Whitening Last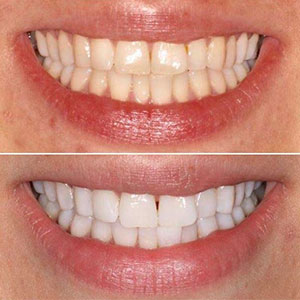 Teeth Whitening in London
Professional teeth whitening is increasingly becoming popular with people in London. At Whites Dental, our cosmetic dentists can help to whiten your teeth using a wide range of teeth whitening systems to patients in Central London city including Zoom home teeth whitening and Enlighten teeth whitening.
The best way to keep your smile healthy and bright is to look after your teeth and gums. However, it's not unusual to need a little help! Perhaps you smoke, or your teeth have been stained by tea, coffee or red wine? Your teeth may also lose their whiteness with age. At Whites Dental, our dentists offer a wide range of professional teeth whitening treatments ranging from home whitening using Zoom and Enlighten, to instant-in-surgery teeth whitening from Philips Zoom. These procedures can repair discoloration quickly and safely without damaging the enamel or any other part of your teeth. Teeth whitening works by bleaching your teeth to lighten the existing colour by several shades.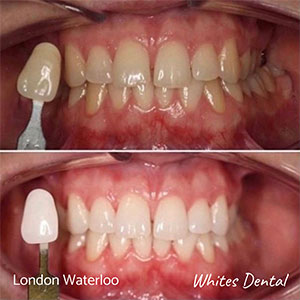 What are the benefits of teeth whitening?
Teeth whitening improves the appearance of your teeth without removing any of the natural tooth surface known as enamel.
Teeth whitening is a better option than a crown or veneer if you want to improve the colour of healthy teeth.
Teeth whitening procedure is entirely safe for you, your teeth, and your gums.
The procedure itself does not hurt. You may experience some discomfort. Certain people find that their teeth and gums become more sensitive during teeth whitening, however using toothpaste designed for sensitive teeth will reduce or stop that. In our practice we use Philips Zoom which has a desensitising ingredient called ACP to help reduce sensitivity significantly and provide additional comfort. This formula also delivers enamel protection, as well as improving lustre and shine.
When whitening might not work?
Whitening only works on natural teeth and cannot change the colour of your natural teeth. It can only lighten the existing shade. Teeth whitening will not affect the colour of existing porcelain crown, veneers, bridges or denture teeth nor will it change the colour or shade of existing tooth coloured fillings– these may need to be changed to ensure that the shades match.
What happens during teeth whitening?
Once you start your treatment, you will have to make a few visits to the dental surgery over a couple of months. A typical patient tooth whitening journey would be as follow:
On the day of your consultation, the dentist will carry out an examination and make sure teeth whitening is right for you. Then, he or she will create a mould of your teeth and send it off to the lab to make a custom tray. This will take approximately a week. Once your tray is back from the lab, you will have your next appointment during which the dentist will see the fit of the tray and explain to you how to use it with the bleaching gel that you will have to add to whiten your teeth. Then, by wearing this tray regularly at home, for a specified amount of time over a period of 2 to 4 weeks, you will start noticing the difference! Some gels can be left on for up to 8hours at a time. The Zoom or Enlighten treatment performed at our practice is a quick and effective way to whiten your teeth in a short period of time. Finally, you will have a last check up to ensure everything is fine and you are off to enjoy your new brighter teeth and smile with confidence! The other good thing is that once the tray has been made it is yours for life and you can top up your whitening gel as you please!
How long does teeth whitening last?
The good news is that even though teeth whitening treatments can provide great results, it is not permanent. It can last for up to three years, however, this will vary from person to person. The effect won't last as long if you smoke or drink or eat dark coloured food and beverages such as red wine, tea or coffee, which can all stain your teeth.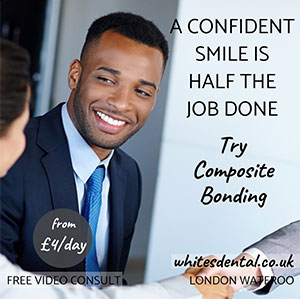 It is also essential for patients to maintain a good oral hygiene to keep a whiter shade. Brushing twice a day and flossing will help reduce the build-up of stains. Whitening toothpaste can also be used to help maintain the effect. And our dentists and dental hygienists will always be available to remove stains and help you keep your new bright smile.
Find the Best Teeth Whitening Dentist in London
Professional teeth whitening has become very popular with men and women in London and provides brilliant whitening results. If you are considering having your teeth whitened, please call our friendly reception staff to setup a tooth whitening consultation with one of our cosmetic dentists. Whether you have teeth that are only stained a little bit or have heavy staining, at Whites Dental, our team will look after you during your journey to a whiter and brighter smile. For further details on teeth whitening, you can visit our Teeth Whitening page in the link https://www.whitesdental.co.uk/teeth-whitening/
At Whites Dental, our dentists offer a wide range of teeth whitening treatments such as Enlighten home whitening, Zoom instant laser (LED) whitening and Zoom home whitening. They are fully committed to providing you a whiter and brighter smile. We are conveniently located in London Waterloo, a 1 minute walk from Southwark tube. We are a quick 5-10 minutes' short walk from Borough, London Bridge, Elephant and Castle and Southbank.