How Long Does It Take To Whiten Teeth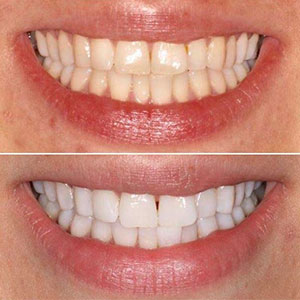 Teeth Whitening in London
Professional teeth whitening is one of the most common procedures with patients in London when it comes to cosmetic dentistry. It is safe, effective and not very expensive. It can transform a person's smile from being stained and dull to sparkling white. It is often used in combination with other cosmetic treatments such as composite bonding and wider smile makeovers. If you are looking to whiten your teeth, you can setup a consultation with one of our cosmetic dentists who will be able to talk you through the various whitening treatments we provide – Zoom home whitening, Zoom Instant whitening and Enlighten.
Want a brighter smile? Teeth whitening treatments can be had in two forms mostly – home teeth whitening and in-surgery teeth whitening. Both whitening options use a peroxide based bleaching agents. The difference between the 2 options is that the in surgery whitening has a stronger concentration that the at home option. Normally, the longer you keep a stronger solution on your teeth, the whiter your teeth become. Nevertheless, the higher the percentage of peroxide in the whitening solution, the shorter it should be applied to the teeth. Otherwise, keeping the gel on longer will dehydrate the tooth and increase the chances of tooth sensitivity.
Each option has pros and, but before you try at-home tooth-bleaching kits, be sure to talk to your cosmetic dentist. Not everyone will see good results. Teeth whitening will not affect the colour of existing porcelain crown, veneers, bridges or denture teeth nor will it change the colour or shade of existing tooth coloured fillings- these may need to be changed to ensure that the shades match.
Home teeth whitening involves the patient coming in to the cosmetic dentist to take impression of their teeth in order to manufacture custom made whitening trays. This will take approximately a week.
Once your tray is back from the lab, you will have your next appointment during which the dentist will see the fit of the tray and explain to you how to use it with the bleaching gel that you will have to add to whiten your teeth. Then, by wearing this tray regularly at home, for a specified amount of time over a period of 2 to 4 weeks, you will start noticing the difference! Some gels can be left on for up to 8 hours at a time. The Philips Zoom or Enlighten treatment we have at our practice is a great and effective way to whiten your teeth at home.
Finally, you will have a last check up to ensure everything is fine and you are off to enjoy your new brighter teeth and smile with confidence!
Another advantage of the at home whitening- is that once the tray has been made it is yours for life and you can top up your whitening gel as you please!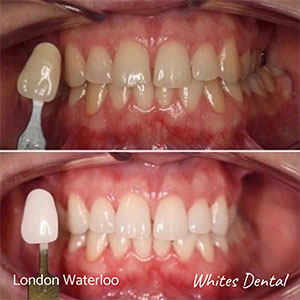 Insurgery teeth whitening
Insurgery instant teeth whitening is performed by the cosmetic dentist within the surgery itself, where the dentist applies a whitening gel of higher concentration to the patients teeth in order to whiten the teeth. A white laser (LED) light is sometimes used to activate the whitening agents and speed up the whitening process. Instant in-surgery whitening also produces brilliant whitening results. At Whites Dental, our cosmetic dentists use the two most popular whitening systems – Philips Zoom and Enlighten. They both come in home whitening and in-surgery whitening versions.
If you are looking to brighten your teeth quickly for example a special occasion such as a wedding or a holiday, then the insurgery teeth whitening option would be best suited for you. The bleaching solution used in the surgery kit is normally much stronger than at-home kits. Also, heat, light, or a combination of the two may be used to speed and intensify the whitening process, helping you get faster results in a shorter period of time. Teeth generally get 3 to 8 shades brighter within 30 to 60 min in surgery visits.
Tooth Bleaching: Keeping Teeth White
Whether you use an at-home tooth-whitening system, or have your teeth bleached by a dentist, you can help maintain the results by brushing, flossing, and rinsing daily. Also, avoid dark coloured foods and beverages such as:
Black teas and coffee
White and red wine
Sports drinks
Carbonated beverages (dark and light-coloured sodas)
Berries and other strongly-coloured foods
Sauces (soy, tomato, curries)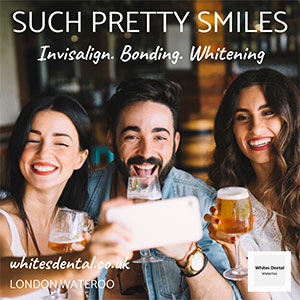 One of the side effects of tooth whitening is that it can make teeth temporarily sensitive — or be uncomfortable for people who already have sensitive teeth. When used incorrectly, home kits can also lead to burned — even temporarily bleached — gums.
Tooth-whitening works usually works best for patients who have stained / yellow teeth and is less effective for people with brown teeth. If your teeth are darker in colour such as gray or purple, tooth bleaching probably won't work at all.
To be sure tooth-whitening is worth your time and money, talk to your cosmetic dentist before you use an over-the-counter tooth whitening kit.
For additional information about cosmetic dentistry treatments in London, visit our cosmetic dentistry homepage – https://www.whitesdental.co.uk/cosmetic-dentistry/
At Whites Dental, our cosmetic dentists provide a range of cosmetic dentistry treatments to patients in London. We are centrally based in London Waterloo, right opposite the street to Southwark tube station. We are also a quick 5-10 minutes' walk from Blackfriars, Borough Market, Waterloo rail station, Elephant and Castle tube and London Bridge station.