Philips Zoom Teeth Whitening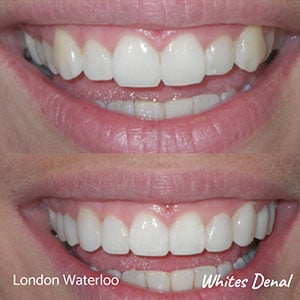 Whites Dental is proud to offer Philips Zoom Teeth Whitening system in our practice. Philips Zoom is a popular teeth whitening system used by millions of people worldwide (source: Philips Zoom).
People who have teeth shade A2 or lower show the most improvement with teeth whitening, with the results easily visible. Patients with teeth shades better than A1 will show improvement as well, however, the results are not as stark given their starting tooth shade was closer to white.
What Is The Procedure Like?
Philips Zoom teeth whitening is offered to patients in a number of different ways. These include in-surgery teeth whitening options or home teeth whitening options.
In-Surgery Teeth Whitening
With Philips Zoom teeth whitening system, teeth can become upto 6 shades whiter in a little over an hour – almost instantly. Results are very good with little to no sensitivity (source: Philips.co.uk). This is Philips's instant LED teeth whitening system.
At Whites Dental, we offer two in-surgery teeth whitening treatments. Our dentist will help you choose the right one for you. Your choice will often come down to budget, how long you wish to spend in the dentist's chair and the results you may want to achieve. Each option starts with a check-up with our dentist, who will assess your dental needs – from oral hygiene to teeth decay and gum condition (checking for gum disease). Teeth whitening is most effective when your teeth are most receptive to whitening. A hygiene sessions helps clean the teeth prior to the whitening process.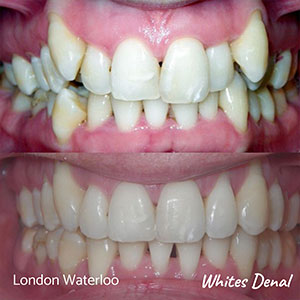 Philips Zoom! WhiteSpeed – you'll likely get the most dramatic results with WhiteSpeed. In a little over an hour, teeth could be upto 6 shades whiter. The treatment will likely reverse stains from food and drinks, discoloration from some types of medication etc. You'll leave our surgery with an instantly brighter smile. The treatment starts with the dentist checking your current teeth shade, so you can see the difference after the treatment is complete. The dentist performs the following steps:
The dentist preps your mouth and applies a layer of whitening gel to your teeth.
In order to speed up the whitening process, the dentist will shine a LED lamp onto your teeth. This will accelerate the process
This is repeated three times
Once you've reached the desired shade, the dentist will apply a post-treatment gel to help protect enamel and reduce sensitivity
Once the treatment in-surgery is completed, you'll receive customised whitening trays and a take home whitening kit. You can then top-up the treatment at home when you want to.
Philips Zoom! QuickPro – this option is for patients who want to touch-up their smile (or kick-start the whitening process). QuickPro gives affordable and immediate results. The advantage with this option is that you spend very little time in surgery. You'll likely get noticeable results, with teeth shade up to 4 shades brighter in usually 30 minutes.
The treatment can be added to the end of a regular check-up; it usually takes about 10 minutes to apply, and doesn't involve the blue LED whitening lamp. The dentist will apply the following steps –
The dentist will prep your mouth first.
A layer of whitening varnish will be applied to each tooth; the varnish dries almost instantly.
Following this, a layer of protective sealant is applied that keeps your teeth safe from sensitivity.
All that is then left is to brush off the varnish after 30 minutes.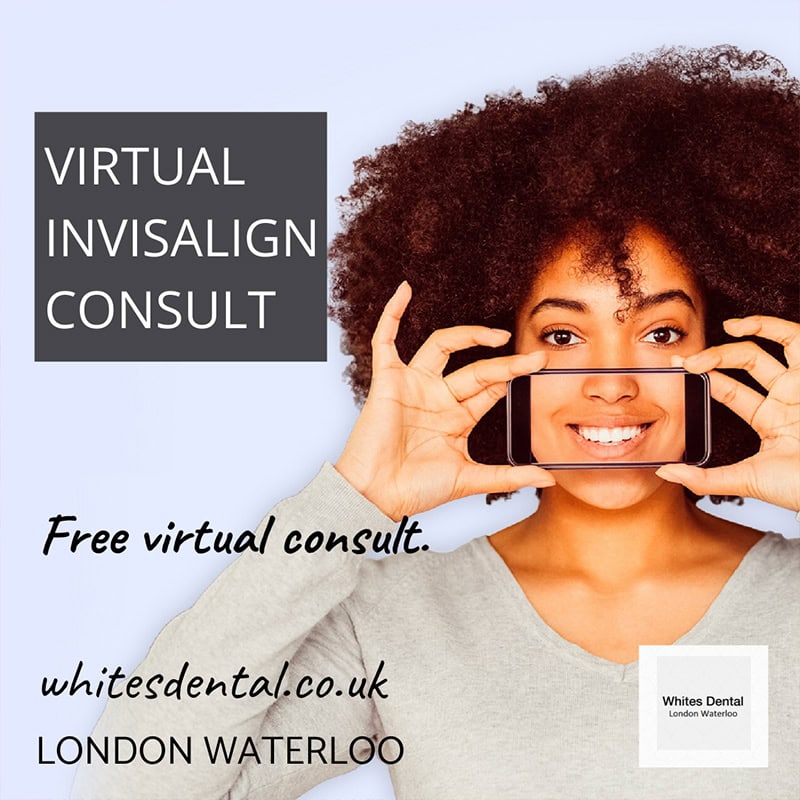 Home Zoom Teeth Whitening
Philips Zoom home teeth whitening is a safe and also convenient way to have a brighter and whiter smile in one to two weeks. You will get professional results with little to no sensitivity. All home teeth whitening treatments start with a consultation by our dentist at Whites Dental. They will prescribe the most appropriate whitening kit for your teeth; they will also answer any questions you might have. For home teeth whitening, our dentist will prescribe you a treatment that uses mouth trays. We will make you a customised tray that fits exactly to your teeth and gum line, so you get effective and safe results.
We provide two styles of home whitening that can brighten your teeth and smile. Each home teeth whitening kit has a different strength formula, which our dentist will advise on.
Philips Zoom! DayWhite – this option is perfect if you want to wear trays for a short time during the day. You will need to wear trays for 30 to 90 minutes, for results in usually 2 weeks.
Philips Zoom! NiteWhite – this option lets you whiten overnight while you sleep and is ideal if you would like to wear trays at night. NiteWhite gives results in 2 weeks.
Both Day White and NiteWhite home teeth whitening kits are applied in the same way; the difference is when and how long you wear the trays. With Day White you need to wear the trays twice a day; you may want to do one treatment in the morning, the second in the evening. NiteWhite trays are worn overnight; the trays can be removed as soon as you get up.
To start the procedure at home brush your teeth well to remove plaque, then complete the following steps:
Put a drop size of whitening gel into each impression in the trays.
Place the trays over your teeth gently
When the prescribed time is up, take out your trays and give them a thorough clean with water.
Brush teeth after the procedure
Please visit our Whites Dental website at www.whitesdental.co.uk for more details about our teeth whitening treatments. We will be more than happy to assist with brightening your smile. Our dental practice is located a short walk from London Waterloo, adjacent to Southwark tube station. We are a 5-10mins walk from London Blackfriars, London Bridge, Borough Market, Southwark, Southbank and Elephant & Castle stations.