How Does Teeth Whitening Work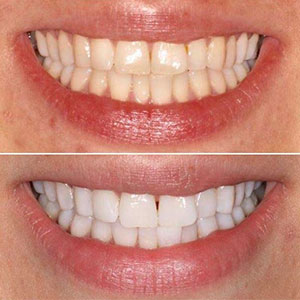 Cosmetic Dentist in London
Teeth whitening plays a significant role in giving us a beautiful smile. Professional teeth whitening is becoming popular with both men and women in London and we find more and more people are taking up cosmetic dentistry treatments to improve their smile and self-confidence. Many new patients ask us specifically about teeth whitening, veneers, composite bonding and other related cosmetic dentistry treatments. However, teeth whitening tends to be by far the most common and most popular cosmetic dentistry procedure that our patients in London ask us for. At Whites Dental, our cosmetic dentists provide a wide range of professional teeth whitening treatments such as Philips Zoom home teeth whitening, Enlighten home whitening and Zoom instant in-surgery laser teeth whitening. Teeth whitening is very effective at whitening teeth and is designed specifically to create a brighter and whiter smile for the patient. Teeth whitening when executed well has the potential to transform a person's self-esteem, giving them the confidence to smile again and interact confidently with their peers and colleagues.
To understand how teeth whitening works, we first need to understand how stains settle on to the teeth. Each tooth is composted of 3 primary layers – these are the pulp, dentin and enamel layers. Enamel is the outermost layer of the tooth and is responsible for protecting the tooth. The stains sit on this layer. Due to the intake of materials into the mouth (food and drinks) an additional layer forms on the surface of the tooth. This layer is called the pellicle film. It can be scraped away by the dentist during a cleaning appointment. The pellicle layer can often stay on the tooth for long periods of time, causing stains to penetrate and get into the enamel later. As the enamel later is porous in nature, it can absorb the staining agents and form deep stains in it. A stain can often be quite harmless, however, it can look very unpleasant and unattractive. This is what a good teeth whitening system is designed to address – to whiten your tooth's enamel, restoring your teeth to their bright, whiter appearance.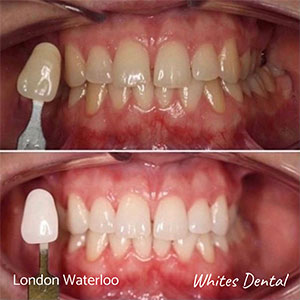 What Causes Teeth Stains
Anything foreign that you put into your mouth can have the potential to stain your teeth and leave a mark on the enamel layer. This is the reason teeth stains can be almost non-avoidable for certain people, especially given food items and many drinks are often the main causes of stains. Some food and drinks are particularly bad when it comes to teeth stains – these include tea, coffee, soy sauce and red-wine; these drinks tend to be the biggest culprits. On average, the rule of thumb to follow is – anything that can stain your clothes or even hands will also have the potential to stain the teeth. Nicotine and tar in cigarettes and tobacco are also major causes of stains. Although nicotine is a colorless material, it acts as a staining agent the moment it comes in contact with air or oxygen. Certain medications such as some antibiotics, blood pressure medicines and anti-histamines are also known to stain teeth. Trauma to the teeth and age can also play a role in teeth staining.
How Teeth Whitening Works
Teeth whitening works by using safe to use chemicals that enter the enamel layer of the teeth and oxidize the stains in order to break down the stains. Teeth stains are removed as a result, even the ones that have penetrated deep into the teeth. Teeth whitening comes in two forms – intrinsic whitening and extrinsic whitening. Extrinsic teeth whitening removes the stains present on the tooth enamel; the enamel layer is where common stains such as tea, coffee and tobacco stains reside on the teeth. Intrinsic teeth whitening on the other hand, lightens the softer, inner layer of the teeth. For intrinsic whitening, the cosmetic dentist uses a bleaching gel on the inner soft tissue of the tooth to whiten it. The enamel layer typically doesn't have discoloration in this scenario and it's the inside of the tooth that needs whitening. For either type of whitening, the various whitening systems available use either hydrogen peroxide or carbamide peroxide. For both those compounds, the final whitening agent is hydrogen peroxide as carbamide ultimately breaks down into hydrogen peroxide on use.
Dentist typically offer two types of teeth whitening treatments – whitening that can be done within the surgery or whitening that can be done at home. We have provided more information on each of those methods below.
Zoom Instant In-Surgery Whitening – Whitening at the cosmetic dentist requires one visit and takes about 90 minutes to complete. You can typically have the whitening done on the day that you had your initial consultation. A dentist who whitens the teeth will first clean your teeth and then apply protective layer or barrier on your gums for protection. They will then apply a whitening gel with hydrogen peroxide (at a strength that's much higher than home whitening treatments).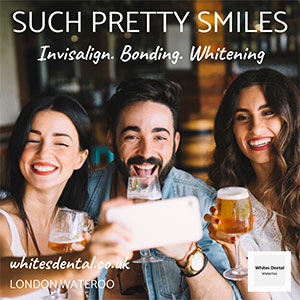 The cosmetic dentist will typically apply this whitening gel for several minutes each time. Dentists often couple the teeth whitening gel with LED light that is designed to activate the whitening agents within the gel to hasten the teeth whitening process. The dentist then rinses off the gel and then reapplies it a number of times over the course of the session. Once complete, you leave the dental surgery with brighter, whiter teeth.
At-Home Whitening – At-home whitening can be obtained from a dentist once the dentist has had a chance to assess your teeth and gums to ensure they are healthy and fit for whitening. The cosmetic dentist will take molds of your teeth and provide you with bespoke whitening trays and also a whitening gel to use at home. To whiten your teeth at home, you will add the gel to the whitening trays and use them overnight (typically) for about 2 weeks. Although this process takes longer, some patients prefer to whiten their teeth from the comfort of their own home. Home whitening also provides excellent whitening results, providing brilliant white results for patients.
Find the Best Cosmetic Dentist in London
The first step to have your teeth whitened is to find a good cosmetic dentist in London. Finding a good cosmetic dentist is really important as it gives you the confidence that you are having your teeth whitened from someone who's done it many times in the past and can therefore help achieve superior results. At Whites Dental, we have some of London's leading cosmetic dentists working with us offering a range of teeth whitening treatments in London. Why not arrange a consultation with one of them to see how we can help you whiten your smile. For more information on teeth whitening, see our whitening homepage here – https://www.whitesdental.co.uk/teeth-whitening/
Our cosmetic dentists offer a range of teeth whitening systems such as Zoom Instant (LED) laser teeth whitening, Enlighten home whitening and Zoom home whitening. We are conveniently located in Central London in Waterloo, a short 1 minute walk from Southwark tube. We are also a short 5-10 minutes' walk from Borough, London Blackfriars, Elephant and Castle, London Bridge and Southbank.