Can you eat pizza with braces?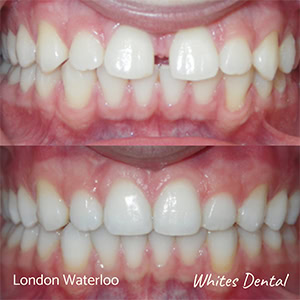 Braces in London Waterloo
What can you eat with braces? Can you eat chocolate with braces? Can you eat fruits with braces? These are all questions you are probably asking yourself and searching the internet for when you first get your braces on. Our orthodontic dentists at Whites Dental can help you create your new beautiful smile using a range of braces treatments near Elephant and Castle and London Bridge, including Damon Fast braces, Ceramic braces, Invisalign braces, clear brace and also hidden lingual braces. We are situated in Waterloo, adjacent to Southwark Station or a quick walk from Waterloo rail station (about 5min) or a 10min walk from London Bridge station.
The good news is you don't have to give up as much as you think as there are still plenty of tasty foods you can eat while having braces. And you are not limited to only soft food or pureed goods, you just need to be aware and make good choices. It is important to be aware of the foods you can and cannot eat so you can take care of your brace correctly, and get the best results from your orthodontic treatment. Your orthodontist will instruct you to be careful with your eating habits when you get brace, and for good reason. Your braces have brackets, bands, and arch wires that can all be damaged by various foods. Eating the wrong foods could end up damaging your brand-new brace.
Along with damage to your brace, avoiding certain foods is also necessary to preventing tooth decay. When you have braces, it's easier for food to get stuck between the brace and your teeth. This is why correct brushing and flossing during orthodontic treatment are important. If you don't properly remove any food particles, you're at risk of getting not only cavities but also plaque and tartar build-up, which can cause your teeth to stain. This is a concern for many brace patients because when the brace come off, the staining is only concentrated around the teeth surface not covered by the brace. Due to this pattern of staining, teeth whitening after brace is becoming gradually popular to correct any discoloration that may have occurred during orthodontic treatment.
Foods you can't eat with braces
While you're wearing braces, you'll need to be careful of certain foods until you've completed your treatment. This is to ensure your brace don't get damaged during meal time. Do you know what kind of food you can and can't eat with brace? Here are some potentially damaging foods you need to be careful about:
Popcorn
Crusty bread such as bagels
Ice
Hard or chewy candy
Nuts and seeds
Raw vegetables
Is pizza ok?
Yes! Of course, you can still eat pizza, who would want braces if you can't have pizza anymore? However what kind of pizza is what is important here. Pizza with a soft crust is ideal, as a pizza with a thin crust or any other form of tougher crust could harm the brace and potentially get stuck in your brace. Choose toppings that are smaller in size, such as crumbled bacon, green peppers, mushrooms, etc. Pepperoni slices are also good as long as they don't have a thick skin to chew.
Why don't you try making your own pizza at home? It is super easy and fun! All you need is some shop bought soft crust, pick your favourite toppings, chop them up, design your pizza, and then bake following the pizza crust instructions.
Pizza can still be healthy!
Of course, a healthy body is important to maintaining healthy teeth, so you can opt to go for healthier toppings! Why don't you try a simple pizza with tomatoes, basil leaves, and feta cheese, or try green peppers, onions, and two or three different types of mushrooms.
Foods you can still eat with braces
Anything that is soft, not too sticky or chewy
Light crackers or cookies
Cheese
Fruits
Pasta
Poultry and fish
Soft breads
Steamed vegetables
If you are still unsure if your favourite foods are ok to eat with brace, send us an email or call us, your friendly dental team will be happy to help you. It is better to be safe than sorry!
The takeaway message…
Getting braces can improve your teeth. Nevertheless, there is still a risk of harming your brace and teeth, if you eat the wrong types of food and don't maintain a good dental hygiene. Your orthodontist will discuss with you what foods to avoid. If you have any questions, don't hesitate to call us at Whites Dental, our dedicated dental team will make sure to answer any questions you may have. Sadly, damaging your brace could prolong your treatment, meaning you'll have to wear them for a longer period of time.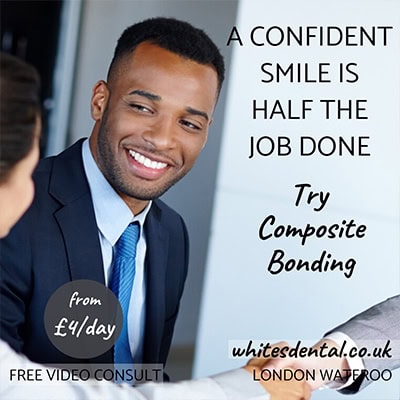 Once your brace have settled in, you can eat and enjoy food like you used to before. Try to get into the habit of chewing without pushing your food to the side of your mouth. Pieces of food are more likely to get trapped in the brace if they are impacted between the teeth and the inside of your cheek. Cutting your food into small pieces should help with this and will make it less likely that morsels will get caught anywhere else in the brace. Plan your meals more, so you know you'll have plenty of time to chew your food slowly, rather than trying to eat large meals in a rush.
If you want to know what you can eat or drink with braces, why don't you call us to book a free consultation? You will be able to discuss what you want with our friendly dental team and identify the braces option best suited to you. For more information on orthodontic braces,
visit our orthodontics homepage – https://www.whitesdental.co.uk/orthodontist-teeth-straightening-london-waterloo/
At Whites Dental, our orthodontic dentists provide a range of fixed orthodontic braces to our patient's in the City of London – these include traditional metal braces, Damon braces, Lingual braces, fixed ceramic braces and also Fastbraces. Our webpage provides information on whether you can eat pizza with braces. You can find us near London Waterloo, right adjacent to Southwark tube station or a 5min walk from London Waterloo Railway station. Our premises are a nice comfortable walk from Blackfriars and Southbank stations and also a 10 minutes' walk from Elephant and Castle tube station, Borough and London Bridge rail station.