Best Invisible Braces in London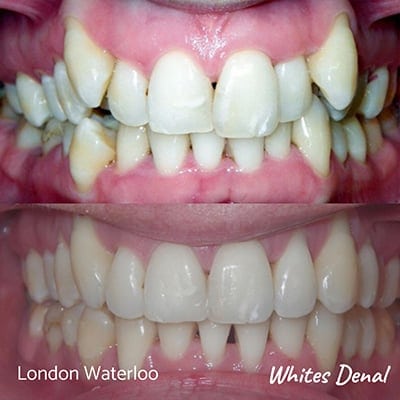 Orthodontic Braces London Bridge
A vast proportion of adults in London want straight teeth in order to have a beautiful smile. If you are interested in invisible braces to straighten your teeth, our teeth straightening dentists near London Bridge can help. We provide a full range of invisible braces including Invisalign invisible braces, Damon clear braces and hidden lingual braces. Book a free orthodontic consultation with one of our dentists to start your journey to a straighter smile with invisible braces.
A great big smile can change everything… your life, your confidence and your outlook. And with some of the best invisible braces in London, achieving the smile you always dreamed of doesn't have to be a big deal. In fact, it does not have to impact your day-to-day life at all. Fixed orthodontic braces have come a long way in the last decade. Advances in modern orthodontic technology have made many new innovative braces systems available to patients. Everybody wants a great smile and straighter teeth, but they don't necessarily want the ugly metal brackets and the discomfort that comes with traditional orthodontic work. If you fit this description and do not want to draw extra attention to your dental work in progress, you may want to consider some of the options below.
Invisalign Invisible Braces
Invisalign straightens teeth using a number of nearly invisible, removable aligners that are custom-made specifically for your teeth. Your teeth will start to move little by little, week by week, as you replace each aligner every two weeks. Invisalign is a clear, retainer-like aligners that shift the patient's teeth into place. It is virtually invisible and is used to straighten crooked or mis-aligned teeth. Invisalign, is far more than a retainer and can certainly help to straighten your teeth, regardless of how crooked they are. Invisalign can be an effective orthodontic treatment for the following conditions: Crossbites, overbites, underbites, open bites, gapped teeth and overcrowded teeth. The revolutionary technique is becoming more and more popular as patients realise, they can get effective results without making it obvious that you are even wearing braces!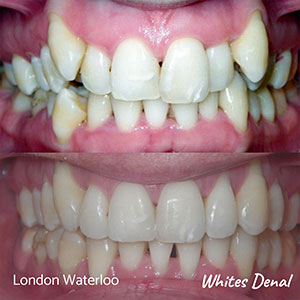 No more embarrassing metal wires, due to near invisibility of Invisalign braces. No metal allergies due to brackets and wires. Comfortable, clear and fully removable – Invisalign will transform your smile without disrupting your life. Wear your Invisalign aligners as you go about your daily routine. Take them out in the morning and evening to clean them. All you do is brush them as you do your teeth! You will also take them out when it's time to eat, which means you can enjoy all your favourite foods. Nothing will get stuck in wires or brackets. Invisalign is also perfect for people who play contact sports, especially those that require mouthguards. Simply remove the aligners while playing and replace them when you're done.
Six Month Smiles is a relatively new orthodontic system for straightening your teeth. Its innovative orthodontic technology provides for quick and impressive teeth straightening results. The system uses fixed brace to straighten visible teeth producing superb results in a shorter duration of time.
They are perfect if you need to quickly straighten your teeth for a special occasion like a wedding. The Six-Month Smiles system was originally developed in the United States and has been exploding in popularity here in the UK lately. It uses small clear brackets and a tooth-coloured wire to move your teeth to their new position effectively and comfortably. They are typically less costly than other fixed braces, thus making them a brilliant all-round brace solution.
Lingual Invisible Braces (Incognito Braces)
Lingual braces (or Incognito braces) are similar to traditional fixed metal braces in that they also use metal brackets and orthodontic wire to straighten your teeth. However, unlike traditional braces that are fixed to the outside surface of a patient's teeth, lingual braces attach brackets to the inside of the teeth. Consult with your orthodontist, to find out whether lingual braces are right for you. Overall, lingual braces can correct the same kinds of alignment issues as conventional braces. Although lingual braces have discretion as their biggest advantage, they tend to be more expensive than traditional braces due to the additional time required to apply and maintain them. They can also affect a patients' speech during the initial stages when the mouth is still getting used to them. However, despite the additional cost, lingual braces are becoming increasingly popular with our adult patients.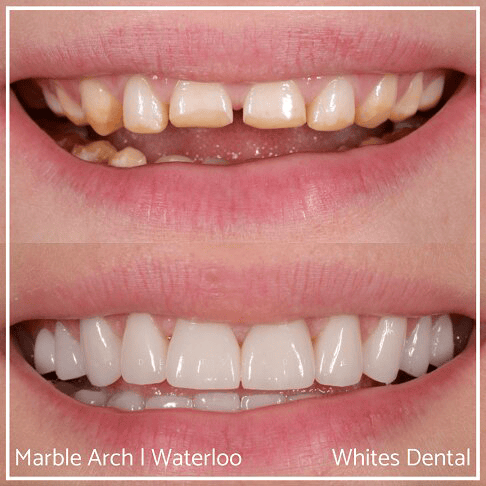 In the end, it is up to you and your orthodontist to decide which is the best treatment for your individual case. Whichever treatment you decide to go for, our team here at Whites Dental has years of experience working with both braces and Invisalign, and we will make sure you're an active partner in any treatment plan we create. With an experienced team and the latest in orthodontic technology and braces treatment, we are committed to providing you a friendly, comfortable experience over the entire duration of your treatment.
If you are considering invisible braces to straighten your teeth, you can get more details on our Invisalign page – https://www.whitesdental.co.uk/dental-invisalign/
At Whites Dental, our dentists provide a range of invisible braces including Invisalign braces to men and women in London.
We also provide braces such as ceramic braces, traditional fixed braces, Damon braces, clear braces and Six Month Smiles. We are based in London Waterloo, across the street from Southwark tube. We are also a quick short walk from Southbank, Blackfriars Bridge, Elephant and Castle tube and London Bridge.