What are the fastest braces?
Create The Smile You
Have Always Wanted
Perfect your smile in as
little as £4/day.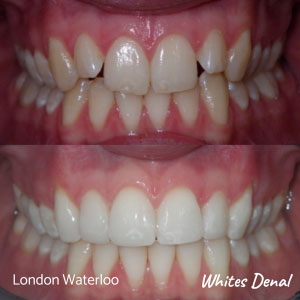 Orthodontist in London Waterloo
Orthodontic braces can drastically improve the overall look of your teeth and give you the confidence that you need to smile again! Our orthodontics team at Whites Dental in London Waterloo is hugely experienced at creating beautiful smiles – they will be more than happy to help create one for you. We offer a range of orthodontic braces near Elephant and Castle and London Bridge, including Damon Fast braces, Invisalign braces, clear braces and also ceramic braces.
What are orthodontic braces?
Orthodontic braces are a great way of straightening your teeth, to improve their look and also how they work. Fixed orthodontic braces also help towards the long-term oral health of your gums and teeth. They also help make eating much more comfortable – they do this by spreading the bite pressure across all of your teeth. Braces treatment works by applying gentle pressure to the teeth, in order to slowly move your teeth to their desired position. As the pressure start to work, the bone in your jaw changes a little to allow the teeth, along with their roots to move.
In order to find the right orthodontic braces treatment, the two main criteria for people usually is price and the speed of the treatment. Braces are the most popular and common method to straightening your teeth. With advancements in dental technology, a whole range of orthodontic brace systems currently exist on the market, it therefore becomes very important to choose the right braces that best suits your needs. For a while, ceramic orthodontic braces were very much the popular choice, mainly due to the fact that they are quite discreet; however, they turned out to not be as time-effective as compared to metal braces.
Although the speed of the treatment is significantly determined by the type of teeth correction that's required, it would appear that many experts agree that clear aligners can often be the quickest way to straighten teeth. The most popular type of clear aligners on the market at the moment is Invisalign braces. Invisalign braces have become very popular over the last many years for two main factors – first is due to the fact that they speed up the teeth straightening process, and second because they are virtually invisible to the naked eye. However, it's important to note that plenty of other options exist currently on the market that can work just as well for you, based on the kind of teeth misalignment issues you are facing.
Invisalign Braces
Invisalign braces are hugely popular currently with both adult patients and teenagers in London given the many benefits they offer to the patients. Invisalign braces are essentially transparent trays made of clear plastic material that are custom made to your teeth. These trays or aligners as they are also called, are worn on the teeth and slowly move your teeth to the desired position. The patient is provided a number of sequential trays, each tray is worn for 1-2 weeks and then changed with the next one in the series till you reach the final aligner or tray.
The average patient usually completes their teeth straightening treatment with Invisalign braces in roughly a years time. However, some patients can even get good results in as little as 3 months' time, making Invisalign braces one of the fastest orthodontic braces system on the market at the moment. Invisalign braces have several other benefits in addition to being a quick solution to straighten misaligned teeth. One main reason why patients, mostly adult patients, choose to have Invisalign braces is because of the fact that they are virtually invisible to the eye, most people will barely be able to notice you are even wearing them. Also, Invisalign aligners are completely removable – you remove them for eating and brushing your teeth, thus makes Invisalign a much more convenient system for the patient. Invisalign braces can be a little more costly as compared to traditional braces, however the benefits they offer the patients more than makes them worthwhile and great value.
Traditional Fixed Braces
Traditional fixed braces have come a very long way from the time they were first introduced; they are still very popular with many adults and younger patients who want a cost-effective way to straighten their teeth. Tradition braces require an orthodontic brace to be glued to the front surface of each tooth in order to help align them. Fixed braces typically tend to be one of the most affordable forms of orthodontic treatment and come in many different forms.
Ceramic braces are a tooth-coloured solution that's aesthetically pleasing; this is because ceramic braces are made of a ceramic material that is the same colour as the patient's teeth. This helps to make ceramic braces less visible to others. As you would expect, they are usually better suited for patients who are more conscious about their look and appearance and fear that metal braces may not suit their looks. The main disadvantage with ceramic orthodontic braces is that they can break rather easily. They are also more expensive than metal braces.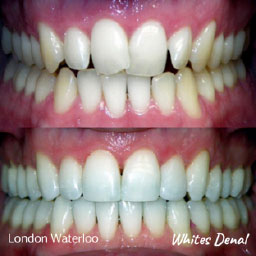 Lingual Braces
Lingual braces are a hidden form of braces treatment often preferred by adult patients looking for a discreet way to straighten their teeth. Lingual braces are glued to the inside surface of the patient's teeth; they therefore can't be seen from outside the patient's mouth. They are literally invisible and can only be seen by others if the patient opens their mouth very widely.
Lingual braces do not always suit all teeth alignment cases; treatment duration can also be sometimes longer than other brace systems. However, they are still popular given their discreet nature. They can also hinder effective oral hygiene and can be difficult to clean as they are located in a position that many patients aren't used to cleaning while brushing. A hygienist can be a good source to teach you on how to clean and maintain lingual braces. Most patients see improvement with their teeth in the first few weeks of treatment.
Damon Braces
Damon braces are very similar to traditional fixed metal braces; however, they have two major advantages – they are much more comfortable to wear and are faster. Damon braces are a self-ligating type of brace system; they are increasingly becoming very popular amongst our adult braces patients in London. Treatment duration can often be completed as much as 6 months sooner as compared to traditional braces. Damon braces are known to be more comfortable for the patient to wear compared to traditional braces; they are also easier to maintain and clean compared to traditional braces. They do not require rubber bands or elastics, as they use special kind of brackets that help the arch wire to move, thus guiding teeth into their desired positions. When the patient visits their orthodontist, the orthodontist simply adjusts the brackets, causes less discomfort to the patient and saving time.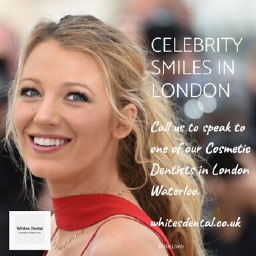 If you want to know more about orthodontic braces or are considering getting them for yourself, why don't you call us to book a free consultation? You can ask your questions to our orthodontic team, who will happily discuss your orthodontic issues and also recommend treatment options for you. For more information on orthodontic braces, visit our orthodontics homepage  – https://www.whitesdental.co.uk/orthodontist-teeth-straightening-london-waterloo/
At Whites Dental, our orthodontics team specialises in straightening teeth and creating beautiful smiles. Why not book a free consult to see whether we can help create a beautiful smile for you.
This web page gives information to the reader regarding what are the fastest braces.