How long will it take for braces to straighten your teeth?
Create The Smile You
Have Always Wanted
Perfect your smile in as
little as £4/day.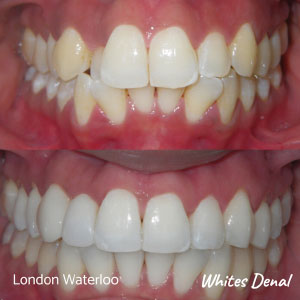 Braces in London Waterloo
"How long will it take for braces to align and straighten your teeth?" – we get asked this is a question all the time by our patients in London. From gaps to overbites, to teeth or jaw position there are many factors that can affect the duration a patient will need to wear orthodontic brace. Our orthodontics team at Whites Dental in London Waterloo will be delighted to help create beautiful straight teeth for you and answer any questions you may have regarding orthodontic braces.
The short answer? It varies.
There are numerous factors that determine the amount of time a person must wear brace including age, type of treatment and individual needs or issues that should be addressed. The latter factors have the biggest impact on duration, as a patient's problem could be as simple as minor adjustment, or as major as jaw realignment. While the time it takes for brace to do their thing varies greatly by patient, after an initial evaluation and consultation, you orthodontist can help you better understand the amount of time that may be required for your individual case. So, whenever you're ready to being your treatment your dentist will schedule your initial exam and you can have a better idea of what to expect.
Now that you know the short answer, let's discuss the specifics…
At your initial appointment, your orthodontist will do a thorough oral and facial new patient examination to assess your overall oral health and your unique orthodontic needs. Depending on this initial assessment a CBCT scan, facial photographs, digital impressions and/or x-rays may also be taken. Review and recommendation for your patient treatment plan is provided upon a second appointment. This gives your orthodontist and his team ample time to evaluate all the data collected. It is at this appointment that your orthodontist will review your orthodontic records, and show you examples of brace, clear aligners or any appliances that may be involved in your prescribed course of treatment. Moreover, during that appointment, your orthodontist will be able to answer questions specific to your case, as well as talk about the anticipated duration of your treatment.
Typically, how long do brace take to work?
The average orthodontic treatment time falls somewhere between 16-18 months, but can sometimes take as long as 24 months, or even more or even less. Be careful of promises from anyone who says you can have a straight smile in only six months. While some patients may believe they only need to close a gap, treatment in less than six months is quite rare. What some patients may not see or know is whether their bite is appropriately positioned, the airway is properly open or is the palate formed correctly.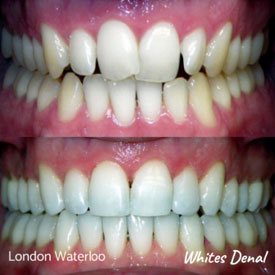 These are the hidden difficulties that can impact long term oral and systemic health. Only a qualified orthodontist has the experience needed to ensure you have the best results.
In circumstances of adult brace, the average length of treatment can be a bit longer than for children. Again, the actual time depends on the patient's individual needs but since adult teeth have stopped growing and are set, they require more pressure to move. This means many adult patients can look to wear brace anywhere from 18 months to about three years.
Some children need to wear brace for even longer. In some instances, a younger patient may have a major alignment issue, such as a tooth coming in in the wrong place. In that case it could require tooth extraction and waiting for other teeth to come in before starting treatment. Depending on the wait for remaining adult teeth to come, this procedure could take considerably longer. Our friendly dental team at Whites Dental can advise you of what to expect in your case.
Can I shorten the time for braces treatment?
It depends. A patient who sensibly follows treatment instructions can increase the likelihood they get their brace off sooner. This can be something as simple as keeping proper oral hygiene or, in the case of aligners or removable appliances such as bands, wearing them for the full prescribed treatment time every day. Patients should also practice suitable eating habits while wearing brace. This includes avoiding sticky or hard food like gum, corn, popcorn, hard pretzels or chips and most candy, as this can significantly improve the treatment time. Broken or missing brackets can stretch out the time required for treatment and need to be fixed as soon as possible.
Finally, not everyone realises how much more challenging it is to brush your teeth with brace, but doing it properly is very important. The good news is there are methods for proper brushing that can also help to ensure your treatment plan stays on track. Our orthodontics team have additional information that might help you to better understand the best way to take care of your orthodontic brace at work, at school or at home.
It is important to remember, regardless of how long your treatment is planned to last, the time a patient is required to wear brace does not include the post-treatment retainer that's necessary to ensure your new beautiful smile lasts a lifetime. If you are thinking of having orthodontic brace and want to find out how long the treatment might last, please feel free to book a free consultation with us, we will be happy to answer any questions that you may have!