Can I take off braces by myself?
Create The Smile You
Have Always Wanted
Perfect your smile in as
little as £4/day.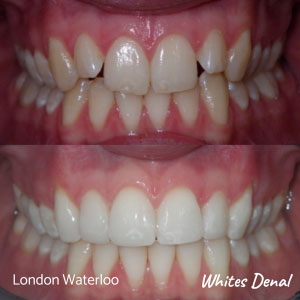 Orthodontist Braces in London Waterloo
Orthodontic braces are a great way of straightening or shifting your teeth, to improve how they look and how they work. Orthodontic braces can also help with your long-term oral health of your teeth as well gums, making eating easier, by helping spread the biting pressure across all of your teeth. Our orthodontic team here at Whites Dental in London will be glad to be a part of your smile transformation. Our orthodontic practice is based in London Waterloo, across from Southwark tube.
Orthodontic braces work by applying gentle pressure on your teeth in order to slowly move your teeth in the right direction. As the pressure starts taking effect, the bone in the jaw changes to allow the teeth and their roots to move. Braces aren't necessarily the most wanted accessories. If you are already wearing braces, you'll know it all too well. These can be some of the reasons why braces may annoy or irritate you, and compel you to remove braces at home:
Eating anything hard and chewy is a mission.
You're paranoid that you'll stain them.
You always feel like there is something stuck in between them.
Tightening them is painful.
There are persistent cuts in your mouth and tongue because of the wires and brackets.
It's hard to hide your braces and still look happy.
You simply cannot pronounce 's'.
Once the treatment is over, your orthodontist will remove the braces and place retainers to keep your teeth from shifting back to their original position.
If you have been wearing braces, and have often thought of removing braces by yourself at home, then this article is for you. Don't do it without consulting an orthodontist. It's not a risk that is worth taking.
You should start of by knowing the risks Involved in removing braces at home-
You may lose your teeth
When you are thinking about removing your braces at home, there is a high chance you will end up losing your permanent teeth. While you remove your braces yourself, you may find your tooth at a very vulnerable position, it might be already moving in the direction where it is supposed to move. And if you catch it at the wrong time, you will make it come off as you apply force to remove the braces.
You may put yourself in a lot of pain
You may consider to remove braces at home to get rid of the pain and other problems associated with them. But have you thought this through properly? You might think it is a quick and effective way to get rid of the pain, however removing braces yourself could be a way to self-inflict real pain.
During the removal process, the gums may even start to bleed leaving you at the risk of dental infections. There are simply no tools you can use to remove braces at home. Orthodontists use special tools to remove them when the treatment is over. These special tools are effective and cause minimal pain.
You could make it easier for microbes such as bacteria to create cavities
When you try to remove braces with force, they may crack, chip, scratch or cause abrasions on your teeth. It then becomes easy for bacteria to hide and grow on your teeth to start creating tooth decay. Taking off braces on your own may also reduce the quality of your tooth enamel.
You might cause your teeth to wander aimlessly unintentionally
If you remove braces at home, your teeth will lose the direction they were supposed to move towards and will be free to move in whatever direction they please. That's the reason why orthodontists place retainers once your orthodontic treatment is completed. The retainers keep the teeth from shifting back to their original position.
Without dental braces to restrict the teeth, they can move around in any direction they want due to the pressures and stresses of the mouth.
You may waste your time and money
Removing braces at home is a perfect example of wasting your own time and money. Think about the time and money you have spent on your orthodontic treatment so far, was all in vain. And, if during the self-removal process, you damage your teeth, then correcting them will require you to dig out more money.
Takeaway message
You may be tempted to remove your braces at home, but don't ignore the risks involved with it. The best thing is to consult a professional before you attempt anything at home i.e removing your braces yourself.
For further information on how you can straighten your teeth and create your perfect smile, please feel free to contact us, we will happily point you in the right direction. Our dedicated dental team are always happy to discuss the best treatment for your needs, and to provide honest, impartial advice on how best to care for your teeth.
For more information on orthodontic braces, visit our orthodontics homepage – https://www.whitesdental.co.uk/orthodontist-teeth-straightening-london-waterloo/
At Whites Dental in London Waterloo, our orthodontic team specialises in creating beautiful smile. This page provides information on whether you can take off braces by yourself.