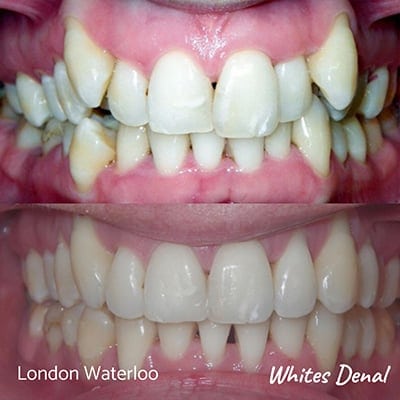 Fixed Braces in London Waterloo
Fixed orthodontic braces and similar braces treatments are becoming increasingly popular in London – both with teenagers and also adults. Braces treatment can often last between 5-6 months to 18 months even. It is therefore important that any braces option you decide to take up is comfortable and will fit into your lifestyle At Whites Dental in London Waterloo, our dentists can give you advice on what braces treatment is best suited for your needs and comfort. We provide a wide range of braces treatments including ceramic braces, lingual braces, Damon braces and Invisalign braces.
Fixed braces are a way of straightening or moving your teeth, to improve how they look and how they work. Fixed orthodontic braces are able to help to look after long-term health of your gums and teeth and make eating food items more comfortable, by spreading the biting pressure across all your teeth. Braces work by putting pressure on the teeth, to slowly move them in the right direction. As the pressure starts taking effect, the bone in the jaw changes to allow the teeth and their roots to move.
Getting fixed braces put on your teeth doesn't hurt. It usually takes between one to two hours to have braces put on your teeth. First and foremost, your orthodontist will put metallic bands around the back molars. This may involve some slight pressure or pinching, but it won't be painful. Then, your orthodontist applies a special glue to your teeth ( the glute that doesn't taste necessarily good, but it doesn't hurt). Your orthodontist will glue brackets onto each of your teeth, and then connect the brackets with wires. At the end, everything will be secured with elastic bands. Within a few hours, you will begin to develop some pain and soreness in your teeth and gums. This pain will probably last about a week. During that time, you will be getting used to the feeling of your new braces. The wires and rubber bands put pressure on your teeth to slowly straighten them. This pressure takes some time to get used to.
You may experience some of the following during the first week after getting braces:
pressure and soreness of your teeth and gums, especially when chewing
sores or pain on the insides of your checks
Mouth ulcers or canker sores
Injuries from your appliance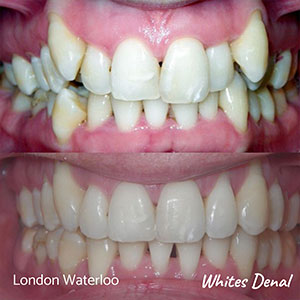 Most pain caused by wearing braces can be treated with over-the-counter medications. Try to have soft, no-chew food items for the first week at least; these include yogurt, soup and ice cream. Some foods to avoid- popcorn, hard candy, sticky candy and gum can all damage your braces. Cold drinks and smoothies can also sooth inflamed gums. Your orthodontist may give you some soft wax that you can use whenever your braces are rubbing against the inside of your mouth. The wax provides a protective barrier that reduces the likelihood of cuts or sores. If you have a wire or bracket out of place that is causing you pain, make an appointment with your orthodontist right away. Most people get used to their braces in about a month. After six months, you may not even notice them. Although, it is normal to experience some soreness from time to time.
Braces fix alignment problems by constantly putting pressure on your teeth. You teeth will move into a straighter position, over time. How much time this takes depends on a few factors, including what type of appliance you're using and what problems your orthodontist is trying to fix.
Most people wear braces for about two years. When you have braces, you need to visit your orthodontist every few weeks for adjustments. At these appointments, your orthodontist evaluates your teeth and checks on the amount of pressure the braces are producing. The braces lose effectiveness as your teeth move and cause tension to decrease. At each visit, your orthodontist tightens the wires, springs, or elastic bands to increase the tension. You may experience some pain and soreness for a few days when getting your braces tightened. The discomfort shouldn't be as bad as when you first got your braces on. After a few days, you will get used to the increased pressure on your teeth. An over-the-counter pain reliever should be enough to control the pain.
You will be so happy to see your new straight teeth that you probably won't be too worried about pain. All dental procedures are slightly uncomfortable, but removing your braces shouldn't be! After your braces come off, your teeth will be completely cleaned. Your orthodontist might take another set of X-rays and impressions to check how well your braces worked.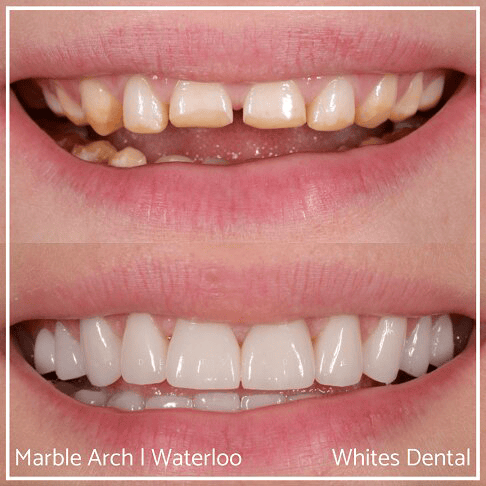 If you have wisdom teeth coming in, your orthodontist may recommend getting them removed. This will prevent your newly straightened teeth from being pushed out of alignment. Getting your braces off is certainly a great relief, but it doesn't always mean that your orthodontic treatment is finished. Your orthodontist will fit you for a retainer. This is a custom-made device, usually made of rubber or plastic, that prevents your teeth from moving back to their original positions. You might need to wear your retainer every day. Or you might need it only at night. Either way, it shouldn't cause any pain.
If you are considering using fixed braces to straighten your smile, you can call our reception staff to book a free video consult with one of our dentists. You can discuss your teeth straightening needs and ask any questions you may have.
For more information on fixed orthodontic braces, visit our orthodontics homepage – https://www.whitesdental.co.uk/orthodontist-teeth-straightening-london-waterloo/
Whites Dental has some of the leading orthodontic dentists in London Bridge, providing fixed brace, six month smiles, fastbraces, damon braces and Invisalign clear braces to patients near us in London Bridge, Central London, Southwark, Elephant and Castle and London Waterloo. Our webpage provides information on how to find a good orthodontist in London. We are located in London Waterloo, adjacent to Waterloo train station and across the road from Southwark Tube station. We are also a 10 minutes' walking distance from London Bridge, Elephant and Castle tube station and Borough Market and 5 minutes' walking distance from Blackfriars and Southbank stations.