What Are Composite Veneers?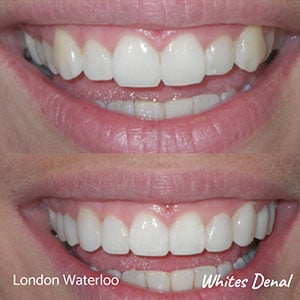 Composite Veneers in London Bridge
Composite veneers are a popular cosmetic dentistry procedure that's increasingly popular with men and women in London City who want to create a perfect smile. If you are looking to have composite veneers, why not book a consultation with one of our cosmetic dentists? We are based in London Waterloo, a short walk from London Bridge and Elephant and Castle. We offer a range of cosmetic procedures such as composite veneers, porcelain veneers, composite bonding and teeth alignment (Invisalign braces).
Your smile is usually one of the first things that other people notice about you. Having a beautiful smile is one of your biggest assets. It improves your sense of self-esteem and helps to give you more self-confidence, both socially and in the work place. The best way to keep your smile healthy and bright is to look after your teeth and gums. However, it's not unusual to need a little help! At Whites Dental, our cosmetic dentists can help give you a perfect smile using a range of techniques such as composite porcelain and composite veneers, teeth alignment and full smile makeovers.
If you are unhappy with the way your teeth look, composite veneers could be a good option for you. Veneers can be very effective when it comes to correcting teeth that are crooked or badly shaped, teeth that are broken or chipped, and teeth that are spaced too far apart. There are two types, porcelain and composite veneers. When done well, both types can give you a beautiful smile, but what are the differences? How do you know which one is suitable for you?
Modern composite materials can provide a life-like, beautiful appearance that is non-destructive to the tooth structure and can last for a long time. A tooth coloured filling material matched with your natural tooth shade, is applied in layers to the tooth surface and sculpted directly in your mouth to achieve the desired aesthetic appearance with composite veneers.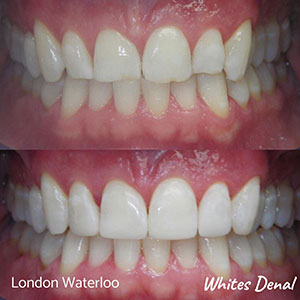 Composite veneers are used in situations in which there is chipping or discoloration of natural teeth. They are also used where there are minor misalignments of teeth, to give the appearance of straighter teeth.
Porcelain Veneers
Porcelain veneers are thin shells (a bit like false finger nails but for teeth), that are custom made to fit directly over your teeth. Porcelain veneers look very life-like and natural tooth appearance. The translucent properties of the porcelain permit the veneers to mimic the light handling characteristics of enamel giving it a sense of depth. Porcelain veneers are popular to reconstruct the natural look of the teeth; at the same time they also provide strength and resilience very similar to that of enamel. There are pros and cons for both types of veneers, so it's important to consider the level of the issue you hope to solve with veneers, as well as your budget.
Who can have composite veneers?
Composite veneer is appropriate for pretty much every patient. They can be used to:
Improve the looks and appearance of the teeth.
To protect the surface of the teeth.
Change the colour of the teeth, usually a whiter shade.
To make teeth appear straighter and more aligned.
To close gaps between teeth or make them larger in size.
To repair any chipped or broken section of a tooth.
What are the advantages of composite veneers?
Composite veneers is one of the least invasive treatment options for improving your smile. In comparison with alternative porcelain veneers, composite veneers' benefits can be listed as:
There is no need for drilling teeth in a vast majority of the cases. This makes composite veneers one of the most desirable forms of dental treatments.
Unlike porcelain veneers, composite veneers do not necessarily need to cover all of the tooth surfaces. This allows them to be an ideal choice for closing or reducing gaps between teeth. A good example of this is the gaps most commonly seen with top front teeth, known as a diastema.
Composite veneers are easily repairable in comparison with alternative options. f porcelain veneers break or chip, a new one has to be made by the lab for replacing it. Composite veneers can be easily and directly repaired. Therefore, composite veneers are a much cheaper and faster solution.
It is possible to reverse composite veneers much easier than porcelain veneers. This is because for placing composite veneers, no tooth has been drilled off in the first place.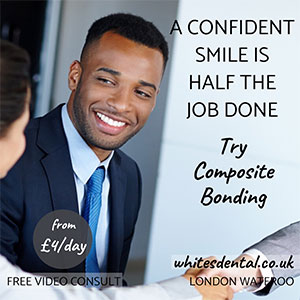 Treatments are usually completed in one visit as composite veneers are directly placed on the teeth. With composite veneers the transformation of your smile is instant.
Composite veneers are usually cheaper than porcelain veneers or crowns.
Almost anyone can have composite veneers!
You require no drilling and no injection for instantly transforming your smile with composite veneers! The procedure is simple when it is done by an experienced and skilled cosmetic dentist! The skill of the dentist is a huge factor when deciding on composite veneers – this is one of the most challenging treatments to do in cosmetic dentistry and only a handful of dentists have the natural abilities or have learned the skills required to produce excellent long term results with these types of veneers.
At Whites Dental, we only work with London's leading cosmetic dentists, providing state of the art cosmetic dentistry in London City, including veneers, composite bonding, teeth alignment (Invisalign braces) and full smile makeovers. We are centrally located in busy London Waterloo, right from Southwark tube. We are a quick 10 mins walk from Elephant and Castle, London Bridge, Borough, Southbank and Blackfriars station.
Why not give us a call on 0208 616 0590 to book an appointment with our cosmetic dentists. You can read more about cosmetic dentistry and composite veneers in the below – https://www.whitesdental.co.uk/cosmetic-dentistry/