Fixed Braces Before And After Pictures. Orthodontist London Waterloo
Create The Smile You
Have Always Wanted
Perfect your smile in as
little as £4/day.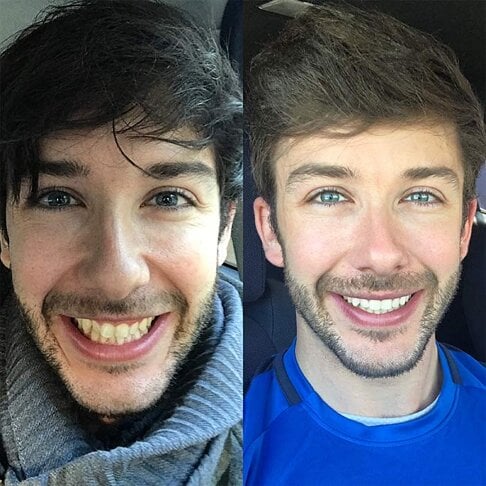 Fixed Braces – Before And After
Fixed metal braces are the traditional orthodontic method for straightening teeth. They are renowned for achieving excellent teeth straightening results for our patients. Although alternative orthodontic systems are available on the market, at Whites Dental we continue to provide fixed braces as they are so very effective at straightening teeth.
Fixed Braces before and after images –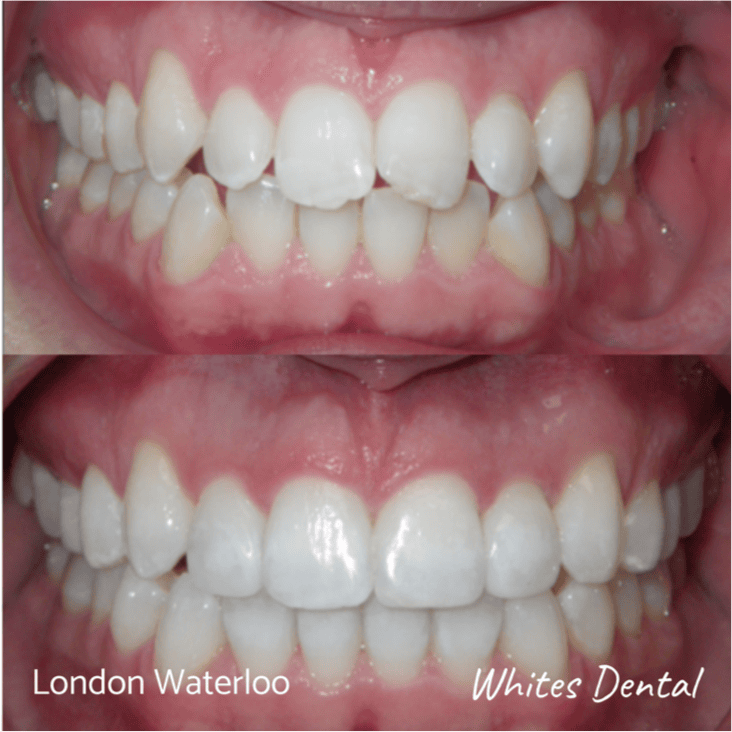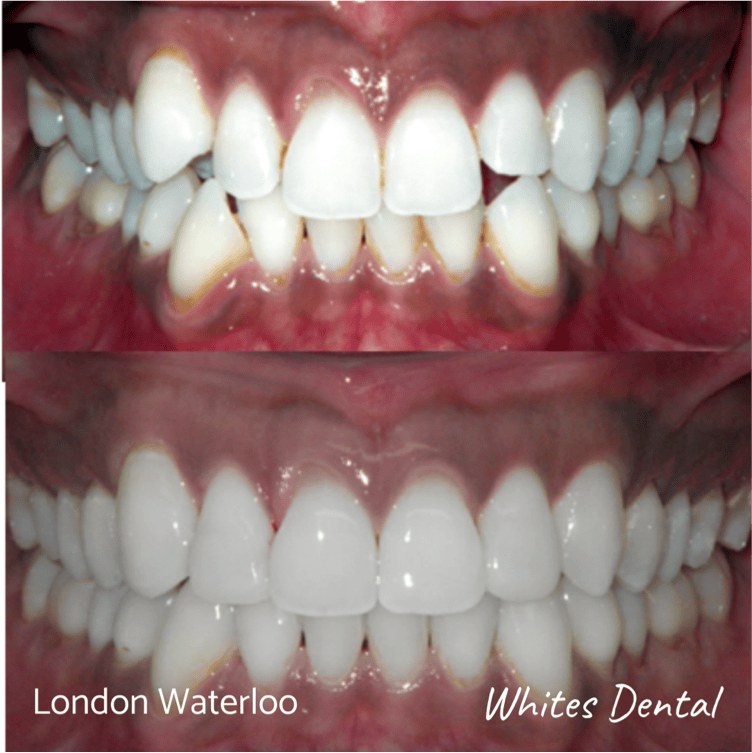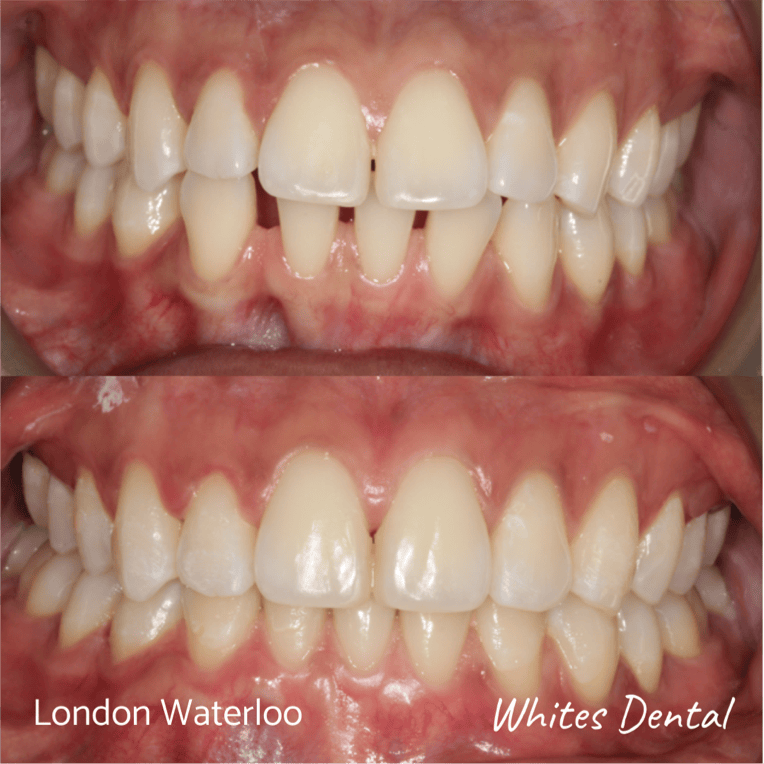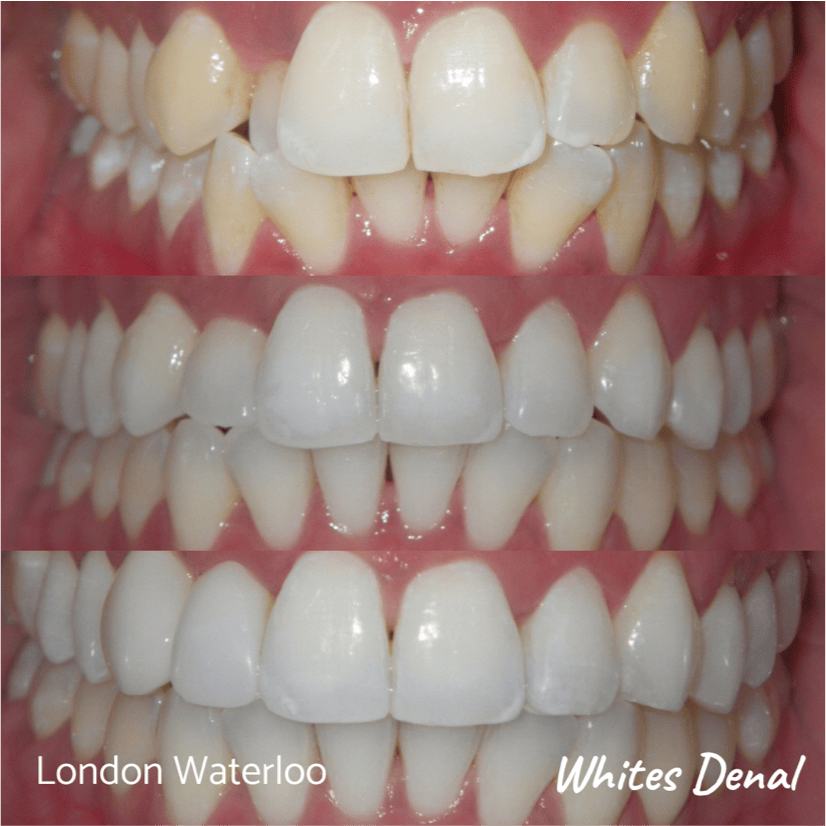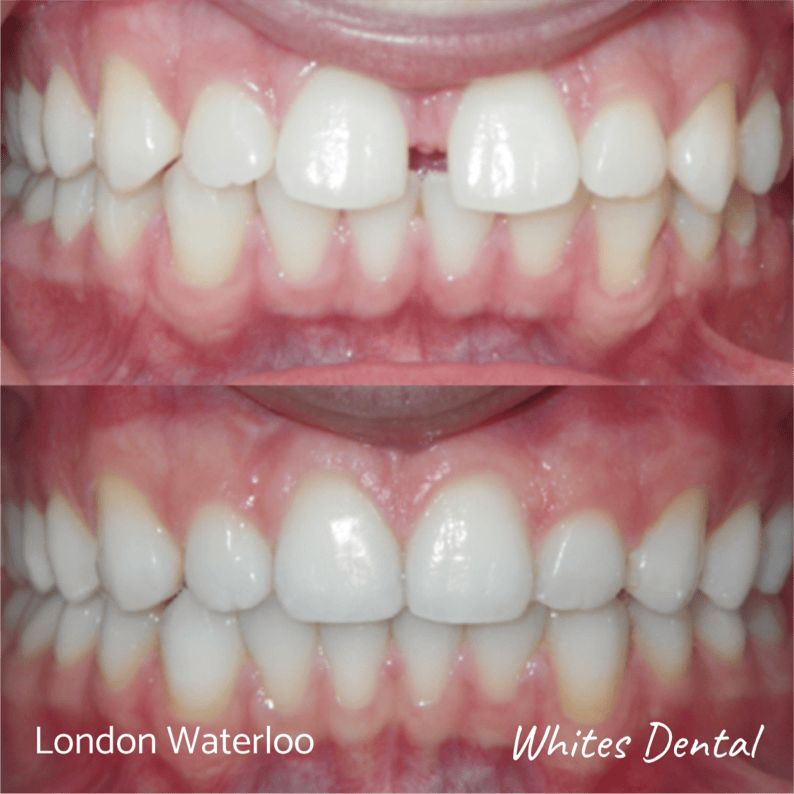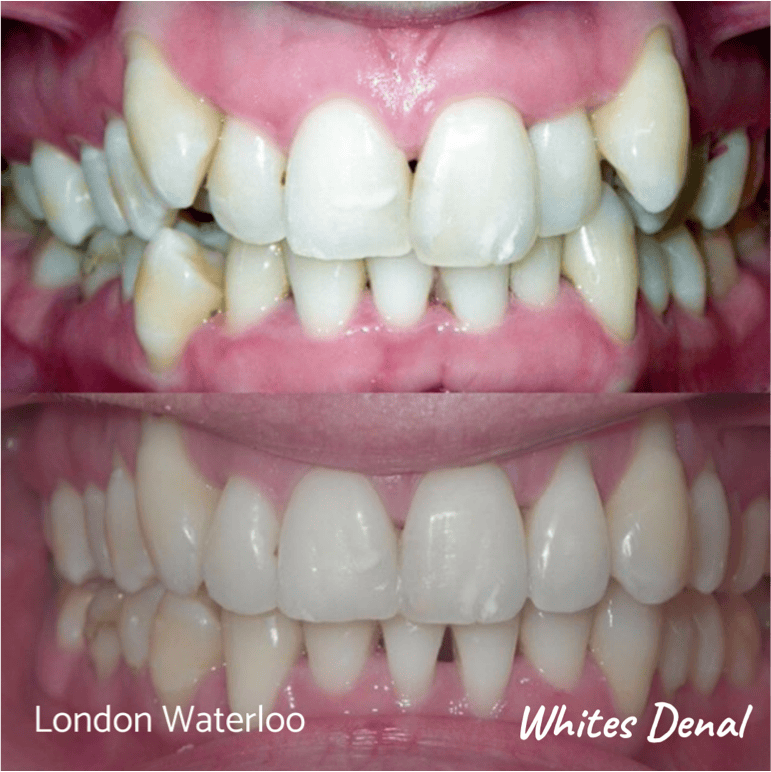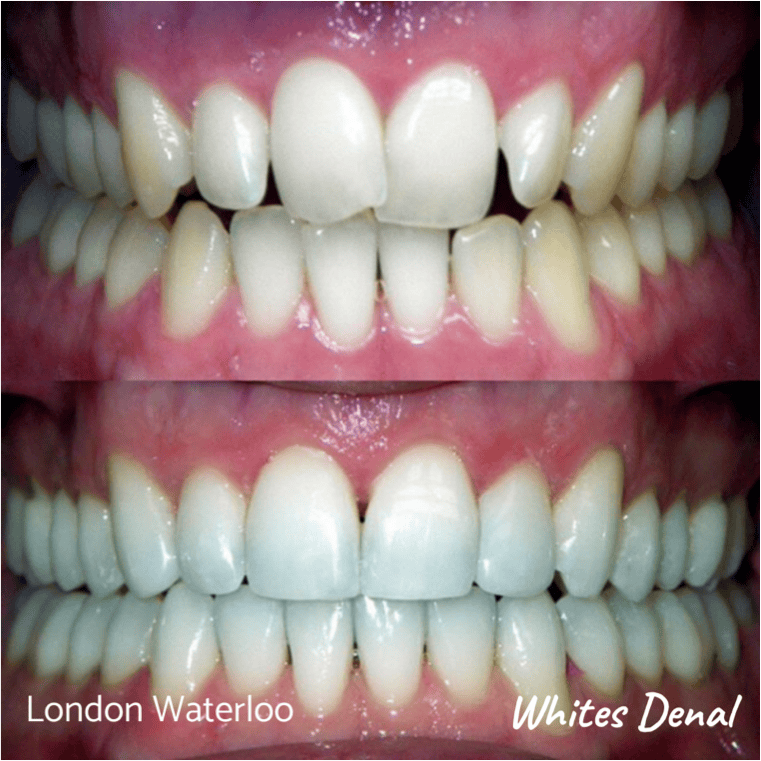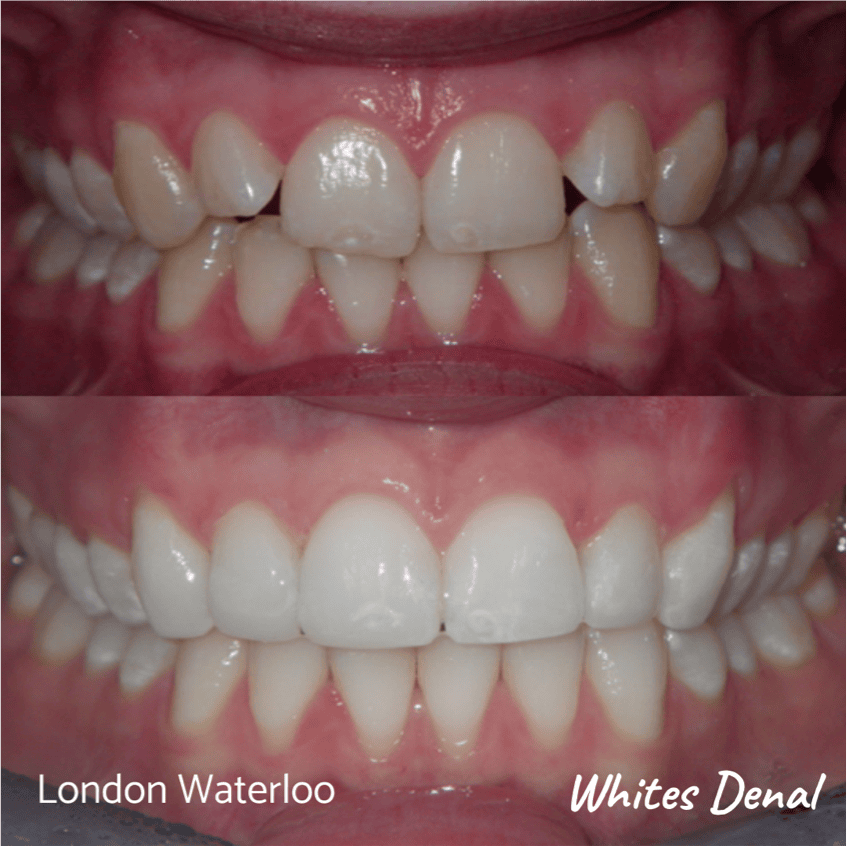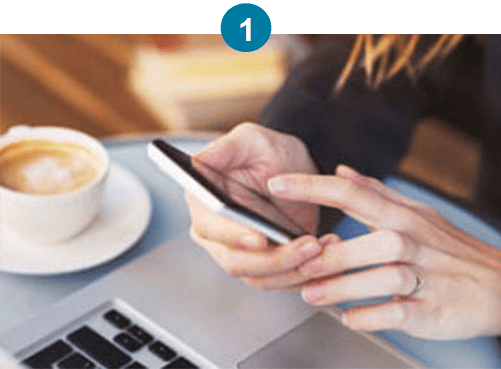 Upload Your Photos
Upload your photos and tell us what concerns you.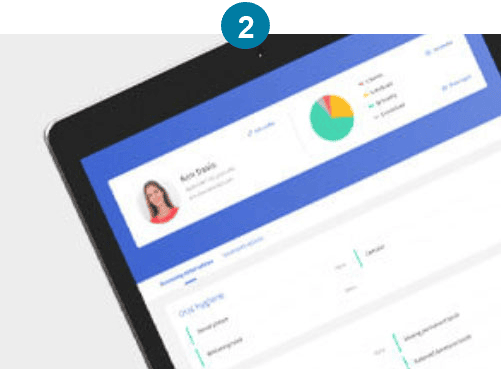 Free Video Consultation
We will usually reply within 24 hours to book you for a free video consult with Dr Elliot. He will provide you a cost and duration during the consult.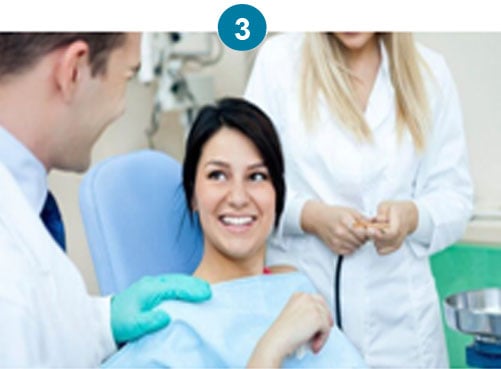 Appointment
We will book you for an appointment at the practice, where we will take impressions and create a treatment plan for you.
Elizabeth's Smile Transformation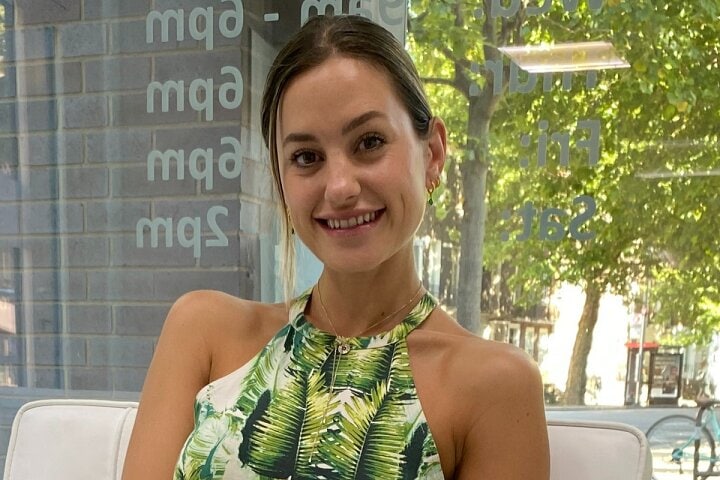 I came to Whites to improve my smile in time for my wedding. I wanted my smile to look just perfect for my big day.
My teeth were a little stained and a little crooked. Two of my front teeth slightly stick out. Dr Edina recommended teeth whitening to whiten my teeth, followed by Invisalign and Composite Bonding to straighten and perfect my smile.
I can't wait to see my new smile and have lots of big smiley pictures taken on my wedding day.
Everyone at the practice has been so friendly and helpful. I was made to feel very welcome. Can't thank the whole Whites team enough.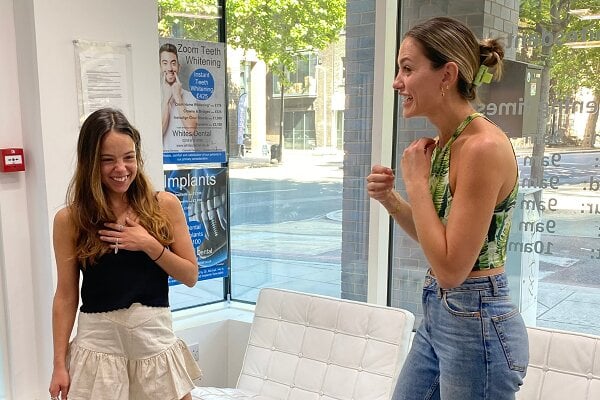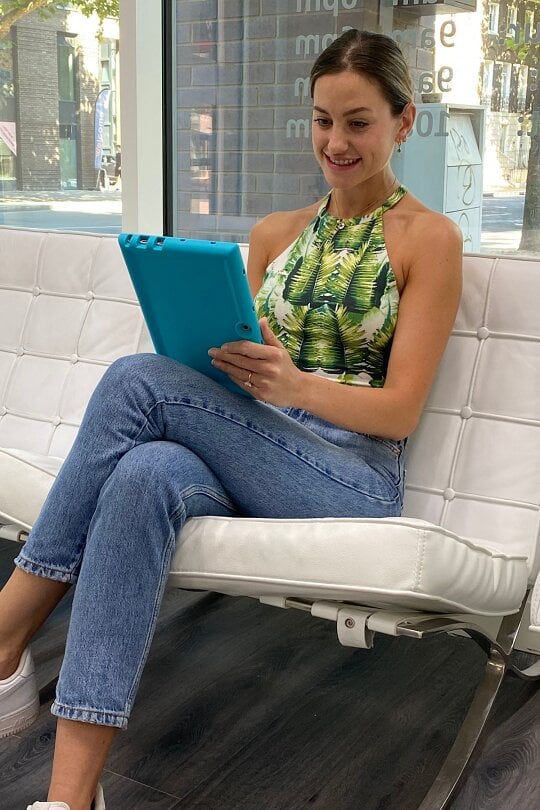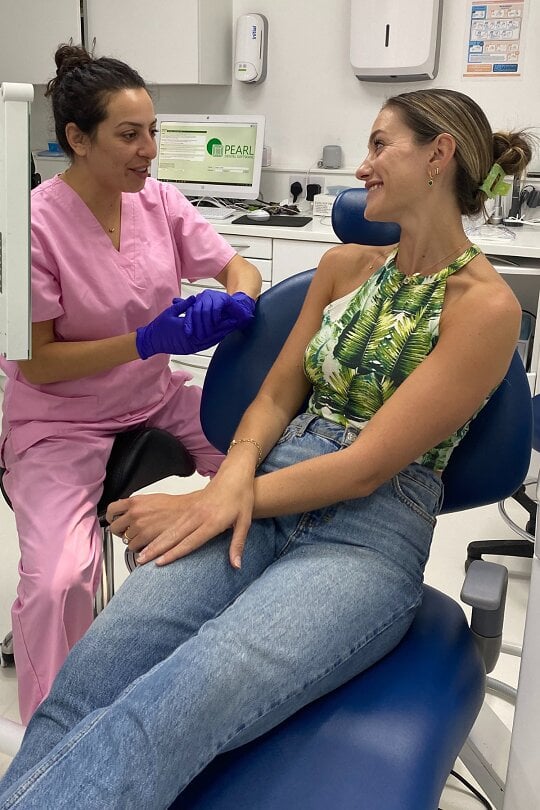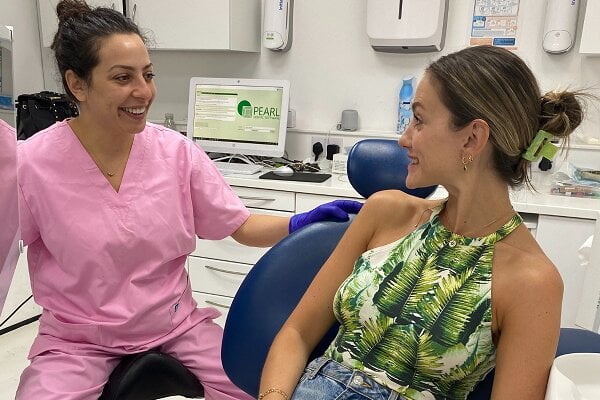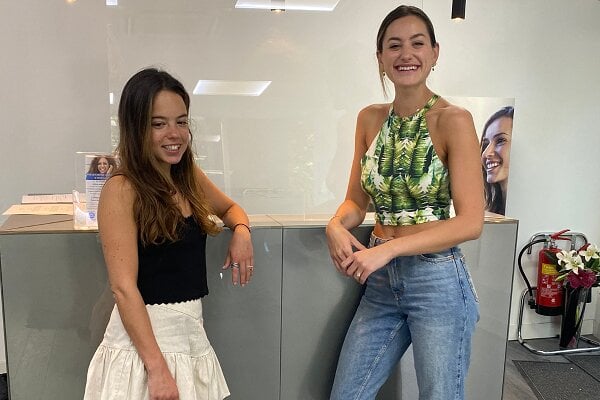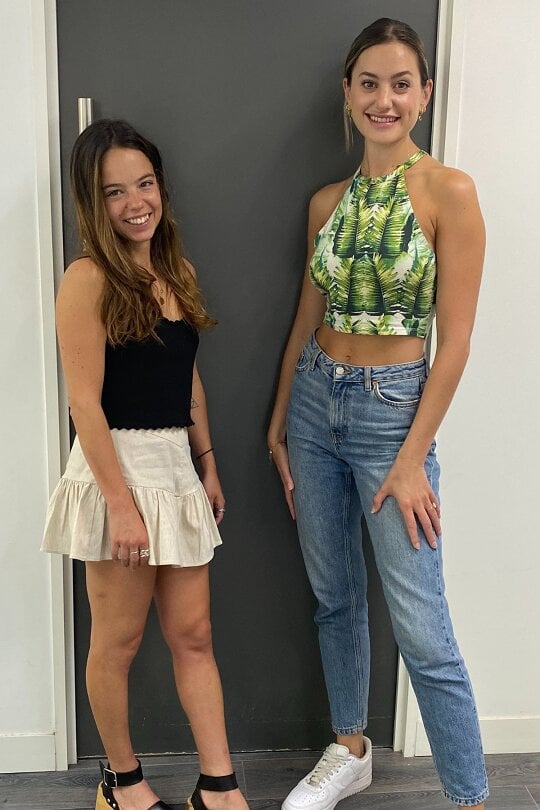 How do fixed braces work?
Traditional fixed braces comprise of three components – brackets (metal or ceramic), wire and elastic bands. The brackets are bonded to the front surface of the teeth using dental adhesive and usually made of stainless steel. Lately, tooth coloured ceramic brackets are increasingly popular with our patients as they are more discreet and not as noticeable as stainless steel brackets. The brackets are linked together with an orthodontic wire, and the elastic bands help maintain tension on the teeth to help them move to their desired position. Fixed braces straighten teeth by gently applying pressure to the teeth in order to guide them into their desired final position. Our orthodontists will need to see you every six to eight weeks or so to check your progress and to tighten the braces. The adjustment review appointments also enable the orthodontist to ensure your treatment stays on track.
Advances in orthodontics has led to alternative fixed brace systems which are increasingly popular with patients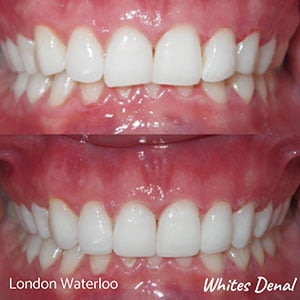 Damon braces is a new orthodontic system that uses newer technology to move teeth faster and with less pressure on the teeth. Damon clear braces are also more discreet than traditional braces and therefore more popular with patients.
Fastbraces and Six Month Smile are modern new alternatives to traditional fixed braces that help to straighten the front visible teeth in a very short duration of time. Many of the treatments' with Fastbraces and 6 Month Smile can be as quick as 3 to 4 months. However, all cases are different, and the actual duration of your treatment will depend on your individual needs.
Lingual braces (Incognito braces) are a more discreet form of fixed braces that are fitted on the inside surface of the teeth, instead of on the outside surface. This makes the braces completely invisible to others; only you will know you are wearing braces.
How can I find the best orthodontist in London?
To find a good or the best orthodontist in London, Google can be a good starting point. First google 'orthodontist in London'. Research the dental practices that come up in the search results; find a practice that employs dentists who are specialists in orthodontic care and treatment. Review their website, assess how well developed their web pages are related to orthodontic brace treatments. Dental practices that have well developed web pages for orthodontic treatments will typically specialise and focus in orthodontics. Read their google reviews specifically for orthodontic care. Once you have been able to identify a few dental practices in London that focus on orthodontics, visit them for an initial consultation. During the consultation, try and form a view on how experienced the orthodontist is and also whether you were able to build a sense of trust with them. Finally, choose the practice that is able to offer a teeth straightening option that you feel best suits your specific needs and offers it at a price that is reasonable.
Fixed braces – how much do they cost?
Different type of fixed braces exist on the market today. The cost of fixed braces can often depend on the type of fixed braces you choose to use and the duration of the teeth straightening treatment. Typically, fixed brace treatments can cost anywhere between £1,500 to £5,000. Straightening front teeth that have mild to moderate mis-alignment is typically quicker and cheaper than more complex cases that can take longer and are more expensive. At Whites Dental, our orthodontists will be able to give you a more specific cost once they have assessed your teeth and understand your teeth straightening needs. Please feel free to contact our friendly reception team to arrange a complementary orthodontic consultation for you with one of our teeth straightening dentists.
Please click here to visit our Orthodontist homepage.
Whites Dental provides Composite Bonding & Veneers Before and After Images on our website for patients to review some of the cosmetic dentistry results our dentists have achieved.  Our cosmetic dentists offer a range of cosmetic procedures such as Smile Design, Smile Makeovers, Porcelain Veneers, Composite Veneers and Composite Bonding. We are based in London Waterloo, next to Southwark tube station. We are also a 10 minutes' walk from Borough, Elephant and Castle, Southbank and London Bridge stations.