Facial Aesthetics in London Bridge
Let the beauty of your skin reflect your inner youth.
The Beauty Skin Studio in London Waterloo is run by Dr. Xenia Bolger, an experienced dentist with a special interest in facial aesthetic treatments. Our purpose is to enhance your beauty whilst still maintaining your natural look. You will look more beautiful and youthful, but not exaggerated or artificial. We offer bespoke beauty treatments tailored around your specific needs using latest products and techniques. We take the time to carefully discuss all treatment options to understand your requirements, studying your present look before providing expert advice on specific treatments you could benefit from. Our treatment will help you look more youthful and beautiful – delivering results quickly and without impacting your daily schedule.
Facial Aesthetic Consultation

FREE

Anti-Wrinkle Injections

(Botox) - 1 Area

£200
Anti-Wrinkle Injections

(Botox) - 2 Areas

£250
Anti-Wrinkle Injections

(Botox) - 3 Areas

£300
Dermal Fillers


from

£300
Neck Lift or Nefertiti Lift


£350
Glycolic Peel


£225
Lip Enhancement


from

£200
Mesotherapy


£550
Excessive Sweating Treatment


£450
Jaw Slimming, Clenching & Grinding


£375
Chin Dimples & Reshaping


from

£150
Gummy Smile Reduction


£150
Under Eye-hollows/Dark circles


from

£350
Gentle, Caring Treatments
All our facial aesthetic treatments are carried out by Dr Xenia. She is an experienced Dentist and has the most gentle touch. Our patients love her demeanour and nature, coming back asking only for her.
We can typically offer appointments at short notice – please call us for further details.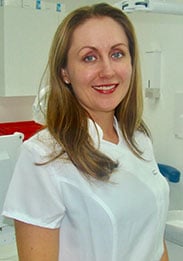 Experienced Dentist
Dr.Xenia Bolger
I am a dentist by profession, having qualified as one in 2005. I have developed a real passion for Facial Aesthetic treatments and have been practising since 2011. It's vitally important to me that all my patients have comfort and confidence in the treatments we undertake and leave with a happy smile. My approach is very gentle, helping put you at ease during the course of your treatment with me.
Soften Wrinkles with Anti-Wrinkle (Botox) Injections
Are you concerned about lines between your eyebrows, forehead and eyes? Rest assured, they can be softened with anti-wrinkle injections using Botulinum Toxin type A – also known as Botox. Botox is injected into the muscle in order to stop contraction, reducing or softening the wrinkles usually between your eyebrows, forehead and eyes (crow's feet). The effect of the treatment is temporary in nature, lasting up to four months. It typically needs to be repeated twice or more during the year in order to keep the muscles at rest.
Price: 1 area £200, 2 areas is £250, 3 areas is £300.
Other areas or issues can also be treated with Botox – such as excessive sweating or hyper hidrosis, jaw slimming, clenching and grinding, gummy smile, neck lift or Nefertiti lift and chin dimples. Please see our Fee table for prices.
Improve Skin Surface and Texture
Dermal fillers
Ageing is an inevitable process and causes volume loss of the skin and bone structure. Also sometimes quick and drastic weight loss can also cause deep lines to appear on the face. Dermal Fillers can help address these conditions. The procedure includes placing filler material along the cheek bone and filling the 'nose to mouth' line in order to achieve a soft youthful appearance. The answer is to place the right amount of a high-quality dermal filler to restore volume on the patient's face and provide matrix support underneath the muscles.
Price: from £300.
Glycolic Peel
Skin concerns such as a dull look, spots, blemishes, pigmentations and fine lines can be improved by applying a Glycolic Peel. This is a quick, gentle and easy way to exfoliate your skin to get a flawless result with no downtime. Glycolic acid penetrates through the skin to rejuvenate and regenerate cells, helping to improve fine lines, smoothen uneven skin tone and remove blemishes. The procedure typically takes 45 minutes (including consultation).A course of three treatments is required one month apart to create a flawless finish and give you youthful rejuvenated skin.
Price: £225.
Mesotherapy
If you aren't yet ready for derma fillers but want to improve the quality of your skin, try Mesotherapy. This is a non-surgical procedure where we use superficial injections to deliver vitamins, antioxidants and other beneficial ingredients directly into the skin for natural rejuvenation. Mesotheraphy is becoming very popular because of the fantastic results it achieves. The course consists of three sessions, each session one month apart.
Price: £550.
Add Volume & Contour
Replace lost volume in the face using Teosyal filler. The procedure involves placing filler material along the cheek bone, corner of the nose, nose to mouth line, along the jawline and also chin to achieve a lift of the skin. The longevity of this treatment is typically up to 22 months.
Dark circles or shallow space under the eyes can be corrected by derma filler called Redensity ll, giving you a natural fresh look. The longevity of the treatment is typically up to 18 months.
Price: from £350.