Do Braces Permanently Straighten Teeth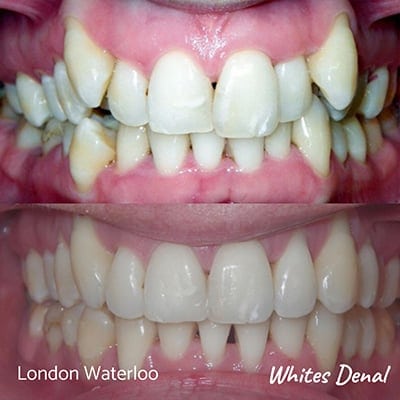 Orthodontic Braces in London Bridge
Orthodontic braces have become very popular with teenagers and adults in London looking to straighten their teeth. At Whites Dental, our dentists are here to help you create a beautiful straight smile. We provide a full range of braces Damon braces, ceramic brace, lingual brace and Invisalign braces.
If you've decided that straightening your teeth is the right choice for you, there are numerous alternatives you can discuss with a dentist or orthodontist. Brace are a great option for people of any age, provided that their teeth and gums are strong enough to hold them. Brace are an especially good choice for children, who still have flexible, malleable gums and bone tissues. It is still a great option for adults but the time required to achieve the desired results might take a little bit longer than in children. Treatment can take anywhere between two to three years depending on the type of braces you choose, and what you need to have done.
There are different types of braces you can choose from, as well as surgical options-
Fixed metal braces are attached to the teeth with brackets, bands, and flexible wire. These braces may be a better choice for someone who has a more complex dental alignment issue. Sometimes, headgear is required in addition to fixed braces. Headgear is typically only worn at night. Metal braces have come a long way since their early days. They now use smaller brackets and less metal. They're also more comfortable than they used to be. They even come with multi-coloured rubber bands that you can choose to match your personality.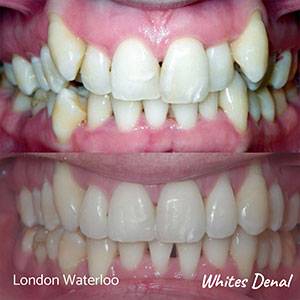 Ceramic braces and the arch wires that connect them are clear or tooth-coloured so they don't stand out as much as metal brackets. The straightening process is the same as metal brackets, although ceramic brackets are prone to staining and break easily.
Invisible brace, such as Invisalign, are nearly invisible. The clear plastic aligners are custom-built to fit your mouth. They fit over each tooth like a mouth guard, and are removed and replaced two times a month.  Invisible braces may take longer to straighten teeth than traditional braces.
Lingual braces work like regular brace, but they fit on the side of your teeth that is facing towards your tongue. Lingual braces are another form of invisible braces. They're similar to traditional metal brace except that they attach to the back sides of your teeth.
They're not typically recommended for severely misaligned or crooked teeth. These types of brace may take longer to work, and be harder to get used to wearing. Your teeth are not permanently attached to your mouth with braces. They are simply guided in a way to make them straight. When your brace come off, the teeth no longer have that barrier. This can lead to shifting. Most times, they do not shift enough to be noticeable. However, there are some circumstances that could occur that could turn straight teeth into crooked teeth.
Teeth Grinding and Clenching(also known as bruxism)– Usually when you are stressed you can either grind your top and bottom teeth or clench them together tightly without realising it. The act of grinding and clenching can recede the gums and with less gum tissue, teeth aren't as secure as they were before causing them to move easily.
Tooth Loss– When you lose a tooth, the teeth around it will start to move towards the opening. The only way to avert this from happening is to have a dentist make a partial denture or put in a dental implant to block that opening.
Wisdom Teeth– Most people have their wisdom teeth extracted during adolescence because the new teeth can push the other teeth. You need to keep an eye on your wisdom teeth, if you have braces before they appear and have them extracted as soon as they pose a threat to other teeth.
Gum Disease– This is also known as periodontal disease. It can affect the teeth, gums, and jaw bone. Over time, teeth lose their foundation in the gums causing them to easily move and unfortunately ruining a straight smile.
How can you protect straight teeth after braces?
Braces are an investment and you can make that investment last longer by following some of these simple steps: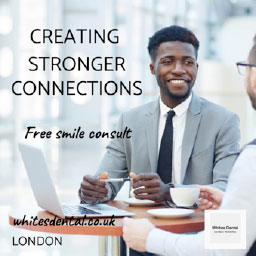 Wear a retainer. The retainer will keep your teeth from shifting. Wear it as recommended by your orthodontist.
Keep regular appointments with your dentist. You should see a dentist every six months. The dentist will be able to keep an eye out for signs of wisdom teeth coming through and gum disease. If either of those situations happen, the dentist can recommend next steps to ensure your teeth remain straight.
Wear a mouthguard if you suffer from bruxism. If you grind or clench your teeth, wear a mouthguard at night.
Practice good oral hygiene. Remember to brush and floss your teeth three times a day after meals. This will keep your teeth and gums healthy and strong.
If you are considering straightening your smile with orthodontic braces , you can get more information on orthodontic braces, visit our brace homepage – https://www.whitesdental.co.uk/orthodontist-teeth-straightening-london-waterloo/
If you are considering getting brace, why not book a free consultation with us? At Whites Dental we have some of the leading orthodontic dentists in London Bridge, who provide fixed brace, six month smiles, fast brace, damon braces and Invisalign clear brace to patients near us in London Bridge, Central London, Southwark, Elephant and Castle and London Waterloo. Our webpage provides information on how to find a good orthodontist in London. We are located in London Waterloo, adjacent to Waterloo train station and across the road from Southwark Tube station. We are also a 10 minutes' walking distance from London Bridge, Elephant and Castle tube station and Borough Market and 5 minutes' walking distance from Blackfriars and Southbank stations.