Do they whiten teeth after braces?
Create The Smile You
Have Always Wanted
Perfect your smile in as
little as £4/day.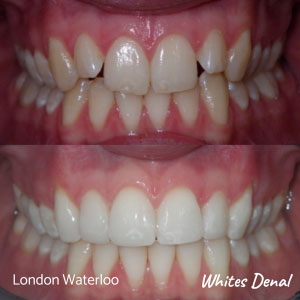 Orthodontist in London Waterloo
Many of our patients in London ask us the same question about whitening teeth after orthodontic treatment. Sometimes, throughout orthodontic treatment you can experience slight discoloration around the braces where you maybe haven't been able to manoeuvre your toothbrush around every angle – we understand that it's a bit of a tricky job. Our friendly dental team here at Whites Dental would be more than happy to answer any questions you may have with regard to orthodontic braces. We provide a full range of braces options such as Ceramic braces, Invisalign braces & Damon Fast Braces.
After months of eagerness and work to straighten your teeth with braces, you may come to find that your teeth are slightly discoloured around the areas where your brackets had been. It's only natural for patients to want their new, straight teeth to be white and sparkling. Fortunately, understanding how teeth get yellow with braces can help you avoid experiencing this cosmetic concern. While getting yellow teeth during braces is actually preventable, if you find you've acquired any stains during your orthodontic treatment you can whiten your smile with a professional whitening treatment.
Why do teeth get yellow with braces
Teeth staining after braces is a common worry among adolescent and adult braces patients. Caring for your braces is key to not only maintain your teeth straightening treatment but also for your general oral health. If you want to have white teeth after braces, you should understand the root causes of a tainted smile. Braces themselves do not directly cause discoloration. Difficulty brushing, plaque and tartar, and eating certain foods all contribute to stained teeth, and the need for teeth whitening after braces.
Plaque and Tartar
Stained teeth are commonly caused by the accumulation of plaque in the gaps between the teeth. Plaque is a sticky, colourless film of bacteria that begins to forms on teeth from eating and drinking. This plaque combined with sugars creates acids that leach minerals from your teeth. Eliminating the minerals from teeth changes the way the surface of your teeth reflects light. This can potentially result in unwanted white spots on your teeth. Plaque also increases the potential risk of gum disease and cavities while your braces are on.
Plaque can toughen into tartar, a crusty deposit that can form in just 24 hours if not brushed away. Tartar easily stains your teeth yellow or brown, and can even make it tougher to remove newly formed plaque. Once tartar has settled, only a dental professional can remove it.
How braces affect your oral hygiene
Maintaining good oral hygiene is very important especially in the prevention against plaque and tartar build-up which is the main cause of tooth discoloration. Patients with braces should ideally always brush and rinse after a meal, and floss at least twice a day.
Although braces can make basic teeth cleaning duties difficult, it is important to have a diligent oral hygiene routine. Braces, brackets and wires can get in the way when you try to brush your teeth with braces on, and effective flossing takes time and practice. Insufficient brushing and flossing can leave food and liquid remains on the surface of your teeth. This increases your chance of leaving behind harmful plaque and bacteria that can in the long run cause gum disease and tooth decay. If you have braces and find yourself struggling to keep your teeth clean, you should make an appointment with a hygienist and get your teeth professionally cleaned. Professional dental cleanings by a dentist or hygienist during orthodontic treatment will help remove the plaque that leads to stained teeth. The tools and methods used allow the dental professionals to clean those hard to reach places between the braces wires and brackets that you cannot get to with your toothbrush or floss. Skipping dental cleanings can cause yellow or stained teeth to appear after your braces are removed.
Foods That Cause Yellow Teeth
If you want to have a white smile, you have to watch what you eat. Certain food and drinks can stain your teeth, and ultimately lead to discoloration. Coffee, tea, soda, dark juices and popsicles can all stain your teeth. Sugary, acidic, or starchy foods can indorse the growth of bacteria and the demineralisation process.
Teeth whitening after braces
If teenagers and adult patients are left with stained teeth even after having had completed orthodontic treatment to straighten their teeth, it can leave them feeling vulnerable about their smile. After all, they've gone through all the hard work of wearing braces! So, how can they get whiter teeth to create an all-around beautiful smile? This is where professional teeth whitening comes in to help restore stained teeth to a bright, pearly white smile.
It is always advised to whiten teeth after braces, instead of before. Teeth whitening before braces can result in uneven shades across the surface of your teeth from where brackets and wires are, and from moving teeth. One of the common reason patients get braces is to fix crooked teeth. Crooked teeth often overlap, which means if you whiten your teeth before getting braces, the whitening product cannot reach some areas of the teeth. And because your teeth will shift during your orthodontic treatment, this will in turn create an uneven shade spectrum across your smile.
Orthodontists often recommend that their patients wait about six months after their braces are taken off to whiten their teeth. There are two reasons why this is recommended; saliva and tooth sensitivity. Wearing braces can make your teeth feel weak for a brief period of time, so giving yourself time to adjust will make teeth whitening more effective and comfortable. In many instances, a patient's saliva will be enough to reduce the intensity of discolorations and differences in shades after their braces are removed. However, if after six months your teeth are still looking discoloured, teeth whitening after your orthodontic treatment may be necessary to create a whiter, healthier-looking smile.
Teeth whitening should always be performed or supervised by a dental health professional, for optimum oral health and cosmetic improvement. Not only is professional teeth whitening more effective than at-home whitening treatments, it is also safer. Dental professionals can point out areas of demineralised enamel, signs of gum disease, or tooth decay that may have been hidden by braces.
If you interested in getting orthodontic braces for yourself or someone you may know, feel free to book a free consultation with us and talk to one of our dental professionals. Our dedicated orthodontics team is every happy to provide answers and discuss the best treatment for you, and to provide honest, impartial advice on how best to care for your teeth.
For more information on orthodontic braces for straightening teeth, visit our orthodontics page – https://www.whitesdental.co.uk/orthodontist-teeth-straightening-london-waterloo/
At Whites Dental, some of London's leading orthodontic practitioners work with us, offering braces treatment to our patients around us in London Waterloo and Central London.