How To Create A Straighter Smile With Invisalign Braces

Invisalign Braces in London
When it comes to your teeth and smile, straight is an attribute that the vast proportion of people desire. Whether you are a teenager or an adult living in London, at Whites Dental, we can help straighten your teeth with Invisalign braces. We find that many of our patients, especially adult patients who have misaligned, crooked or crowded teeth want to straighten and align their teeth discreetly, without making it obvious that they are undergoing orthodontic braces treatment. Our dentists offer the option to create a straighter smile using the option of Invisalign invisible braces for our patients in London. Invisalign braces are just one of the various orthodontic clear or invisible braces options that available to enable you to straighten your teeth and provide you with a straight, beautiful smile. If you are not happy with your teeth and smile, an Invisalign dentist in London can help find out if you may be a suitable candidate for using invisible braces to straighten your teeth.
How Invisalign braces work
Invisalign braces are very versatile. They can help to fix a number of teeth misalignment concerns and orthodontic issues. An Invisalign dentist in London will typically use advanced digital dental scanning technology to electronically map out your teeth and create a digital roadmap for your Invisalign brace treatment. Invisalign braces do not use traditional metal brackets and wire, completely doing away with the traditional method of straightening your teeth. Instead, Invisalign uses clear plastic trays (or aligners as they are also called) to straighten teeth. Aligners are custom made for each person and aim to address tooth misalignment issues and correct oral function. The patient is provided with a series of Invisalign clear aligners, which gradually and gently move teeth to their desired end positions. Each set of aligner moves the teeth just a little bit, till the next set of aligners in the series moves the teeth a little bit further until the teeth have all moved to their final positions. Each set of aligners are worn on your teeth for 22 hours a day and need to be removed for eating, drinking and brushing. Each set of invisible aligners are worn for one to two weeks, till they are switched for the next set of invisible aligners in the series, helping keep the teeth moving at a gentle but steady pace. Invisalign invisible aligners are virtually invisible; most people won't be able to tell you are even wearing them. There are also no limitations on the foods you can eat as Invisalign aligners are completely removable while eating. This is unlike fixed metal braces which can't be removed and are highly visible. They also impose strict dietary limitations on what you can or cannot eat. At Whites Dental, our dentists can provide Invisalign invisible braces as part of a full smile makeover to provide you a perfect smile.
Who is a suitable for Invisalign braces?
Patient's with the following conditions or issues are ideally suited for having Invisalign braces treatment – patient's with gapped teeth, bite problems, overcrowding, overlapping teeth, crooked teeth. Invisalign invisible braces are a great teeth straightening option for those patients who don't wish to undergo highly visible and lengthy orthodontic braces treatment. Millions of teenage and adult patient's alike have successfully straightened their teeth discreetly with Invisalign clear braces. This invisible braces option provides for a faster path to straighten your smile.
Invisalign braces remove the need for bulky orthodontic hardware, instead replacing it with clear plastic aligners that can be completely removed for eating, drinking and brushing your teeth. This in turn allows you to maintain better oral hygiene as you can brush and floss your teeth more easily and more effectively as compared to traditional fixed braces that can't be removed.
Reasons to opt for Invisalign braces
Our team of Invisalign dentists in London is proud to provide the benefits of Invisalign braces to our patients in London. While traditional fixed braces can often be a good orthodontic option, Invisalign braces has a number of advantages as well. We have listed a few below.
Invisalign braces are easy to wear: Many of our adult and teenage patients in London who have completed their Invisalign treatment can't stop raving about how comfortable and easy they found wearing trays throughout the day. Each invisible aligner is made of a clear plastic material and is designed and manufactured using a sophisticated digital system that scans your teeth and plans your treatment process. It ensures the braces conform to your teeth and are comfortable, yet effective. Each invisible aligner is secured into place with resin buttons that are carefully bonded to specific teeth to hold the aligners in place.
Invisalign braces are undetectable: The aligners are virtually invisible; most people won't be able to tell you are even wearing braces. They therefore have minimal impact on your daily lifestyles at work and socially. This is one of the major advantages of Invisalign.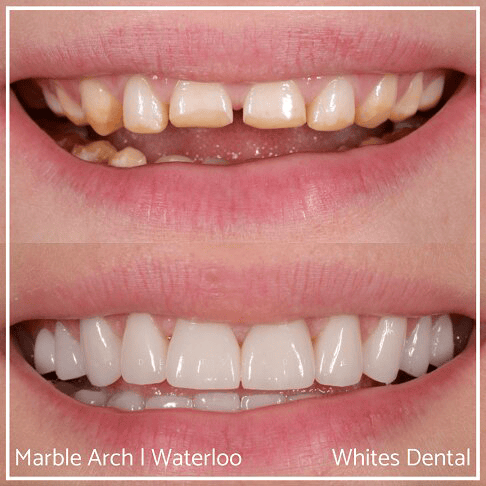 Invisalign aligners are fully removable: You can completely remove the aligners to eat food, drink various drinks, brush and floss your teeth. This enables you to eat your favorite food while straightening your teeth. You are also able to clean your teeth properly while brushing and flossing. This is unlike traditional braces that are fixed and impose restrictions on what you can or cannot eat. They also make it more difficult to clean your teeth properly, making oral hygiene that much more difficult to achieve while wearing traditional braces. Traditional braces are also known to allow food to collect within the various nook and corners. Our dentists recommend that patients brush and clean their teeth after every meal before putting your Invisalign aligners back on. This will reduce the number of food debris that can sometimes get trapped between aligner and your teeth, which in turn reduces the risk of tooth decay and cavities.
Aligners are better for your oral hygiene: Given Invisalign aligners can be completely removed, patients can achieve better oral hygiene at home while straightening their teeth. Straightening your teeth with traditional fixed braces can increase the risk of tooth decay if you aren't able to maintain good oral hygiene over the duration of the teeth straightening process.
Invisalign allows for a quicker treatment process: Invisalign brace treatment typically takes less time to finish than traditional fixed metal braces. Depending on the severity of your case, Invisalign braces treatment usually takes anything between 3 months to 18 months.
A straight, beautiful smile gives you more confidence. If gapped, crooked or misaligned teeth are making you feel less than great about your smile, it may be time to find a treatment to correct your smile. If you decide to find out more about orthodontic braces options such as Invisalign, our dentists at Whites Dental will be ready to help. To find out whether Invisalign braces are the right treatment for you, schedule a complementary consultation with our Invisalign dentist in London today. Our practice is located in Central London in London Waterloo. We are right next to Southwark tube station and are a quick walk from Elephant and Castle, London Bridge and also Borough.