Braces For Adults In London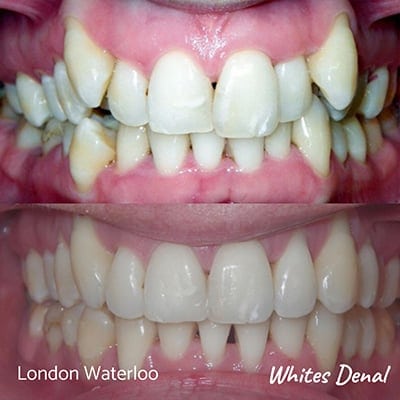 Braces For Adults with Crowns, Implants and Fillings
Millions of people across the world have had orthodontic brace treatment to straighten their teeth. Orthodontic braces for adults are increasingly popular in London as well, where many of our patients ask us if they can still have brace treatment if they have had other dental treatments already. Many of our adult patients wonder whether orthodontic braces treatment is compatible with existing dental implants, crowns and even fillings that they may have had over the years or may still want. If you have similar concerns, our dentists are here to help.
As Whites Dental, our orthodontic brace experts aim to answer questions you may have about braces and will help you find the best orthodontic brace option for your teeth and smile. Although every person's case is unique, we provide some broad guidance on having braces with dental implants, crowns and fillings.
Can I Have Orthodontic Braces with Dental Crowns?
A number of our patients have said to us that they have dental crowns from previous dental treatments, but have now decided to straighten their teeth. They are often unsure if they can still have braces despite having dental crowns on their teeth. The simple answer is – yes, you can still have braces even if you have crowns. If you opt for traditional fixed metal braces, the metal brackets will be glued to the crowns with a different type of glue than they would on your natural teeth. A great orthodontic brace option for patients who have existing dental crowns is the Invisalign system. Invisalign is an innovative new teeth straightening technology that does away with traditional brackets and wires. Instead, it uses a series of clear, plastic removable trays (also called aligners) to straighten your teeth. There is no need to bond brackets to your teeth or crown at all as a result. Invisalign is very popular with a large proportion of our adult patients, who prefer the discreet and convenient nature of its clear, removable aligners.q
We should also mention that dental crowns can often also be used on completion of the orthodontic treatment to provide a complete smile makeover for your teeth. For example, once your teeth have been straightened using orthodontic braces, dental crowns can be used to mask the colour or change the shape of that odd tooth you don't like. Using a combination of orthodontic braces and dental crowns, an experienced cosmetic dentist can provide you a straight, bright, evenly shaped smile.
Do Orthodontic Braces Work With Tooth Fillings?
Tooth decay and tooth fillings are relatively common in adults in London. It is therefore not unusual for someone who has existing tooth fillings to ask for orthodontic brace treatment to straighten their smile. We would go so far as to say, it's possible that crooked teeth may have been part of the reason why you may be prone to tooth decay and fillings to start with. This is because food can accumulate in the nooks and corners between your teeth and if you have crowded teeth, it can get more difficult to properly clean your teeth. This increases the changes of food remaining trapped between the teeth, thus leading to tooth decay.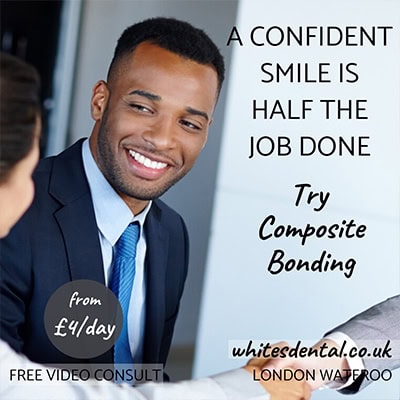 If you are looking to start brace treatment, your orthodontist will first conduct a full assessment of your mouth to determine how best to proceed with orthodontic braces and dental fillings. The material used for your fillings shouldn't have an impact on your brace treatment; however larger fillings may require the use of spacers as part of your orthodontic treatment. Spacers are rubber bands that are placed around a tooth in order to provide space for an orthodontic bracket and bands. Also, any untreated tooth decay or cavities that the orthodontist may spot as part of the assessment of your mouth will need to be filled before your brace treatment can start.Once your brace treatment starts, it's really important that you maintain good oral hygiene to prevent tooth decay from developing.
You don't want to develop cavities while wearing your braces. However, if you do end up needing a filling during the course of your treatment, you can still have a filling done by your dentist.However, this is not ideal as it's often difficult to reach the spot of the cavity as braces are difficult to manoeuvre around. Often a bracket will need to be removed to clean the decay and place a filling in it.
Can I Have Orthodontic Braces With Dental Implants?
If you have a pre-existing dental implant, the implant cannot be moved with orthodontic braces unfortunately. However, if you have a missing tooth, you can have a dental implant placed once your brace treatment is complete. With this approach, your other teeth can first be positioned correctly, and then the dental implant can be positioned in the space left between the straightened teeth. If you have a need for a dental implant, you can discuss this with the orthodontist during the initial assessment – they will be able to provide you with options based on your individual needs.
We really love it when adults want to make an investment in their smile with orthodontics. If you have additional questions about orthodontic braces with fillings, braces with crowns or braces with dental implants, we will be more than happy to arrange a complementary consultation with one of our dentists. Just give us a call or drop us an email and we will get right in touch with you to arrange an appointment.
If you are considering teeth straightening with orthodontic braces, drop us an email to book a complementary consultation with one of our orthodontic dentists. You can find additional information regarding orthodontic braces on our orthodontics homepage – https://www.whitesdental.co.uk/orthodontist-teeth-straightening-london-waterloo/
At Whites Dental, our dentists provide a range of fixed brace and invisible brace treatments to patients around us in Central London. We are conveniently located in London Waterloo, right next to Southwark tube. We are also a short walk from Borough Market, Elephant and Castle and London Bridge.