Create The Smile You
Have Always Wanted
Perfect your smile in as
little as £4/day.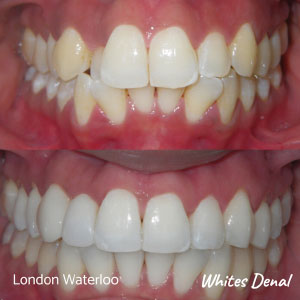 Braces in London Waterloo
About 70-95% of orthodontic patients in London experience pain at least once, during their brace's treatment. Whenever your doctor tightens the wires in braces to apply forces on your teeth, it leads to some discomfort in your teeth, which may be interpreted in the range of pressure to pain. Our friendly orthodontic team at Whites Dental would be delighted to be a part of your dental transformation and tell you everything you need to know. Our orthodontic practitioners provide Ceramic brace, Invisalign brace, Damon Brace and Invisalign to patients around us in London Waterloo.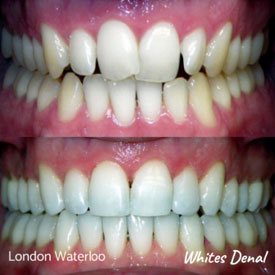 Brace are a type of orthodontic treatment that orthodontists use to help correct crooked or overcrowded teeth. Brace can also help correct an overbite. People who are thinking of getting brace or are getting them soon might wonder whether they hurt.
Abnormal bites become evident between the ages of 6 and 12 years, when children are in the transition of getting their adult teeth. Orthodontic treatment characteristically begins between the ages of 8 and 14 years. Nowadays, a lot more adults also consider getting brace due to the advanced dental technology and the many options they have.
Although everyone is different, most people experience some pain (soreness and discomfort) for a few days when they first get brace and after brace tightening. However, others may experience only slight discomfort that goes away within a few hours.
Keep reading if you want more information on whether brace hurt and what to expect while they are on the teeth.
Do braces hurt?
Each individual will have a different experience with brace, but the following should provide a general idea of what to expect at each stage of the treatment process.
Getting brace
The experience of wearing brace fluctuates among individuals. Some individuals may have to wear spacers, or separators, between their teeth for a week or two before getting brace. These spacers may feel tight and sore for a few days, resembling the feeling of having food trapped between the teeth, but the discomfort should go away after a few days.
Initially, at the time when your orthodontist first bonds the brace to your teeth, you will not typically feel or experience any instant pain. An orthodontist will habitually attach bands around the back molars. This procedure may be temporarily uncomfortable because it involves some pressure and can pinch, but it is not painful.
Once your orthodontic bands have been put around the molar teeth, your orthodontist will usually etch your teeth with a sour tasting solution. The orthodontist will wash the etch off afterwards and put glue to the face of the bottom or top arch or both. An individual may not like the taste of the etch and glue, but these steps should not cause any pain or discomfort. When the glue has been placed, your orthodontist will then mount orthodontic brackets individually to each tooth. He/she will use UV light in order to harden the glue. Again, this part of the process should not cause any pain. Lastly, when the brackets are in place, the orthodontist will connect them all with a wire. They will attach each end of the wire to the bands around the molars at the back of the mouth. The final step is adding elastic bands to keep the wire in place.
Wearing braces
When the braces initially go on, a person might not experience any pain or discomfort straight away. However, within a few hours, the mild pressure that the braces put on the teeth will start to take effect. The pressure of the braces slowly pulling the teeth into position can create pain and discomfort, which could last from a day or two to about a week.
Some things to anticipate during the first week include:
tender gums
grazes or sores on the inside of the cheeks due to the metal brackets rubbing against them
possibility for cuts on the tongue if the person uses their tongue to feel the braces
the teeth may feel uncomfortable, especially when eating food
After some time, a person may start to forget about their braces as their body adjusts. However, for braces to work, the orthodontist needs to tighten them occasionally.
When an orthodontist tightens the braces, they may:
substitute the current wires
place or tighten springs
tighten bands on the brace to put extra pressure on the teeth
Typically, tightening occurs once a month or as required, depending on the person's progress. When tightening happens, a person is likely to experience a level of uneasiness similar to that when they first got the brace. In some cases, it may be less painful. After tightening, many people only feel discomfort in the teeth and gums. The cheeks and tongue have normally adjusted to the brace by now, so new scrapes on these parts of the mouth are not likely.
Removing braces
Although everyone is different, brace usually stay on for about 1 to 3 years. When it is time to take the brace off, a person may experience some uneasiness as an orthodontist removes them. An orthodontist will take off the brackets, bands, and wires before cleaning the teeth to remove any remaining glue. To finish the process, an orthodontist will fit the person for a retainer. A retainer is an appliance that helps keep teeth in their new position after orthodontic treatment.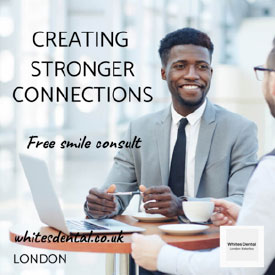 People may need to wear a removable retainer for a set period of time after the removal of the brace, either during the day or just at night. The retainer should not cause any added discomfort. Some retainers are permanent and will necessitate an orthodontist to glue them to the teeth in a similar way to brace. It is not unusual for people to have trouble cleaning their teeth properly while wearing brace or a retainer. This difficulty can lead to gum disease and tooth decay, which can be painful. Keeping the mouth as clean as possible with good oral hygiene and avoiding sticky, sugary foods can help stop cavities and tooth decay.
If you want to know more about brace or are considering getting them for yourself, why don't you come see us for a free consultation? You can ask all your questions and discuss the treatment options available to you with our orthodontic team. Additional information on orthodontic brace is available on our Brace homepage –  https://www.whitesdental.co.uk/orthodontist-teeth-straightening-london-waterloo/
At Whites Dental, we have one of the best orthodontic teams in London providing fixed brace, Invisalign, Damon brace, Fastbrace and metal brace to patients around us in Central London. This page provides information on whether brace are painful.