Do Veneers Ruin Your Teeth?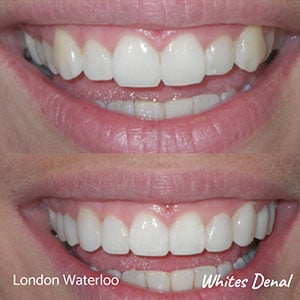 Veneers in London Waterloo
Composite and porcelain Veneers are increasingly becoming popular with young men and women in London wanting to improve their smile. At Whites Dental, our award winning cosmetic dentists can help you to create a beautiful smile. We provide a full range of cosmetic dentistry treatments in London City such as porcelain and composite veneers, composite bonding and smile alignment.
A veneer is a thin wafer of porcelain that is permanently bonded to a tooth to mask its natural colour, shape, or positioning in the mouth. Veneers are a fast and effective solution to stained, chipped, misshapen or crooked teeth. You can get a veneer for just one tooth (let's say you tripped and fell when you were little and now it has a grey cast to it) or multiple teeth. You also have the option to get either- partial (they don't cover your entire tooth) or full (they cover the entire front of your tooth) veneers—it really just depends on your needs and budget.
Unlike what many people think, porcelain veneers do NOT ruin or damage your natural teeth by any means! In fact, they protect your natural teeth from further decaying as well as other damages. They are designed to fit over your teeth and enhance their naturally stunning appearance. Fragile teeth can be unsafe, as they can be broken down anytime. With veneer, porcelain lamination is added around the teeth to give more strength. The first step to understanding that veneers do not hurt or ruin your real teeth is to understand how they work.
Dental veneers can be made from resin composite or from porcelain materials. Porcelain veneers resist stains better than resin veneers. They also better mimic the light-reflecting properties of natural teeth.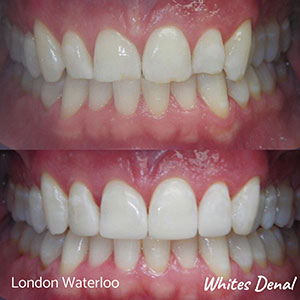 What Types of Problems Do Dental Veneers Fix?
Veneers are routinely used to fix:
Teeth that are discoloured because of:

stains from tetracycline or other drugs
excessive fluoride
large resin fillings
other causes
Teeth that are worn down
Teeth that are chipped or broken
Teeth that are misaligned, uneven, or irregularly shaped (for example, have craters or bulges in them)
Teeth with gaps between them (to close the space between these teeth)
You'll first have a consultation with one of our cosmetic dentists to make sure a veneer is the correct treatment for you. Once this has been agreed, our dentist will then take an impression of your mouth so that we can have your veneers custom designed to fit your exact smile. A temporary cover may be placed over your tooth while this is being made. Whether you are in for one veneer or for your whole smile, your new veneers are designed and fabricated for a custom, perfect fit. Veneers are attached to your natural teeth with a special material that hardens under a certain type of light. You might be given a local anaesthetic as a precaution, but the procedure shouldn't cause you pain. Your veneer will be adjusted as necessary, before being permanently secured in place. After they are bonded to your teeth, they are shaped and polished by our cosmetic dentist until they are absolutely perfect! You'll need to care for your new veneer in the same way you would your other teeth. With proper care, veneers can last for years, but they can be replaced should any damage occur.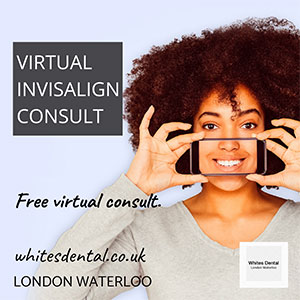 Who is a good candidate for veneers?
Most people with good oral hygiene and healthy gum tissue can consider veneers if they don't like the look of their teeth or overall smile. For example, if you have crooked teeth and don't want to undergo braces (or get them again…), if you don't like the colour of your teeth and want to whiten them permanently, if you have chipped front teeth or have one grey front tooth from falling face-first into the ground, or even if you have simply had thicker porcelain veneers done in the past and want a more natural finish- literally anyone is a good candidate.
Do they shave your teeth for veneers?
The teeth might need to be shaved down during the prep stage, but it really just depends on your specific situation. For example, if you come in with large, greyish-looking, crooked teeth, that's when we'd really have to shave the teeth down to get the look you might want.
But if you have short teeth and gaps in between your teeth, we won't have to do as much prep or shaving. If you feel like veneers could be for you or if you would like more information why don't you give us a call and book in for a free consultation with one of our cosmetic dentists?
If you are considering any form of veneers, you can find more information on our cosmetic dentistry homepage https://www.whitesdental.co.uk/cosmetic-dentistry/
At Whites Dental, we have some London's leading cosmetic dentists working with us, providing porcelain veneer and composite veneers and composite bonding to patients near us in Central London, London Waterloo, Southwark, Elephant and Castle and London Bridge. This webpage provides information on whether veneers ruin your teeth. We are located in London Waterloo, right across from Southwark Tube station and 2-3 minutes' walk from London Waterloo rail station. We are a 8 to 10 minutes' walk from Elephant and Castle tube station, Borough and London Bridge and a quick 4 to 5 minutes' walk from Blackfriars and Southbank.