Composite (Dental) Bonding in London

Composite Bonding in London
Your smile is one of the first things that other people notice about you. Having a beautiful smile is one of your biggest assets. It improves your sense of self-esteem and helps to give you more self-confidence, both socially and in the work place. Thousands of men and women in London undertake composite bonding to improve their smile. At Whites Dental, our cosmetic dentists can help give you a perfect smile using a range of techniques such as composite bonding, porcelain and composite veneers, teeth alignment and full smile makeovers.
Before we dive into composite bonding specifically, we would like to quickly touch upon a wider list of cosmetic treatments that can benefit men and women in London to perfect their smile. Cosmetic treatments can take various forms, depending on what you are trying to achieve with your smile. Bonding is a commonly used cosmetic dentistry technique used to correct relatively minor tooth shape and size issues – such as filling gaps between teeth, correcting chips and cracks. Veneers are another treatment of choice that can be used to correct larger shape and size issues. They can be used to, for example, transform the entire shape of a tooth. Teeth alignment treatments such as fixed braces and Invisalign are used to correct for crowded, misaligned teeth. Of all these treatments Composite Bonding or Dental Bonding is one of the easiest, fastest and least invasive cosmetic procedures out there. It can typically be completed in one session and is relatively inexpensive.
What is Dental (Composite) Bonding?
Composite or Dental bonding is a minimally invasive cosmetic procedure wherein composite resin material (same material as that used for composite white fillings) is applied to the tooth and then shaped and moulded by the cosmetic dentist onto your teeth to provide for a better shaped teeth and smile. It is often a popular cosmetic option for fixing gaps in the teeth, chipped teeth and staining in teeth and also on tooth fillings. Composite bonding is one of the few dental procedures that's non-invasive – that means it does not involve cutting down the teeth; as a result, no drilling is required and the process is pain free. Dental bonding treatment can often be completed in one single appointment, without the need for long waiting times for lab work or post treatment administration.
Who can have Dental Bonding?
Composite or dental bonding is very popular with people in London to fix relatively minor tooth shape and size issues. For larger changes to tooth shape and size composite bonding may not be the correct treatment; veneers may be the more appropriate procedure for those kinds of treatments. Also, if your teeth are crowded or crooked, or you have bite issues such as an underbite or an overbite, composite bonding is unlikely to be the correct procedure. Teeth alignment treatments such as fixed or Invisalign braces are better suited to treat those conditions. Composite bonding is primarily for patients who want a cosmetic procedure to change the shape and size of teeth that are otherwise healthy and relatively well aligned.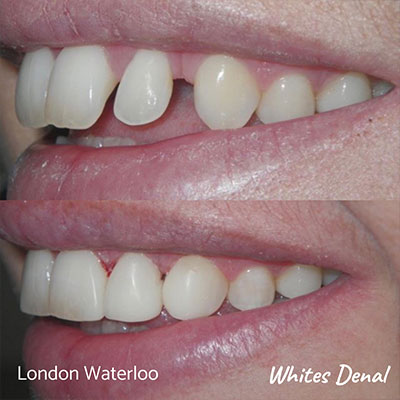 What does Composite Bonding involve?
Before you start the bonding procedure with a cosmetic dentist, you will typically attend a cosmetic consultation. During this initial consultation, the cosmetic dentist will discuss various treatment options that will address your needs. They will also talk about what alterations can be made to your teeth and will carry out a mock up on your teeth to show what your teeth could look like after bonding. This is a fantastic way to see and test what your teeth and smile will look like once the cosmetic dentist has completed the bonding procedure on your teeth. During the actual dental bonding appointment, the dentist will apply a composite resin to your teeth and hand sculpt the resin in the shape you desire. The resin will then be hardened and polished to give it a natural texture, leaving you with nicely shaped teeth and a beautiful smile.
Composite or dental Bonding is a pain free process; there is no need for any drilling or anaesthetics or injections to carry out the procedure.
Given the procedure requires a high level of technique to shape your teeth to look as natural as possible, we advise that bonding be undertaken by a dentist that had significant experience in this area.
Does Composite Bonding need any aftercare?
Once the bonding procedure is complete, the treatment should last many years provided you look after your teeth and maintain them well. It goes without saying that maintaining oral hygiene is the first step. Keeping your teeth healthy will help your bonding as well. In addition, you should take certain precautions on what sort of foods you eat to ensure the bonding doesn't get chipped. It is absolutely okay to eat normal food such as crunchy fruits (apples etc.); however you should avoid using your teeth as a tool for opening things like bottle caps and packets and avoid biting your nails. As this can cause additional wear on the bonding sections and cause the tooth and bonding to chip.
How long does dental bonding usually last?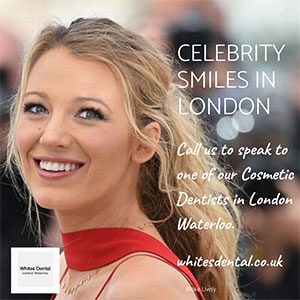 If you look after your teeth well, dental or composite bonding should last 5-7 years before it needs to be touched up or replaced. For patients who are known to grind their teeth at night or have poor habits such as biting their fingernails or chewing pencils/pens, composite bonding can have a shorter life duration. Dental bonding is quite easy to repair if it does end up getting chipped and also relatively straightforward to replace at the end of its typical lifespan.
If you prefer something that is longer lasting, non-invasive porcelain veneers can be a good option, provided you are suitable for the treatment. You can find out more about alternative options on our composite bonding homepage provided below.
If you're interested in having composite bonding in London, why not call us on 0208 616 0590 today to book an appointment with one of our cosmetic dentists. You can read more information about cosmetic dentistry below – https://www.whitesdental.co.uk/cosmetic-dentistry/
At Whites Dental, we have some of London's leading cosmetic dentists providing state of the art cosmetic dentistry to patients around us in Central London, including composite bonding, veneers, teeth alignment and smile makeovers. We are centrally located in London Waterloo, right across the road from Southwark tube. We are a short 8-10 mins walk from Borough, Southbank, London Bridge , Blackfriars and Elephant and Castle.