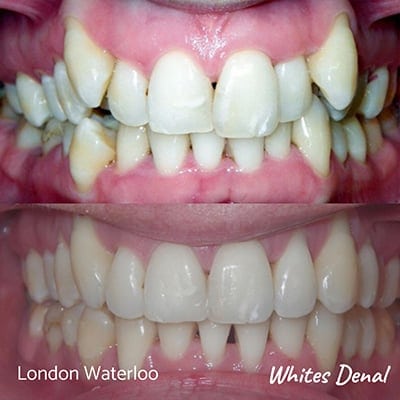 Braces in London Waterloo
Orthodontic braces are becoming more and more popular in London – both with teens and adults. Braces can often take between 6-7 months to over a year to straighten your teeth. At Whites Dental in London Waterloo, we provide a wide range of braces options including lingual braces, ceramic braces, damon braces and Invisalign braces.
So how long do braces last? The short answer – It depends.
There are several factors that determine the amount of time a person must wear braces including age, type of treatment and individual needs or issues that should be addressed. The latter factors have the highest impact on duration, as a patient's issues could be as simple as minor adjustment, or as major as jaw realignment. While the time it takes for braces to do their thing varies greatly by patient, after an initial evaluation and consultation, your orthodontist can help you better understand the amount of time that may be required for your unique case.
On average, how long do braces take to work?
Your own prognosis will depend on how much work needs to be done to straighten your teeth and fix your bite but the typical treatment duration is around two years. Be cautious of promises from anyone who says you can have a straight smile in only six months. While some patients may think they only need to close a gap, treatment in less than six months is quite rare. There are hidden problems that can impact long term oral and systemic health that you as a patent may not see or know such as- whether your bite is aligned appropriately, whether the airway is properly open or if the palate is formed correctly for example.
The average length of treatment in cases of adult braces can be a bit longer than for children. The actual time depends on the patient's specific needs however since adult teeth have stopped growing and are set, they require more pressure to move. Typically, many adult patients can look to have braces anywhere from 18 months to about three years.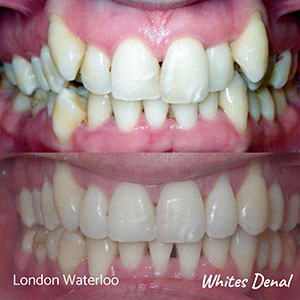 Having said that, some children have to wear braces even longer. For example, in a case where the child has a major alignment problem such as a tooth coming in in the wrong place, this would require tooth extraction and waiting for others to come in. This process could take considerably longer, depending on the wait for remaining adult teeth. Our team at Whites Dental can advise you of what to expect in your case.
Maybe. If you carefully follow your treatment instructions you can increase the likelihood of getting your braces off sooner. What do we mean by that? It can be something as simple as keeping up proper oral hygiene or, in the case of aligners or removable appliances such as bands, wearing them for the full prescribed treatment time every day. During your treatment, you should try avoid sticky foods when wearing braces as they can damage both your braces and teeth, while sugar should be limited as much as possible to avoid the harmful effects that too much sugar can have on oral health. Make sure that you avoid fizzy drinks as well, as the acid within can wear down your enamel.
Can I shorten the time for braces treatment?
Some extra food you should limit while wearing braces include popcorn, caramel, chips, and chewing gum. By maintaining a healthy diet, the risks of developing issues with your teeth and gum are substantially lowered and will allow your smile to appear beautiful immediately after your braces are removed. Broken or missing brackets can increase the time required for treatment.
Lastly, not everyone realises how much more challenging it is to brush your teeth with braces. Nevertheless, doing it properly is very important! You must keep your mouth and teeth as healthy as possible. It shouldn't be too difficult to keep your teeth clean during this process, but the brackets may make it somewhat tricky to brush in the same manner as you always have until you get used to the changes. Fortunately, brushing with braces is really no more difficult than it is normally. You can use a regular toothbrush, with regular bristles. You may need to replace it more often though, because the metal brackets will wear the bristles down faster. Be gentle, take care and do not put too much pressure on teeth.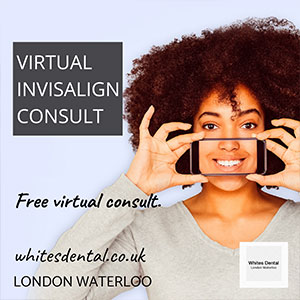 Along with brushing, it's essential that you floss regularly. Pay extra attention to the space around your braces and remove all traces of food. Use floss to clean between your teeth, as well as a floss threader, to remove food particles from between braces and wires at least twice every day.
It is important to note, regardless of how long your treatment is scheduled to last, the time a patient is required to wear braces does not include the post-treatment retainer that's necessary to guarantee your forever smile lasts a lifetime.
For more information on fixed orthodontic braces,  please visit our fixed braces homepage – https://www.whitesdental.co.uk/orthodontist-teeth-straightening-london-waterloo/
If you are thinking of getting fixed braces, why don't you book in for a free consultation?
At Whites Dental we have some of the leading orthodontic dentists in London Bridge, providing fixed brace, six month smiles, fastbraces, damon braces and Invisalign clear braces to patients near us in London Bridge, Central London, Southwark, Elephant and Castle and London Waterloo.
We are located in London Waterloo, adjacent to Waterloo train station and across the road from Southwark Tube. We are also a 10 minutes' walking distance from London Bridge, Elephant and Castle tube station and Borough Market and 5 minutes' walking distance from Blackfriars and Southbank stations.