Home Teeth Whitening in London Bridge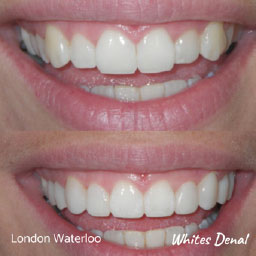 Teeth Whitening is a cosmetic dental procedure wherein discoloured teeth are whitened to a lighter shade using safe-to-use chemical agents, enabling the patients' teeth to look whiter, brighter and more pleasing aesthetically. Teeth whitening is one of the very few non-invasive dental treatments and it provides dazzling results. Results of the whitening treatment typically depend on the discolouration severity. For example, patients with significantly stained teeth show the best results with teeth whitening, with results easily visible.
Home Teeth Whitening is the most effective whitening treatment available. The procedure involves applying a whitening gel to the teeth for between 2 to 4 weeks using custom made teeth whitening trays. Our dentist will provide you with custom-fitted thin night-guard like trays, which are used to apply a bleaching gel to the teeth. The procedure is completely safe when carried out under a supervision of a dentist and it produces excellent lasting results.
'In-surgery' teeth whitening (also incorrectly called 'laser' whitening) is a teeth whitening treatment option available to patients who like the convenience of having their teeth whitened at the dentist and achieving whitening results instantly in a little over an hour.
Whitening Consultation


Identifies issues that might impact whitening treatments

£19.99
Philips Zoom - Home Teeth Whitening*

from

£179
Philips Zoom Instant LED Teeth Whitening


Includes 2 top-up syringes

from

£425
Enlighten - Home
£425
Enlighten – Home and InSurgery
£625
Hygienist Clean (30mins) – Standard
£55
Ethically Priced
Our teeth whitening treatments are very ethically priced. That typically results in our prices being very competitive. Also, our teeth whitening treatments follow exact guidelines as suggested by Philips Zoom and Enlighten – we offer the whitening systems in their entirety to our patients.
Dr. Deepa and Dr. Xenia are very experienced cosmetic dentists, with over 20 years of dental experience between the two of them
At Whites Dental, we offer two teeth whitening treatments – Enlighten and Philips Zoom.
Enlighten Home Teeth Whitening
Enlighten Teeth Whitening is a premium teeth whitening system which guarantees results. Enlighten claim to be the best performing teeth whitening system in the world. Enlighten offers two teeth whitening options – in-surgery and at-home teeth whitening.
Enlightens Evolution professional system will whiten up to 16 shades easily and safely and will give patients a dramatic whiter look. The system uses state-of-the-art materials so good that even the highest concentration of gel used is safe on the gums. Other professional whitening treatments use gels of much higher concentration and typically need to place a barrier on the gums and lips to protect them from getting burnt.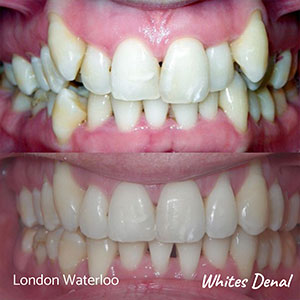 The home treatment involves the following stages –
Our dentist will first take some impressions. The impressions will be sent to the Enlighten laboratory where they will make high quality sealed bleaching trays customised for your teeth. This typically takes two weeks. During this time Enlighten recommend use of their toothpaste called Tooth Serum instead of a regular toothpaste. The tooth paste will not only improve the whitening effect, it will also help protect teeth and reduce sensitivity.
You will come back to pick up the home whitening kit and bleaching trays. You will need to whiten your teeth every night at home for two weeks. Use the Tooth Serum toothpaste twice a day during this period.
Depending on the severity of discolouration, the dentist may invite you for a review of the treatment once the treatment is complete.
4. Enlightens combined in-surgery and home whitening option has an additional stage wherein on completion of the two weeks home whitening, you will return to the dentist for a 40 minute treatment at the surgery. You will need to bring the whitening trays with you. This final step will help boost the colour and will ensure the whitening treatment is even and natural looking. It will also help to make the colour more stable – meaning the whitening will last much longer.
Please read our article 'Enlighten Teeth Whitening' for further guidance on how Enlighten can help with a smile makeover.
Philips Zoom Home Teeth Whitening
Philips Zoom Whitening is a popular teeth whitening treatment used by millions of worldwide. It is provided to patients in a few different ways – in-surgery teeth whitening and home teeth whitening options. Zoom WhiteSpeed, the in-surgery teeth whitening option, usually takes 90 minutes to complete; you will leave the practice with an instantly brighter smile. Zoom DayWhite and Zoom NiteWhite are the two home teeth whitening systems offered by Philips. DayWhite is used if you prefer to wear trays for a short duration during the day. Trays need to be worn for 30 – 90 mins, with results noticeable in 2 weeks. NiteWhite on the other hand allows you to whiten your teeth overnight while you sleep; it is therefore ideal if you prefer to wear trays at night. NiteWhite usually gives good results in 2 weeks as well. Please read our article 'Philips Zoom Teeth Whitening' for further details on Philips Zoom teeth whitening.
Zoom home teeth whitening is a safe and convenient way to achieve a whiter, brighter smile in 1 -2 weeks. You will achieve professional whitening results with little to no sensitivity. All home whitening treatments start with a checkup by our dentist. The dentist will advise on the most appropriate whitening option for your teeth; they will also be able to answer any questions you may have. For home teeth whitening we will make customised whitening trays that fits exactly to your teeth and gums, so you get safe, effective results. Each home teeth whitening option has a slightly different whitening strength formula – our dentist will advise on which is best suited to your needs.
Philips Zoom! DayWhite – this system is preferred if you would like to wear trays for a short time of time during the day. You will need to wear whitening trays for 30 – 90 minutes, to achieve results in typically 2 weeks.
Philips Zoom! NiteWhite – this system enables you to whiten your teeth overnight while you sleep and is therefore ideal if you prefer to wear whitening trays at night. NiteWhite provides good results in 2 weeks as well.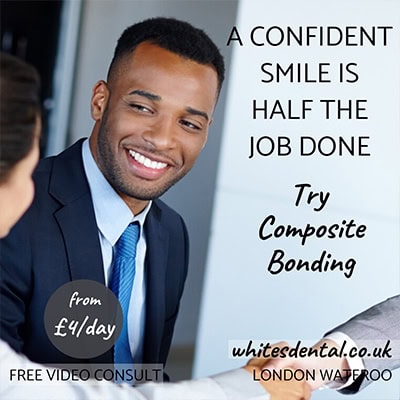 DayWhite and NiteWhite – both home whitening options are applied in the same way; the difference primarily is when and how long you wear the whitening trays. With DayWhite, you will need to wear the whitening trays twice a day – you can do one treatment in the morning and the second treatment in the evening. With NiteWhite, whitening trays are worn overnight – you can remove the trays the moment you get up.
To start the whitening procedure at home, first brush your teeth well to remove any plaque that might have built up. Then complete these steps:
Put a drop of whitening gel into each impression in the whitening trays.
Place the whitening trays over the teeth gently.
When the prescribed time is over, take the trays out and clean them thoroughly with water.
4. Brush your teeth after the whitening procedure
Please visit our Whites Dental website at www.whitesdental.co.uk  for more details about the Home Teeth Whitening treatments we offer near London Bridge. We will be happy to assist with brightening your smile. We are located in London Waterloo SE1, next to Southwark Tube station. We are also under 10 minute's walk from London Bridge, Southbank, London Waterloo, Borough and Elephant &Castle stations.