Four Ways Cosmetic Dentistry Can Improve Your Smile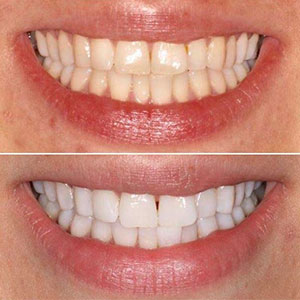 Cosmetic Dentistry in London
A beautiful smile is one of your biggest assets. In fact it is probably the first thing that others notice about you when they first see you. Thousands of men and women in London are realising that having an awesome smile can help with self-confidence and self-esteem, both at work and socially. As a result, we find a lot of our patient's undertake cosmetic dentistry in London to improve their smile. At Whites Dental, we have some of London's leading cosmetic dentists working with us – they can help you create a perfect smile using a range of cosmetic procedures such as composite (or dental) bonding, porcelain veneers, composite veneers, teeth alignment (Invisalign and fixed braces) and teeth whitening.
If you feel embarrassed about your teeth or smile or if you want to change certain aspects of how your teeth look or if you feel uncomfortable while smiling, you can improve your smile and breathe new life into it by visiting a cosmetic dentist in London. Cosmetic dentistry has several dental procedures to fix a wide range of cosmetic issues and concerns in order to improve not only your overall oral health but also the appearance of your smile. A smile is a major part of a person's personality and one of the main means you use to express joy, laughter and excitement. If your teeth inhibit your ability to smile and express your emotions, it may be perhaps time to visit a cosmetic dentist to fix your smile.
Our cosmetic dentistry team at Whites Dental in London Waterloo believes that everyone deserves to have a confident, beautiful, natural smile. They are ready to provide you with a range of solutions to women and men in London to achieve the smile of your dreams, by creating a treatment plan that will correct your smile imperfections. Please read on to learn about the four ways Whites Dental can transform your smile.
How will cosmetic dentistry improve my smile?
Cosmetic dentistry includes a vast variety of modern dental procedures and techniques that can improve and enhance different aspects of your smile and also overall oral health. This will help you to feel a lot more confident in regard to your smile and should make you feel more attractive as a result.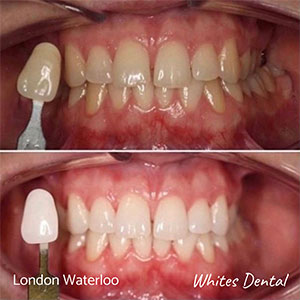 Undergoing treatment with an experienced cosmetic dentist like the ones at Whites Dental in London can provide you with various cosmetic dental options to boost your self-confidence and self-esteem. If you reside in London and are looking to revitalize the appearance of your smile, our experts at Whites Dental in Waterloo can help.
Create your perfect smile with a smile makeover
A smile makeover is the complete redo of your smile. It includes a range of cosmetic dentistry procedures tailored into a personalised plan to fix dental issues specific to your teeth and to achieve aesthetic goals to improve the appearance of your smile. Some of the common smile issues and concerns that a cosmetic dentist would typically address with a full smile makeover can include conditions such as gaps between your teeth, narrow or worn down teeth, chipped or cracked teeth, misshaped or short teeth, crooked, crowded or misaligned teeth, discoloured or stained teeth, missing teeth etc.
4 cosmetic dentistry procedures to address smile issues
A full smile makeover undertaken by an experienced cosmetic dentist can introduce exciting changes to a dull, aging or damaged smile. A smile that has a uniform appearance and a bright, white colour can make a person feel more confident and even more youthful. In addition to improving the overall appearance of your smile, cosmetic dentistry can also help to re-establish your teeth's basic oral function. When the teeth are restored, it enhances your oral abilities to bite, chew and even speak properly. Teeth that are functioning properly and look great alongside are a win-win for any patient.
When our cosmetic dentist creates a cosmetic dentistry smile makeover plan, the following four cosmetic dentistry treatments are the most common:
Composite Bonding – Composite bonding is a very popular cosmetic dentistry procedure wherein the cosmetic dentist uses a composite material or putty, to make changes to the size and shape of a patient's teeth. It's one of the least invasive treatments and pain free. It is very popular with men and women in London.
Veneers – Veneers come in two forms: composite veneers and porcelain veneers. The two types of veneers differ in the material used to make them – porcelain veneers are made of porcelain whereas composite veneers are made of composite resin material. Both types of veneers are crafted to mask the appearance of teeth that are uneven, broken, discoloured, gapped or flawed in some way. Composite and porcelain veneers are made specific to the shape of a patient's teeth and then custom-fit to cover the front surface of the teeth to transform and improve the look and feel of the person's smile.
Invisalign braces– Invisalign is a teeth straightening, smile alignment system to straighten or fix teeth that are misaligned, poorly spaced or crowded. Invisalign provides a discreet orthodontic option that is virtually invisible, convenient and removable. Invisalign aligners gently guide the patient's teeth into their desired end positions over the duration of the course, which can range from anywhere between 3-4 months to over 12 months.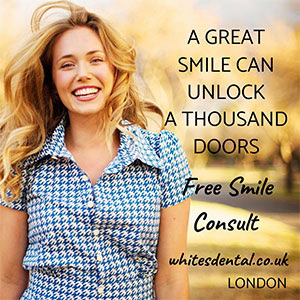 Professional teeth whitening can make a patient's smile go from dull and stained to bright white in a matter of weeks. Professional enable a patient to whiten your teeth gradually over 2-3 weeks at home. With whitening treatment that's professionally monitored by the dentist, prescription-strength whitening gels not typically available in drugstores kits, your teeth look much whiter and brighter. With the instant teeth whitening option, an experienced cosmetic dentist can brighten stained and yellowed teeth in one convenient appointment at the dentist.
Start the first step to improving your smile by finding the best cosmetic dentist in London. The professional cosmetic dentistry team at Whites Dental utilize their skills, talent, expertise and experience to create beautiful, lasting smile makeover results that the patient can enjoy. If you have concerns about stained, missing or crooked teeth or any other kind of cosmetic issue, cosmetic dentistry could be the answer for you. When you are confident about your smile, you feel good about sharing your smile with others.
The cosmetic dentists at Whites Dental in London Waterloo use the latest dental techniques and technology for a smile transformation. If you are looking for a cosmetic consultation with one of our cosmetic dentists, why not arrange an appointment by calling our friendly reception team on 02086160590 or email them at reception@whitesdental.co.uk.