How Long Does Composite Bonding Last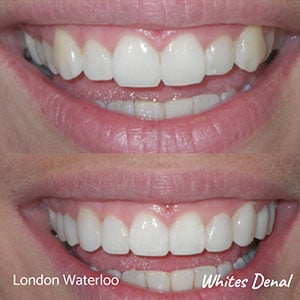 How Long Does Composite Bonding Last
Composite bonding is a popular treatment for various different aesthetic and functional dental scenarios. From gaps and uneven teeth to chips and cracks, it is a highly versatile tool that solves a lot of problems both quickly and effectively, all the while being very accessible and cost effective. What is more interesting still is the fact that when done well, the process can last anywhere from 5 to 7-8 years, with it not being unheard of to reach 10 years in some instances.
There are several different factors at play that determine just how long your composite bonding may last. In a perfect world and when done by an experienced professional, of course, this can be the higher end of the scale, but for poor oral hygiene, damaging food and drink being consumed or even occasional unexpected accidents, it could be much sooner too.
These are just some of the more heavily influencing factors involved.
Correct application
First and foremost, the main thing that will influence the longevity of composite bonding on any patient is the experience and skill of the professional applying the composite bonding in the first place.
Composite bonding whilst being one of the most non-invasive dental procedures available can still be done wrong if not done well. While experienced dentists should have the ability to carry out the process, specialists may be able to do so in a more fitting manner, ensuring that the composite bonding has the best possible chance of lasting as long as it should.
Maintenance Requirements
After the initial bonding of the composite materials and the general application process, the next most influential factor that will determine the longevity of composite bonding comes from maintenance. This occurs in several different areas too.
Composite bonding like all dental procedures requires good oral hygiene to remain in its best possible condition. Brushing, flossing and mouthwashing are the typical routine to follow for this, but again this may depend on a case by case basis and your experienced professional should be able to point you in the right direction.
That leads directly to the next aspect of this, which is regular checkups. Checking in on the composite bonding as well as the rest of your teeth as a whole can be a great way to spot early warning signs or possible issues. This may require a change in your oral hygiene routine or even a small repair to be made to the composite bonding, but whatever it may be, it could save your composite bonding for years to come.
Food & Drink Influence
Again like all things relating to dental health, composite bonding is highly affected by food and drink that is consumed whilst the bonding is present. Composite bonding may stain more easily than regular teeth, for example, and this could cause issues from an aesthetic perspective.
In addition to this, composite bonding is also slightly weaker than regular teeth. While this difference is very slight and overall composite bonding is still very strong, hence it lasts so many years, there is still a difference. Foods that are very hard may still damage the composite bonding and result in problems.
Wear and tear in general whether it be from food, teeth grinding, or even physical damage from an accident or anything else for that matter can all play their part in impacting your composite bonding's lifespan.
Repairing & Replacing
Composite bonding is one of the most non-invasive dental procedures available, and as a result, it can often be seen as one of the easiest procedures to keep on top of, too.
Composite bonding is very unusual in the sense that it is incredibly easy to repair whenever any damage occurs to the composite bonding itself. While damage to the teeth around it is not so easily restored the composite bonding itself and changing it or repairing it wherever issues do arise is a very simple and quick procedure that can have a huge impact on how easy it is to get the full potential out of the procedure as a whole.
Even on top of this aspect, composite bonding is also just as easy to replace. The process can be completely reversed and redone if need to, so even if the composite bonding is completely worn or needs to be removed, it can be readed just as easily. 
Done every 5-10 years, this may well mean that you have a fantastic looking smile for years to come, all thanks to one simple and repeatable process.
How long do composite veneers last?
A composite veneer is a tooth coloured composite material that is bonded to the front of the tooth. It can be applied with virtually no tooth preparation, making them a conservative and also cost effective cosmetic dentistry option for reshaping teeth. It can be applied in one or two visits, based on a digital or waxed design.
Composite veneers produce beautiful, natural results. However, as compared to porcelain veneers, composite veneers are likely to be more prone to to wear and tear – e.g. chipping, staining and discolouration. They are also not as durable as porcelain veneers. However, on the up side, they are much quicker to prepare than porcelain veneers, do minimal damage to the underlying tooth and are cost effective as compared to porcelain veneers. If looked after well, composite veneers typically last 7 to 10 years; during this time they may need some touch-up work. Brush and floss your teeth regularly, and try not to bite down on hard food items or objects, such as pens or pencils or even ice cubes – this will help to maintain your composite veneers.
How much do veneers cost?
Cosmetic dentistry procedures, especially composite veneers and porcelain veneers, are no longer super expensive, costing thousands of pounds. Veneers, especially composite veneers have increasingly become more affordable and less costly over the last many years as a result of advances in dental technology and procedures. New dental systems and tools are available to cosmetic dentists to assist them to speed up treatment times. As a result, cosmetic dentistry procedures, including porcelain and composite veneers, have come down in cost. Composite veneers are a prime example of how new dental technology and techniques has led to a drop in cost for the procedure. At Whites Dental, our composite veneers can cost as less as £450 per veneer to help fix a tooth chip or make changes to the size and shape of a tooth. As the complexity of the case increases, wherein larger changes to the size and shape of the tooth are required, the cost of the veneers can also increase alongside. A porcelain veneer usually costs more than a composite veneer. A porcelain veneer's cost typically starts from £600 per veneer in London, often going up to £800 to £900 per veneer.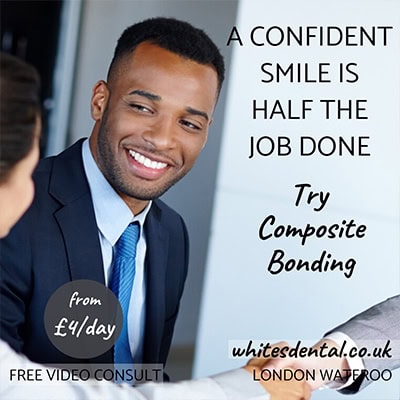 The cost of composite and porcelain veneers depends on three factors. The first is the complexity of the change the patient is looking to make. If you are wanting to make significant changes to your smile, for example, making large changes to the size and shape of either individual teeth or multiple teeth, the time taken to complete the process will be longer. As a result, the cosmetic dentist will need to spend longer making the changes; this in turn will likely lead to a higher cost to the patient. The second factor impacting the cost of a veneer is the type of veneer you decide to use. A porcelain veneer typically is more costly as compared to a composite veneer. If you decide to have veneers for multiple teeth, the total cost of veneer treatment will go up as well. The third factor impacting the cost of dental veneers and other related cosmetic dentistry treatments is the cosmetic dentist you choose to take up treatment with. Underlying costs for cosmetic dentistry procedures such as veneers and composite bonding are different for different cosmetic dentists. The cost structures often depend on what form of cosmetic dentistry the cosmetic dentist usually focuses on.
Certain cosmetic dentists focus on porcelain veneers, providing treatments in high volumes; these cosmetic dentists can often offer lower costs or larger discounts to patients as a result. Other cosmetic dentists focus on composite based treatments such as composite bonding and composite veneers; these cosmetic dentists often are able to provide composite bonding and composite veneer treatments at lower costs. It is often helpful to ascertain what type of cosmetic dentistry a cosmetic dentist is focused on and take up treatment from a dentist only for the cosmetic procedure that the dentist mostly practices. You can often obtain better pricing and costs for veneers and related cosmetic dentistry treatments by adopting this approach.
At Whites Dental, we have some of London's leading cosmetic dentists working with us. Our cosmetic dentists are highly knowledgeable and experienced with a wide range of cosmetic dentistry procedures including composite veneers, porcelain veneers and composite bonding. We have listed our veneer costs in our cost table below.
Composite Bonding


from

£160
Composite Veneers


from

£450
Porcelain Veneers


from

£600
Your Smile, Our Passion
■ Leading Cosmetic Dentists – hundreds of happy cosmetic patients
■ Exceptional patient care and customer service
■ Full Smile Makeover specialists – Composite Bonding, Porcelain Veneers and full mouth rehab
Dr.Sarmite and Dr.Elliot are very experienced cosmetic dentists, with over 30 years of cosmetic dental experience between them.