Composite Veneers in London Waterloo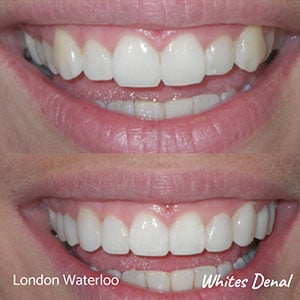 Cosmetic Dentistry London
Veneers are a popular cosmetic dentistry procedure used to improve the visual appearance of a patient's visible teeth. Veneers are small tooth coloured shells made of porcelain or ceramic resin material, that cover the front surface of the tooth to change the shape, size and colour of the teeth. Veneers coming in two forms typically – composite veneers and porcelain veneers. Composite veneers, as the name suggests, are made of composite material, whereas porcelain veneers are made from small shells of porcelain. Each veneer type has its advantages; we have listed these in detail in one of our other blog articles. In this article, we provide information on how long composite veneers last, especially if the treatment is carried out by experienced cosmetic dentists in London.
Composite Veneers – How Long Do They Last
How long do composite veneers last?
A composite veneer is a tooth coloured composite material that is bonded to the front of the tooth. It can be applied with virtually no tooth preparation, making them a conservative and also cost effective cosmetic dentistry option for reshaping teeth. It can be applied in one or two visits, based on a digital or waxed design.
Composite veneers produce beautiful, natural results. However, as compared to porcelain veneers, composite veneers are likely to be more prone to to wear and tear – e.g. chipping, staining and discolouration. They are also not as durable as porcelain veneers. However, on the up side, they are much quicker to prepare than porcelain veneers, do minimal damage to the underlying tooth and are cost effective as compared to porcelain veneers. If looked after well, composite veneers typically last 7 to 10 years; during this time they may need some touch-up work. Brush and floss your teeth regularly, and try not to bite down on hard food items or objects, such as pens or pencils or even ice cubes – this will help to maintain your composite veneers.
How much do veneers cost?
Cosmetic dentistry procedures, especially composite veneers and porcelain veneers, are no longer super expensive, costing thousands of pounds. Veneers, especially composite veneers have increasingly become more affordable and less costly over the last many years as a result of advances in dental technology and procedures. New dental systems and tools are available to cosmetic dentists to assist them to speed up treatment times. As a result, cosmetic dentistry procedures, including porcelain and composite veneers, have come down in cost. Composite veneers are a prime example of how new dental technology and techniques has led to a drop in cost for the procedure. At Whites Dental, our composite veneers can cost as less as £450 per veneer to help fix a tooth chip or make changes to the size and shape of a tooth. As the complexity of the case increases, wherein larger changes to the size and shape of the tooth are required, the cost of the veneers can also increase alongside. A porcelain veneer usually costs more than a composite veneer. A porcelain veneer's cost typically starts from £600 per veneer in London, often going up to £800 to £900 per veneer.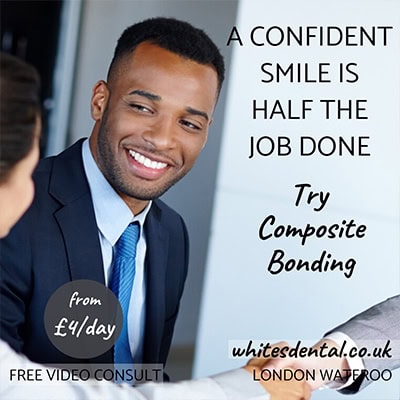 The cost of composite and porcelain veneers depends on three factors. The first is the complexity of the change the patient is looking to make. If you are wanting to make significant changes to your smile, for example, making large changes to the size and shape of either individual teeth or multiple teeth, the time taken to complete the process will be longer. As a result, the cosmetic dentist will need to spend longer making the changes; this in turn will likely lead to a higher cost to the patient. The second factor impacting the cost of a veneer is the type of veneer you decide to use. A porcelain veneer typically is more costly as compared to a composite veneer. If you decide to have veneers for multiple teeth, the total cost of veneer treatment will go up as well. The third factor impacting the cost of dental veneers and other related cosmetic dentistry treatments is the cosmetic dentist you choose to take up treatment with. Underlying costs for cosmetic dentistry procedures such as veneers and composite bonding are different for different cosmetic dentists. The cost structures often depend on what form of cosmetic dentistry the cosmetic dentist usually focuses on.
Certain cosmetic dentists focus on porcelain veneers, providing treatments in high volumes; these cosmetic dentists can often offer lower costs or larger discounts to patients as a result. Other cosmetic dentists focus on composite based treatments such as composite bonding and composite veneers; these cosmetic dentists often are able to provide composite bonding and composite veneer treatments at lower costs. It is often helpful to ascertain what type of cosmetic dentistry a cosmetic dentist is focused on and take up treatment from a dentist only for the cosmetic procedure that the dentist mostly practices. You can often obtain better pricing and costs for veneers and related cosmetic dentistry treatments by adopting this approach.
At Whites Dental, we have some of London's leading cosmetic dentists working with us. Our cosmetic dentists are highly knowledgeable and experienced with a wide range of cosmetic dentistry procedures including composite veneers, porcelain veneers and composite bonding. We have listed our veneer costs in our cost table below.
Composite Bonding


from

£160
Composite Veneers


from

£450
Porcelain Veneers


from

£600
Your Smile, Our Passion
■ Leading Cosmetic Dentists – hundreds of happy cosmetic patients
■ Exceptional patient care and customer service
■ Full Smile Makeover specialists – Composite Bonding, Porcelain Veneers and full mouth rehab
Dr.Sarmite and Dr.Elliot are very experienced cosmetic dentists, with over 30 years of cosmetic dental experience between them.
At Whites Dental, we have some the leading cosmetic dentists in London working with us, providing composite bonding, porcelain veneer and composite veneer procedures to patients near us in London Waterloo, Southwark, Central London, Elephant and Castle and London Bridge. This page provides information on how long composite veneers last. We are based in London Waterloo, right across the road from Southwark Tube station and very close to London Waterloo rail station. We are a 6 to 8 minutes' walk from Elephant and Castle tube station, London Bridge, Borough Market and a 4 to 5 minutes' walk from Blackfriars station and Southbank.