Fix Teeth Gaps with Composite Bonding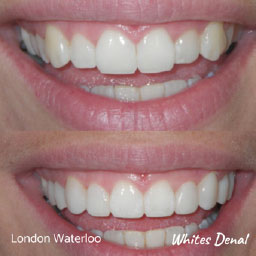 Cosmetic Dentistry in London
Composite bonding is very popular with men and women in London who want to fix gaps in their teeth, cracks in their teeth, correct tooth imperfections and change the size and shape of their teeth. Bonding is one of the most common cosmetic dentistry procedures in London at the moment and it is only getting more popular. Its quick, easy and painless – patient's love the quick results. At Whites Dental, our cost for composite bonding treatments is very affordable – why not arrange a free video smile consultation with one of our dentists to see how we can help you create a perfect smile.
As part of an academic study conducted in 2015, around 40 percent of the respondents said that their smile would be the first thing they want to change if they could change anything about themselves. That is very revealing about how much importance people give to the appearance of their teeth and smiles. The same academic study also suggested that around 80 percent of people do not like how their teeth look when they are required to smile for photographs. It's therefore very clear that there are millions and millions of people out there who don't like their smiles. If you are one of those people who don't like how your smile looks, you should be aware that it's relatively easy to correct a smile that's imperfect as a result of gaps in your teeth. Composite or teeth bonding is a quick, safe procedure that can help to close the gaps in your teeth, fix any cracks and chips or any other teeth imperfections that might exist that are hurting the way your smile looks. Let's have a closer look at what composite bonding is and see if it's the right cosmetic treatment for you. We will also help you find out how to find composite bonding for teeth gaps in London.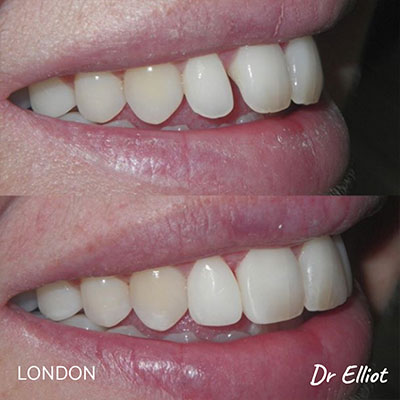 What is composite or teeth bonding?
Before we start to talk about how composite bonding can be used to your benefit, it's important that you first understand what exactly it is. Dental or teeth bonding is a cosmetic dentistry procedure that involves the cosmetic dentist taking composite resin material that is the same colour as your natural teeth and then using it to repair and fix teeth imperfections that exist. The composite resin is directly applied to the tooth, sculpted, hardened and bonded to the tooth by the cosmetic dentist. It's a very popular procedure used by thousands and thousands of people in London to fix teeth gaps to improve their smiles.
How can composite bonding be used?
Now that we have been able to explain what composite bonding is and you better understand it, we can now talk about how we can put it to good use to perfect your smile. There are many different ways that a cosmetic dentist can use composite bonding to make your teeth look better than they currently do.
The first use that comes to mind is if you currently have a tooth that is significantly decayed, the dentist can use composite bonding to make the tooth look whole again. This is one of the very few times when you may need to ask the dentist to use an anaesthetic during composite bonding.
Dental bonding can also be very useful for those patients who have had their tooth fractured or chipped. An experienced cosmetic dentist can use their skills to apply the composite resin to the tooth and sculpt the resin into the right shape to make the tooth appear whole again. The results are trust beautiful and look completely natural.
Composite bonding can also be used if you have a tooth that is severely discoloured. A cosmetic dentist will often be able to bond a composite resin that exactly matches the colour of the rest of your teeth to the discoloured tooth to make your teeth look the same colour.
Dental or composite bonding is also very effective when it comes to fixing and correcting the gaps in your teeth. An experienced cosmetic dentist can fill the space between the teeth and make the gap in your teeth disappear.
What are the benefits of composite bonding?
Dental bonding is associated with so many different benefits. We don't even know where to start. Obviously, composite bonding will make your teeth look great when the cosmetic dentist is finished with the procedure. However, that's not the only benefit of using teeth bonding. First and foremost, dental bonding is one of the cheapest forms of cosmetic dentistry that you will find out there. Most other procedures tend to have significant cost associated with them, whereas dental bonding can often be done for a few hundred pounds. This is because you can typically have the entire procedure completed in one appointment with the cosmetic dentist, thus helping keeping the cost low. In addition, composite bonding doesn't have a lengthy preparation process associated with it that you need to go through prior to starting the procedure. You can simply turn up at the dentist on the day of your appointment and the cosmetic dentist will get started right away to fix your teeth. For many patient's, one of the major advantages of composite bonding is that anaesthetics or sedation is not usually required to undertaking dental bonding. This means there is no need for scary injections or drills.
Who can perform dental bonding for me?
Although dental bonding for teeth gaps is not the most complicated cosmetic dentistry procedure, we suggest you don't allow any dentist to perform it on you. Instead, we advise you find a cosmetic dentist who has a lot of experience doing composite bonding in London.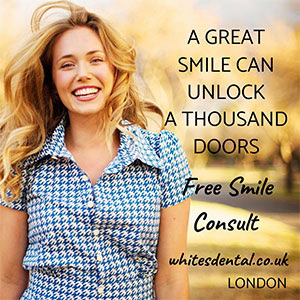 Have a look at the before and after photos of the work they have undertaken on past patients in order to make sure the cosmetic dentist is a good fit for your bonding needs. If you find yourself struggling to find a cosmetic dentist who fits the bill, you can even ask your general dentist to recommend a good cosmetic dentist in London. Or you can check with friends or family members to see if they know of or can suggest a good cosmetic dentist around you in London. This will help ensure you find the right dentist for undertaking the procedure.
Why not contact us to arrange an appointment with one of our cosmetic dentists to see if they can help fix gaps in your teeth. At Whites Dental, we have some of London's leading cosmetic dentists working with us providing composite bonding for a wide range of conditions, especially those involving gaps between the teeth. We also provide veneers, dental implants and braces to straighten and align your teeth. We are based in London Waterloo and conveniently located adjacent to Southwark tube station. We are a short walk from Elephant and Castle, Southbank, London Bridge and Borough Market.